2/4

2/4

2.5/4

2/4

3.5/4

2.5/4

2/4

2.5/4

2/4

2/4

2/4

3/4

3/4

3/4

2.5/4

2.5/4

2.5/4

2.5/4

2/4

2.5/4

2/4

2.5/4

3/4

3/4

2.5/4

Next 25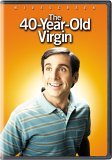 The 40 Year-Old Virgin
Like a Virgin...,
3/4 stars
Andy Stitzer (Steve Carell) is your typical dorky guy who rides a bicycle to work. He works at an electronics store, he collects things, he is always in good spirits, and overall he is a pretty average 40-year-old guy who has plenty of video games and a working knowledge of films and technology. One day at his job, Andy gets an offer from David (Paul Rudd) to come play poker with him and his buddies Jay (Romany Malco) and Cal (Seth Rogen) as a necessary fifth member. Andy is very excited about the offer and accepts but then his new friends discover he is still a virgin during a rather sex dialogue filled conversation.

From that point on, the guys, who are also all dealing with relationship issues of their own, become determined to initiate Andy to the world of dating and eventual mating, leading him through both his physical and psychological transformation, introducing him to nightclub outings, a body-waxing appointment, and various assortment of pornography material.
After a number of disastrous dates, everyone thinks Andy has finally struck gold when he meets Trish (Catherine Keener), a single mother who runs an independent business selling merchandise to Ebay. What the other guys don't know is that Trish has just gotten out of a bad relationship, and has informed Andy she isn't ready to be intimate with him just yet.

This is a raunchy but funny and good-natured comedy about an unlucky middle-aged man who's never "gone the distance" and Carell wax chest scene had me in tears Rudd is a personal favourite as the love sick David who falls apart at multiple times and shares the finest scene with Rogen as the two argue over homosexuality.