2/4

2/4

2.5/4

2/4

3.5/4

2.5/4

2/4

2.5/4

2/4

2/4

2/4

3/4

3/4

3/4

2.5/4

2.5/4

2.5/4

2.5/4

2/4

2.5/4

2/4

2.5/4

3/4

3/4

2.5/4

Next 25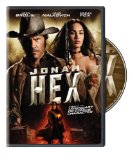 Jonah Hex
All potential, little substance!
2/4 stars
The movie takes place in the south during the Civil War where our antihero Jonah Hex was left for dead by Captain Turnbull (John Malkovich), a man who disfigured Jonah and murdered his family while Jonah watched. He's rescued by Indians and brought back to life. The near death experience has left him with an ability to communicate with the dead. Hex is understandably consumed by revenge after the death of his family, but as Turnbull was apparently killed he is unable to avenge them.

This leaves Hex with a nasty disposition. He becomes a hard cased bounty hunter who makes enemies everywhere and has a price on his head until President Ulysses S. Grant (Aidan Quinn) himself decides he needs Jonah Hex to hunt down and find Turnbull (surprise surprise he staged his death and is very much alive) and stop him from unleashing a terrible weapon of mass destruction (a giant Gatling-barreled howitzer that shoots big metal balls into its target, with a follow-up shot of a glowing golden ball that somehow causes all of the giant boulders to detonate spectacularly) for the American centennial celebrations.

Megan Fox is a gun wielding prostitute who's in love with Hex. Why she loves Hex is never covered, why he loves her isn't either (why he would like to get some of what she has is clear though!). As it stands it is a popcorn flick and I was kept entertained for the most part so I can't really complain.