2/4

2/4

3/4

3/4

2.5/4

3.5/4

3/4

2.5/4

3/4

3/4

3/4

3/4

N/A

N/A

3/4

N/A

3.5/4

3/4

3.5/4

N/A

2.5/4

2.5/4

2.5/4

3/4

2.5/4

Next 25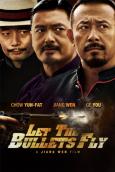 Let the Bullets Fly ( Rang zidan fei )
"Let The Bullets Fly" by Yojimbo
2/4 stars
A notorious bandit holds up the newly appointed governor of a nearby town and hatches a scheme to impersonate him and fleece the local noblemen, not counting on a gangster who has already claimed the town as his own.

Let the Bullets Fly is an irreverent pastiche of Chinese historical epics and parodies the likes of Red Cliff and their format of military minds in move and counter move. The plot is reminiscent of For A few Dollars More as none of the characters are quite who they seem and combines elements of hi-octane action, slapstick comedy, spaghetti western, martial arts movie and even Shakespearean farce. If this sounds like an uneasy patchwork of disparate ingredients you'd be right; the humour is very broadly played but never laugh out loud funny, the plot is convoluted without ever feeling sophisticated and it does not have the grace or visual beauty of the modern martial arts epic. Add some rather iffy computer generated effects and despite the star presence it all feels a little second rate.

It's not a terrible film by any means, but Kim Jee-woon did something very similar with The Good, The Bad, The Weird which is superior in every way.