3/4

2.5/4

3/4

2/4

2/4

3/4

3/4

2.5/4

3.5/4

3/4

2.5/4

3/4

3/4

3/4

3/4

N/A

N/A

3/4

N/A

3.5/4

3/4

3.5/4

N/A

2.5/4

2.5/4

Next 25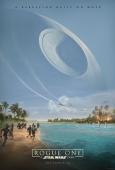 Rogue One: A Star Wars Story
"Rogue One: A Star Wars Story" by Yojimbo
3.5/4 stars
The Rebel Alliance locate and free from captivity a young woman whose father played a key role in the design of The Empire's new super weapon.

Rogue One is set between the events of Episodes III and IV and tells the story of how the plans of The Death Star fell into Alliance hands. Rather more deliberately paced and episodic in plot than the rather more exuberant The Force Awakens, this companion piece to the original trilogy is a darker, more sober affair. The story exists very much in the grey areas where bustling melting pots of alien cultures are bullied by the nascent Empire's forces, while opposing factions still exist within the resistance and those in service to Empire may still face crises of conscience. The earlier scenes would perhaps have been better served for a little more of the amusing banter and camaraderie of the previous film but equally, the lack of frivolous child-friendly moments means the story has rather more dramatic weight. Alan Tudyk's resident robotic sidekick still finds time for some amusing one liners and some charismatic support from Mads Mikkelsen and Forest Whitaker add colour to a solid starring cast. What makes the film however is the jaw dropping finale, which was clearly the money shot director Gareth Edwards was saving for. It stands proudly shoulder to shoulder with those of the original films as one of the great Star Wars battle sequences; so much so it almost feels like Edwards got together with his script writers to correct all of the most glaring flaws of Return Of The Jedi.

Not as much fun as The Force Awakens but certainly its equal in quality and another worthy addition to the Star Wars pantheon.