2.5/4

3/4

3/4

4/4

3.5/4

4/4

2/4

3/4

4/4

1/4

4/4

3.5/4

0.5/4

3.5/4

3.5/4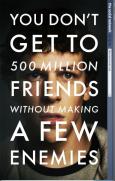 The Social Network
The Social Network review
4/4 stars
2010 has been a good year for movies. There have been some truly groundbreaking works of art and movies which have set the bar high for action and drama alike. Bear that in mind when I tell you that The Social Network outshines all of them. This thinking may come heavily opposed but the fact is that you're not likely to see another movie as perfectly cast, written, acted or directed for a long time, and it's been a long time since we have. It is based upon the book The Accidental Billionaires: The Founding of Facebook, The Social Network revolves around the making of one of the biggest websites of all time. This would be Facebook, and it also focuses on it's maker, Mark Zuckerberg.

One of the best things about this movie is Aaron Sorkin's script. He is the writer of A Few Good Men, and The American President. Sorkin's incredibly rapid fire script sparkles with a witty fury which dares you to keep up. Even West Wing watchers will find it difficult to catch every single line without the occasional one flying over their heads. Most of his conversations go in a few different directions at once until they become suddenly rivetingly and intense. You never find yourself wanting to look away from the screen. It's been around three years since we've seen one of Sorkin's scripts in action. It's really great to see that not only has he not lost his touch in any way, but he's also getting better and better as the years go on.

David Fincher has already established himself as a great director and in this movie he shows himself to be an auteur of the highest caliber. His fantastic depth of field with every shot shows his incredible attention to detail. It is also great how he manipulates his onscreen images in order to affect his audience. Fincher has already made great movies in the past, some of his previous work includes Zodiac, Se7en, and the monumental Fight Club. The Social Network is one of his finest work yet. His use of shots shows a certain understanding of the audience which is lacking in most movies and a skill missing in many of today's directors. His signature bronze murky coloring to every single shot makes for startling comparisons between deposition scenes, smoky bars and booming night clubs.

The music is just fantastic in this movie. It is a great blend of old school and new school tracks, as well as some well placed classical pieces which all come together brilliantly. The original score for the movie is beautifully restrained. Fitting just right in the lighter scenarios and also the darker ones. An amazing melancholy piece which you'll probably be humming all the way home from the movie theater.

Now for the cast. Everyone is cast perfectly. Every one on screen performs their role brilliantly as well. Jesse Eisenberg is amazing as Mark, speeding through his lines as if it's a race to the end of every sentence. It's almost as if he's been tailor made to Aaron Sorkin's needs. Eisenberg is a really good actor, but he has never really been given a role where he can really show us that. Well, he has finally being given that role he deserves and one which shows his incredible talent. Eisenberg makes the most of his part, playing it to perfection. Justin Timberlake is incredible as Sean Parker, speaking with infinite charm and manipulation with equal parts comedy and smoothness. The supporting cast members are great too. Armie Hammer and Josh Pence are good as the Winklevoss twins. Max Minghella turns in a nice performance as well as the twins friend Divya Narendra. Erica Albright is also great in the little screen time that she has. But it's Andrew Garfield that steals the show here, and that is saying a lot since everyone is great. His performance here is id perfectly judged and always convincing.

Parts of the movie by itself are incredible, but the way that they all tie together seamlessly and breathtakingly is the reason that this movie is being talked about so much. It's hard to find such a good combination of director, cast, and writer. Also a movie with great content, perfect pacing, and amazing dialog. The Social Network is a modern masterpiece, this is a movie that succeeds in portraying an entire generation. I am going to say that this movie is an instant classic. It may be a big call, but if any movie deserves that claim now a days, it's this one.