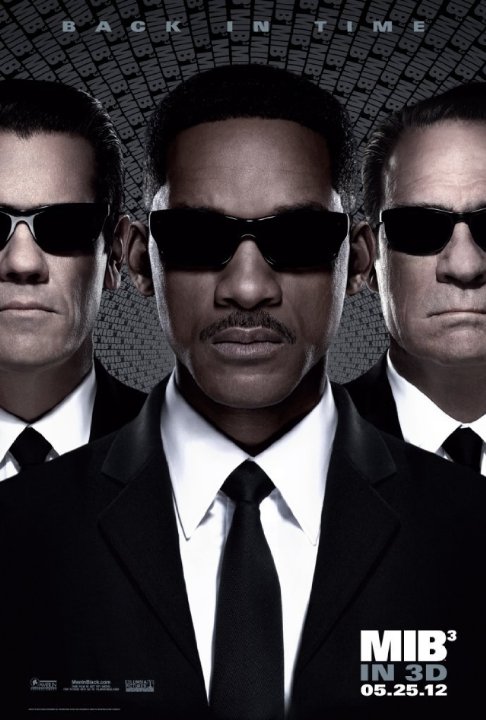 Men in Black 3
It is MIB finally
sreekirch - wrote on 12/26/12
Directed by Barry Sonnenfield

Starring Tommy lee Jones, Will Smith and Josh Brolin

Grade : B-
Barry Sonnenfield knows that if audience expects a crappy entertainer slightly ooish and frightening, then it would be men in black. Men in black are back again with another way too funny and perfunctory story. But this time, they are entertaining to the extent we will be satisfied. Whether it may be the rusty voices from Tommy Lee Jones or fast unstoppable Smith's voice, it makes a way. It is entertaining to the extent we would imagine. Not more than that. Never over done and nicely paced with good depth to characters.

It begins with Boris the animal (Jemaine Clement), escaping from a prison in Moon to rewrite history. He sets a plan to travel back to past, and kill agent K (Tommy Lee Jones/Josh Brolin) before he destroys Boris's arm. Agent K is having some problem with his partner K (Will Smith). In a phone call he dismisses, K suddenly disappears. J, the next day realizes that he has been troubled with, some kind of temporal problem and time travel has been occured. He meets a person who delivers a time machine. J travels back to 1969 a day before Boris kills K. On a mission, he finds younger K disarming him and locking him up. But the inconvenient truth, from him brings J and younger K to an agreement. They meet, Griffin (Micheal Stuhlbarg) a future teller and also an extra terrestrial human, who tells that J will save K, but death will be confronted. How the mission is going to be executed is all about ?

Writing by Etan Cohen has similarities to his short film, Idiocracy, where he sets up a story that takes 300 years future. Similarly, Barry and Etan has put together and made a time travel plot that sets in 1969, not much of past, just about 40 years. New York city looks the same as today, in 1969. Barry has probably forgot to make changes to believe it to be past. Cycle transporters are missing in present, but 1969 has it. The launch of rocket in the climax, seems current with bright colors and does not have any sense of past. If the story is past, make it past. Baseball grounds, MIB office and weapons all look modern and seems 2000 era. I probably thought, it should have been 1999 not 1969. I think Cohen and Sonnenfield must improve such idiotic mistakes in future. The best thing, I appreciate about the film is its pace. It never felt dragging. The plot was on and the execution was rapid. There were few slapstick sequences to drive us away, but still it was entertaining to the level we expect from a normal Will Smith film. With the run time of just touching 100 minutes, MIB 3 is cool and entertaining to the mark.

Character development was just perfect. Tommy Lee Jones was there for about 15 minutes hardly, but his character was well established by his tactics and sensual understanding of his younger role played by Brolin. Brolin was great. He really was agent K in the film. His character was just perfect. His chemistry with Agent J has a bond and really climax holds us together for a while. They were really believable human characters in the film. Aliens in the film were just funny, never frightening. Boris the animal reveals his real look at the pinnacle and that lasted few seconds. Thank God! The large fish and the chinese fish in the hotel scene were dreadfully creepy.

Barry Sonnenfield holds the film tight with his interesting story telling and gripping screenplay. There were few hiccups here and there. But these are minor errors we would regret. If there is a neuroanalyzer in real, I would forget the mistakes and remember the entertainment it provided. I would not say it is the best MIB yet, but I prefer to say that it is MIB finally.

Silly slapstick humor with disfigured aliens provide a dose of entertainment to the best level with gripping screenplay and ace in the hole performances from Brolin and Smith. I would say that it did knock my socks off.