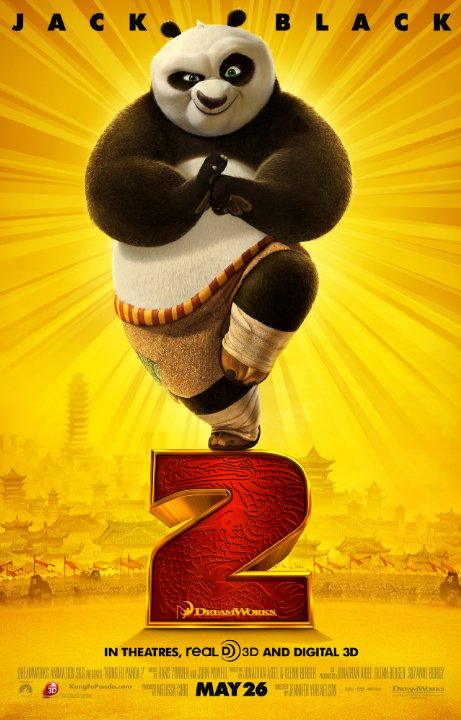 Kung Fu Panda 2
panda prowess blemishes depth in storytelling
sreekirch - wrote on 08/21/11
Welcome back to the world of panda after 2 years. After the completion of Kungfu panda part 1 we did had a doubt? Who really is the father of the panda? What is his origin? This movie answers those questions with pin point precision. Kungfu panda 2 is really the coolest animation movie with deep emotional content along with awesomeness in finding the real action scenes with loads of special effects.
Dreamworks entertainment is bringing back the franchise. With the same cast and a new addition as Lord Shen played by Gary Oldman. The movie has a strong script that touches both the evil side of Lord Shen and the emotional side in the main character Po played by Jack Black. He tries to achieve the, inner peace from his master Shifu. In in journey he finds that China is getting threatened by Lord Shen and his evil forces. So the furious five set out to stop the activities of Lord Shen. In that situation Po experiences something strange that can make him fall for defeat.
Character development is awesome in this movie. The character of Po , gets the main side as his life as a child is displayed. His emotions are so deep that one gets immediately connected to it. But the scenes were too late as the first forty five minutes did not have anything with the story but the later half is really the most emotional ride with both fun and drama.
Animation is excellent in the movie. The facial expressions are superb. Action scenes are perfectly blended for awesomeness.
Dialogues are best in the movie. Especially during the emotional side of the character. Some scenes where one finds the inner peace.
Technically movie is brilliant. Editing needed little bit improvement, but no problem because the second half has stole all the hearts of the viewers. The visual effects are freaking good.
Final say: Strong emotionally connected script, with perfectly blended action effects and comic fun at times gives a perfect ride of 90 minutes. Kungfu panda 2 is not like the first part, but it is really cool sequel to it that delivers awesomeness.
Recent Comments