New on DVD and Blu-ray Week of December 16-22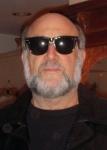 By Harley Lond - 12/16/14 at 01:41 AM CT
THIS WEEK'S THEATRICAL RELEASES:

OnVideo is on an abbreviated vacation; full reviews of theatrical movies released to DVD and Blu-ray will resume after the first of the year. Until then, make sure to check out all the new films making their home video debuts. Thank you for your patience and things will get get back to usual in 2015. On to the new releases. Due this week: "This Is Where I Leave You," "Teenage Mutant Ninja Turtles
," "Magic in the Moonlight
" and "Maze Runner
."


THIS WEEK'S HIGHLIGHTS:

In the B-movie, '70s cult classic "Don't Look in the Basement
(The Forgotten)" (1973), starring Rosie Holotik, Michael Harvey, Annabelle Weenick and Bill McGee, a young, psychiatric nurse, Charlotte Beale (Holotik,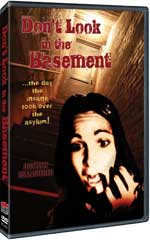 1972 Playboy covergirl), goes to work at an isolated sanitarium only to learn the proprietor, Dr. Stephens, was murdered by one of the patients. Struggling under the horrendous conditions at the severely under-staffed asylum -- and the torment heaped upon her by the patients -- she's puzzled by the resistance of Stephens' successor, Dr. Geraldine Masters, to hiring new staff and by the woman's efforts to keep outsiders at bay. Soon, the patients may truly be running the asylum. Digitally restored from Film Chest Media.

From Criterion this week comes "Eclipse Series 41: Kinoshita and World War II
": Hugely popular in his home country of Japan, Keisuke Kinoshita worked tirelessly as a director for nearly half a century, making lyrical, sentimental films that often center on the inherent goodness of people, especially in times of distress. He began his directing career during a most challenging time for Japanese cinema: World War II, when the industry's output was closely monitored by the state and often had to be purely propagandistic. This collection of Kinoshita's first films -- four made while the war was going on and one shortly after Japan's surrender -- demonstrates the way the filmmaker's humanity and exquisite cinematic technique shone through, even in the darkest of times. The five-DVD box set includes: "Port of Flowers" 1943), "The Living Magoroku" (1943), "Jubilation Street" (1944), "Army" (1944) and "Morning for the Osone Family" (1946).


BUZZIN' THE 'B'S:
"The Skeleton Twins
" (2014), starring Kristen Wiig, Bill Hader, Luke Wilson and Ty Burrell, is a disappointing comedy-drama about two estranged twins -- Maggie (Wiig) and Milo (Hader) -- who are reunited after 10 years of being apart when Milo attempts to commit suicide. With a mix of humor and heart, the film follows their journey to reconnect as they realize that the key to fixing their lives may just lie in repairing their relationship. On DVD, Blu-ray Disc from Lionsgate ... In "The Devil's Hand
" (2014), starring Alycia Debnam, Rufus Sewell, Adelaide Kane, Jennifer Carpenter and Colm Meaney, six girls born on the sixth day of the sixth month set in motion an ancient prophecy -- on their 18th birthday, one of the girls will become the Devil's Hand. As the day nears, the young women begin to disappear. On DVD, Blu-ray from Lionsgate ... In "Mother's Milk
" (2012), starring Casey Chapman and Mackenzie Wigleswoth, a university statistics professor with a dark side kidnaps a young woman to satisfy his dysfunctional needs in a psychological thriller in which tenderness develops between a psychopath and his captive. From Monarch Home Entertainment ... When ambitious young real estate agent Leigh is asked to sell a house with a checkered past, she crosses paths with a disturbed girl whom she learns is the runaway daughter of the couple selling the property in "At the Devil's Door
" (2014). When Leigh tries to intervene and help her, she becomes entangled with a supernatural force that soon pulls Leigh's artist sister Vera into its web -- and has sinister plans for both of them. Stars Naya Rivera, Ashley Rickards, Catalina Sandino Moreno. On DVD, Blu-ray Disc from IFC Midnight/MPI Media Group ... In "Cam2Cam
" (2014), starring Tammin Sursok, Ben Wiggins, Sarah Bonrepaux and Jade Tailor, an American tourist in Bangkok encounters a mysterious group of web performers harboring a terrible secret. From IFC Films ... What if the rumors and urban legends are real ... that aliens walk among us, abducting people for unthinkable experiments? In "The Device
" (2014), sisters Abby and Rebecca are about to discover the horrifying truth when they find a harmless looking object in the woods near their family's cabin. The small black sphere is the key to a shocking mystery that will change the course of human destiny. Stars Angela DiMarco, David S. Hogan, Kate Alden. From Image Entertainment ... There's a pair of horror anthologies due this week: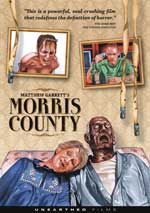 "Morris County
" (2009), starring Darcy Miller, Albie Selznick, Pamela Stewart, Erik Fransden and Alice Cannon, is a trilogy of thematically connected stories as gruesome as they are tragic and heartfelt. "Ellie" is a damaged teenage girl harboring a terrible secret. In the course of one traumatic day this innocent girl is led down a path of self-destruction from which there is no return. In "The Family Rubin," an upper middle-class Jewish family struggles to keep up appearances as their seemingly perfect life begins to crack at the seams in a shocking and heartbreaking take on the destruction of the modern American family. Elderly Iris is laid off in "Elmer & Iris," forcing her to join her curmudgeonly husband in early retirement. When Elmer suddenly dies, Iris decides to keep his decaying body around out of fear of living - and dying --alone. From Unearthed Films/MVD Visual ... "Hi-8: Horror Independent 8" (2014) is an eight-part anthology that brings together some of the most recognizable names in home video horror of the past 30 years, capturing the creative essence of low budget, shot-on-video filmmaking. Tim Ritter, Brad Sykes, Marcus Koch, Ron Bonk, Donald Farmer, Todd Sheets, Chris Seaver and Tony Masiello have returned to 80s and 90s style, gore-laced storytelling. All eight segments feature only practical effects and all directors were forbidden to use any post-Internet technology, including HD cameras, green screen, CGI or found footage. Like the "V/H/S" series, Hi-8 brings together independent genre filmmakers to spin tales of terror on tape. On DVD from Wild Eye Releasing ... And, in a horror blast from the past, Shout! Factory offers up Clive Barker's "Lord of Illusions
" (1995), a supernatural thriller that rips apart the boundaries between sanity and madness, and between the art of illusion and the terrifying forces of magic. Scott Bakula stars as Harry D'Amour, a private detective visiting Los Angeles on a routine investigation. D'Amour gets more than he bargains for when he encounters Philip Swan, a performer whose amazing illusions captivate the world. But are they really illusions? Harry isn't so sure as he is thrust into a nightmare of murder, deception and terrifying assaults from the dark beyond. Co-stars Famke Janssen, Daniel von Bargen. Two-disc set contains both the theatrical cut and a new high-definition transfer of Barker's director's cut.


FOREIGN:

The French dramedy "French Affairs
" (2013) follows Astrid (Marie Caldera), a therapist, and her relationship with a reformed prostitute, Celine (Celine Rajot), who is now a travel agent. When Celine insists that Astrid break protocol and also begin treating her husband, Astrid finds herself caught in a passionate affair with the charming Olivier (Eric Bonicatto). Astrid's teenage son, David (Yoann Denaive), catches wind of the affair and ends up on Celine's doorstep, hoping she will help him run away from his mother, setting up a quartet waltzing on eggshells as they attempt to make sense of their messy lives. From Cinema Libre Studio.


SPECIAL INTEREST:

"Mentor" (2014) is a documentary from award-winning director Alix Lambert that takes an unflinching look at the problem of teen suicide and bullying in America. In 2010, Mentor, Ohio was voted one of the top 100 cities in the United States. But in the five years leading up to this honor, five students at Mentor High School took their own lives after relentless bullying. The families of two of the victims have filed suit against Mentor High School contending that bullying played a role in all five of those deaths. From Garden Thieves Pictures.


FROM TV TO DVD: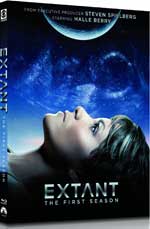 "Extant: Season 1" (2014) is a four-disc set with 13 episodes of the serialized mystery thriller about a female astronaut (Halle Berry) trying to reconnect with her family after returning from a year in outer space. Her mystifying experience in space lead to events that will ultimately change the course of human history. Extras include "The Story of Extant" featurette with an introduction by producer Steven Spielberg that follows "Extant" writer-creator Mickey Fisher as he works with producers to bring the unique series to the small screen; "The Mythology of Extant" featurette; "Extant: The Cast" featurette; "Filming Season One" behind-the-scenes from the pilot to the last episode; additional features that examine the show's props, costumes and visual effects. On DVD: $59.99, Blu-ray Disc: $69.99. From CBS Home Entertainment/Paramount.

Check out other December 16-22 DVD releases and reviews at OnVideo.