New on DVD and Blu-ray Week of December 2-8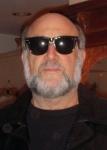 By Harley Lond - 12/02/14 at 03:05 AM CT
THIS WEEK'S THEATRICAL RELEASES:

"The Hundred-Foot Journey" is a by-the-book feel-good movie from master of the melodrama Lasse Hallstrom ("The Cider House Rules," "Chocolat"). Hassan Kadam (Manish Dayal) is a young culinary genius who moves with his family to a quaint village in the south of France and opens an Indian restaurant, the Maison Mumbai, right across the street from Le Saule Pleureur, a Michelin starred, classical French restaurant run by the chilly Madame Mallory (an always delightful Helen
(Mirren). Naturally she won't stand for a "crass" Indian restaurant only a hundred feet from her own restaurant, and she begins a war with her new rivals that escalates beyond control ... until Hassan's passion for French haute cuisine and for Mme. Mallory's enchanting sous chef wins the day. Extras for The Hundred-Foot Journey
include "The Recipe, The Ingredients, The Journey" featurette and a "Coconut Chicken" featurette that teaches viewers how to make the coconut chicken dish that's featured prominently in the film. From DreamWorks/Disney.

Also due this week: "Dawn of the Planet of the Apes
," the well-received reboot sequel in which all that remains of humankind -- which has been devastated by a deadly virus -- meets up with the highly intelligent community of apes living near San Francisco, unavailable for review, from Fox ... "Cantinflas
," a weak biopic of Mexico's greatest and most beloved comic film star Mario "Cantinflas" Moreno, from Pantelion/Lionsgate ... and "As Above, So Below
," a run-of-the-mill horror-thriller about explorers in the catacombs of Paris who -- naturally -- uncover a horrible supernatural force, from Universal.


THIS WEEK'S HIGHLIGHTS:

"American Masters: Bing Crosby Rediscovered" (2014) Narrated by Stanley Tucci, the film -- which airs day and date on PBS channels -- explores Crosby's life and legend with unprecedented access to his archives, including never-before-seen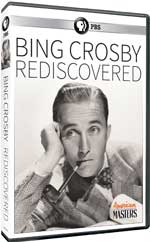 footage, and reveals a man far more complex than his public persona. Thirty-seven years after his death, Crosby remains the most recorded performer in history with nearly 400 hit singles, an achievement no one -- not Frank Sinatra, Elvis Presley or The Beatles -- has come close to matching. A brilliant entrepreneur, Crosby played an important role in the development of the postwar recording industry. As one of Hollywood's most popular actors, he won the Oscar for 1944's "Going My Way" and starred in the iconic "Road" films with Bob Hope. American Masters received unprecedented access to the entertainer's personal and professional archives, including never-before-seen home movies, Dictabelt recordings, photos and more. The film features new interviews with all surviving members of Crosby's immediate family: wife Kathryn, daughter Mary and sons Harry and Nathaniel. The film reveals Crosby's struggles with his first wife, Dixie Lee, and their sons Gary, Dennis, Phillip and Lindsay. Mary addresses accusations of abuse first published in Gary's 1983 memoir, which tarnished their father's legacy. Gary speaks candidly about both his and his mother's alcoholism as well as his difficulties with his father in a never-before-seen 1987 interview. Other new interviews include singers Tony Bennett and Michael Feinstein, record producer Ken Barnes, biographer Gary Giddins, and writers Buz Kohan and Larry Grossman, who both share the story behind Crosby's Christmas special duet with David Bowie. A must see for anyone interested in music, pop culture and American history.

This 4K remastering of "Mr. Smith Goes to Washington
" (1939) for its Blu-ray debut celebrates the film's 75th anniversary. Jean Arthur, James Stewart and Claude Rains star in Frank Capra's award-winning 1939 classic about an idealistic, small town senator who heads to Washington and suddenly finds himself single-handedly battling ruthless politicians out to destroy him. When Capra decided to film the novel "The Gentleman From Montana",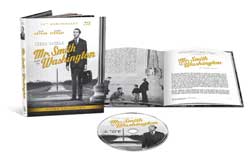 he ran into an obstacle: Director Rouben Mamoulian owned the rights to the story. Unwilling to sell, Mamoulian eventually traded the material to Columbia on the condition that he be allowed to direct "Golden Boy." As Capra began working on the film, it was suggested that Gary Copper, the star of "Mr. Deeds Goes to Town," take the lead. Capra selected Jimmy Stewart instead and the film solidified Stewart's movie career, garnering him his first Academy Award nomination. Receiving a total of eleven 1939 Oscar nominations (including Best Picture and Best Director), and winning one (Best Motion Picture Story), "Mr. Smith Goes to Washington" is considered one of Capra's, Stewart's and Columbia's finest films. It also marked the end of an era: It was Capra's final film for the studio. Presented in Digibook packaging with rare photos and a new essay by film historian Jeremy Arnold. A beautiful job. From Sony.

The 10-disc "Stanley Kubrick: The Masterpiece Collection
Blu-Ray" ($199.99 SRP) includes eight Kubrick classics as well as the newly-produced documentary "Kubrick Remembered," which captures intimate moments in Kubrick's very personal life, two new-to-Blu-ray documentaries: "Stanley Kubrick In Focus" and "Once Upon a Time ... A Clockwork Orange," plus two additional documentaries: "Stanley Kubrick: A Life in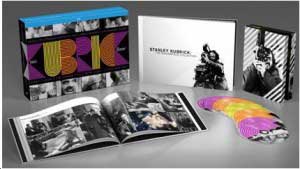 Pictures," and O' Lucky Malcolm! Also included will be a new 78-page hardcover photo book using film archive photographs. Films in the collection are "Lolita" (1962), "Dr. Strangelove" (1964), "2001: A Space Odyssey" (1968), "A Clockwork Orange" (1971), "Barry Lyndon" (1975), "The Shining" (1980), "Full Metal Jacket" (1987) and "Eyes Wide Shut" (1999). "Kubrick Remembered" offers a new look into the Kubrick archives, with special appearances by the director's wife, Christiane Kubrick, as well as never-seen footage of Kubrick's works, his house and his film production facilities. "Stanley Kubrick In Focus" presents such directors as Steven Spielberg, Steven Soderbergh, Oliver Stone, William Friedkin and Martin Scorsese relating how Kubrick's directorial style influenced them. From Warner.


BUZZIN' THE 'B'S:
"The Congress
" (2014), starring Robin Wright, Harvey Keitel, Paul Giamatti, Danny Huston, Jon Hamm, explores the world of virtual reality and digital doubles. More than two decades after catapulting to stardom with "The Princess Bride," an aging actress (Robin Wright, playing a version of herself) decides to take her final job: preserving her 3-D digital likeness for a future Hollywood in Through a deal brokered by her loyal, longtime agent (Harvey Keitel) and the head of Miramount Studios (Danny Huston), the character known as "Robin Wright" will be
exclusively owned and controlled by the studio, and will star in any film they want with no restrictions. Wright will remain an eternal thirtysomething in all Miramount films, but will also be forbidden from acting on any other stage, anywhere in the world, forever. In return, she'll receive healthy compensation so she can care for her ailing son. Twenty years later, under the creative vision of the studio's head animator (Jon Hamm), Wright's digital double has risen to immortal stardom. With her contract expiring, however, the real Robin is going through another crisis ... but there may yet be hope for her when she is invited to take part in "The Congress" convention as she makes her comeback straight into the world of future fantasy cinema. Inspired by the great novelist Stanislaw Lem's "The Futurological Congress."On DVD, Blu-ray Disc from Drafthouse Films/Cinedigm ... In "Gutshot Straight
" (2014), starring AnnaLynne McCord, Steven Seagal, Vinnie Jones, George Eads and Stephen Lang, a down-on-his-luck gambler makes a deal with a slick-talking, wealthy man in Las Vegas to make some quick money in order to repay his debts ... but the deal quickly turns deadly. From Lionsgate ... A young man returns to the heart of California's wine valley to make peace with his long-estranged family. Instead, he finds a harrowing mystery that endangers his life and those he loves in the contemporary gay thriller "The Dark Place
" (2014), starring Sean Paul Lockhart, Blaise Embry, Timo Descamps. From Blue Seraph Productions/Breaking Glass Pictures ... "Field of Lost Shoes
" (2014), starring David Arquette, Luke Benward, Max Lloyd-Jones, Zach Roerig, Lauren Holly, Mary Mouser, Nolan Gould, Jason Isaacs and Tom Skerritt, is based on a true story of the American Civil War, about a group of teenage cadets who were called upon to defend the Shenandoah Valley against General Grant's (Skerritt) Union forces. From ARC Entertainment ... A single mother fights to protect her daughter from demonically possessed children and a town gone mad in "Speak No Evil
" (2013), starring Greg Bronson, Annalise Cavender and Elisabeth Cavender. From Lionsgate ... The Blu-ray debut of "Tales from the Crypt / Vault of Horror
" features the rare, uncut version of "Vault of Horror," the two disc set includes three different cuts of the cult classic. The first disc includes "Tales from the Crypt" and "Vault of Horror's"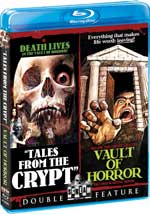 uncut widescreen presentation. The second disc includes "Vault of Horror's" theatrical PG cut and a rare open-matte version of the BFI master. The release also includes an original trailer and an alternate opening scene for "Vault of Horror." "Tales From The Crypt" (1972): When five unwary travelers with dark hearts stumble into a series of catacombs, they find themselves in a cavern with no way out. But the horror's only just begun as a mysterious figure appears to reveal to each person the shocking events that will lead to their well-deserved, untimely -- and unavoidable -- demise. Starring Joan Collins, Peter Cushing, Patrick Magee, Ralph Richardson. "Vault of Horror" (1973) Five unsuspecting hotel guests step into an elevator, which leads them into an underground vault. Trapped with no way out, each guest shares a gruesome tale of an encounter with death. But as the stories unfold, the men begin to suspect that their presence in the vault is no coincidence, and that the only way out ... is death. Starring Tom Baker, Denholm Elliott, Curt Jurgens, Michael Craig, Daniel Massey, Terry-Thomas, Glynis Johns. From Scream Factory/Shout! Factory ... "Jingle All the Way 2
" (2014) stars Larry the Cable Guy, Santino Marella and Kennedi Clements in a direct-to-video sequel to the 1996 hit. On DVD, Blu-ray Disc from WWE Studios/Fox.


FOR THE FAMILY:
"The Hero of Color City
" (2014), with the voices of Christina Ricci, Owen Wilson, Sean Astin, Jessica Capshaw, Rosie Perez, Elizabeth Daily, Craig Ferguson, chronicles the adventures of a diverse band of crayons that come alive in a little boy's room when he drifts off to sleep. Each night, when Ben falls asleep, his Crayons' magical Crayon Box transports them to Color City, a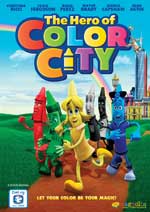 world of dazzling hues, soaring fantasy and the whimsy of childhood. When timid Yellow is accidentally left behind in Ben's room, she inadvertently awakens two Unfinished Drawings: King Scrawl, a huge, mute monster, and Gnat, Scrawl's overactive sidekick. They follow Yellow to Color City and claim the enchanted Rainbow Waterfall and all of its color for themselves. It's up to Yellow and her pals, Blue, Green, Red, and the twins, Black and White, to save the day. On DVD, Blu-ray Disc from Magnolia Home Entertainment ... "My Little Pony - Friendship is Magic: Season Four" (2014) is a four-disc set with all 26 episodes, $34.99 from Shout! Factory ... "The Legend of Korra - Book Three: Change" (2014) is a two-disc set with 13 episodes of the Nickelodeon hit animated series. Book Three starts with the world entering a new age as Korra discovers that new Airbenders are popping up all over the Earth Kingdom, and she makes it her mission to find them and rebuild the Air Nation. But when a group of dangerous criminals break out of prison, they have a dangerous mission of their own.On DVD, Blu-ray Disc from Nickelodeon/Paramount.


SPECIAL INTEREST:


"Fagbug Nation" (2014): Erin Davies' follow up to her acclaimed first film 2009 "Fagbug." After the 11th Annual National Day of Silence in Albany, N.Y., Davies' VW Beetle was vandalized with the words "fag" and "u r gay" placed on the driver's side window and hood. In response, she took her car, now known worldwide as the "fagbug," on a 58-day trip around the United States and Canada. After getting it completely remodeled as the rainbow colored "Fagbug," Davies and her dog hit the road as she attempted to check off the last remaining states on her list: Alaska and Hawaii. From Garden Thieves Pictures.


"InRealLife" (2014): A journey from the world of Silicon Valley to the bedrooms of British teenagers asks an important question: What exactly is the Internet doing to our children? This revealing documentary examines how children are adapting to the technological world we live in, and how free and open connectivity can have alienating and addictive side-effects, especially on the youngest minds using it. From First Run Features.


"Pay 2 Play: Democracy's High Stakes" (2014): If our political system is like a game of Monopoly, how can outsiders have a voice when only money speaks? Director John Ennis, driven to make the world better for his newborn daughter, documents comical corruption, follows political newcomers, and uncovers intrigue in this colorful journey that connects the dots of Big Money in our ever-challenging election process. Seeking for ways outsiders can lead when our country is run by insiders and pay-to-play politics, Ennis, who The Washington Post called "an optimist at heart", journeys through high drama on the Ohio campaign trail, uncovers the secret history of America's past time, and explores the underworld of L.A. street art on an odyssey that reveals how much of a difference one person can make. From billionaires meeting in secret to citizens taking to the streets, the documentary follows the money and connects the dots in this portrait of People Power rising. Includes interviews with Robert Reich, former Secretary of Labor, UC Berkeley professor; Marianne Williamson, NY Times bestselling author, speaker; Noam Chomsky, MIT professor, author, linguist; Jack Abramoff, convicted lobbyist; Lawrence Lessig, Harvard professor, director of Center of Ethics; Jerry Springer, former mayor of Cincinnati; Mary Bottari, Center for Media and Democracy. From TDC Entertainment.


"Robin Williams Remembered - A Pioneers Of Television Special" (2014): One-hour special features Robin Williams' last full-length television interview, including never-before-seen footage of his comments on life and work, tributes by those who knew and worked with him closely in all phases of his career, and clips from iconic moments throughout his career. Williams shares stories about his first stand-up act, his desire to be a serious dramatic actor, and his tireless efforts to entertain U.S. troops overseas. Also includes interviews with "Mork & Mindy" co-star Pam Dawber, Henry Winkler and Yakov Smirnoff, to comedians Louie Anderson, Paul Rodriguez, Rick Overton, Blake Clark and Pauly Shore, and comedy producer George Schlatter. Other interviews about Williams include: Penny Marshall, the late Jonathan Winters, Whoopi Goldberg, and Jimmie Walker. From PBS Distribution.
FROM TV TO DVD:

"Gunsmoke: The Eleventh Season, Volume One and Volume Two" (1965-66) is comprised of two four-disc sets with 16 episodes each, $42.99. James Arness returns in his legendary role as Matt Dillon, in charge of a Wild West town full of lawbreakers. From train-robbing outlaws and claim jumpers to cattle rushers and bounty hunters, disorder is everywhere. It's up to Dillon and company to restore order to a town where anything can happen. Jam-packed with famous guest stars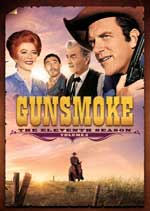 including George Kennedy, Lesley Ann Warren, Leonard Nimoy, Joe Don Baker, Diane Ladd, Slim Pickens, Darren McGavin, Tom Skerritt and Bruce Dern. From CBS/Paramount ... "Happy Days: The Sixth Season" (1978-79) is a four-disc set with 27 episodes, $42.99 from CBS/Paramount ... "Justified: The Complete Fifth Season" (2014) is a three-disc set with 13 episodes from Sony ... In "Perry Mason Movie Collection Double Features Ten, Eleven and Twelve," Raymond Burr stars as the famed defense attorney, Perry Mason, who fervently fights for justice. These single-disc double feature releases include digitally enhanced versions of Perry Mason made-for-TV movies. Vol. 10: "The Case of the Glass Coffin" and "The Case of the Fatal Fashion." Volume 11: "The Case of the Fatal Framing" and "The Case of the Reckless Romeo." Vol. 12: "The Case of the Heartbroken Bride" and "The Case of the Skin Deep Scandal." $16.99 each from CBS/Paramount ... "The Simpsons Season 17" (2005-06) features 22 episodes on a four-disc DVD, three-disc Blu-ray. From Fox ... "Sliders: The Complete Series" (1995-2000) is a 22-disc set, $179.98, from Universal ... "Star Trek: The Next Generation - Season Seven" (1993-94) makes its Blu-ray debut in a six-disc set with all 25 episodes of the final season with some of the most acclaimed episodes of the series: the two-part episode "Descent"; Worf's (Michael Dorn) conflict with his human foster brother who violates the prime directive to save a doomed primitive race in "Homeward"; the two-part episode "Gambit"; Data meeting a woman who claims to be his mother in "Inheritance"; and the stunning, final confrontation between Picard (Patrick Stewart) and Q (John de Lancie) in the series finale "All Good Things ..." From Paramount.

Check out other December 2-8 DVD releases and reviews at OnVideo.