New on DVD and Blu-ray Week of November 4-10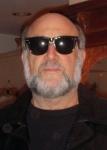 By Harley Lond - 11/04/14 at 02:58 AM CT
THIS WEEK'S THEATRICAL RELEASES:

"Maleficent":
Finally, a mean and nasty villain to yearn for. The folks at Disney have twisted around the 1959 classic "Sleeping Beauty" by putting the whole fairy tale -- in which an evil fairy, Maleficent, slighted at not being welcome at the christening of princess Aurora, casts a spell on her -- into a larger context of greed and exploitation. Angelina Jolie is sexy, serene and ultimately mean as Maleficent, a winged fairy savior who saves her peaceable animal forest kingdom from being invaded by a nearby human king intent on subjugating her land. However, a childhood human friend, Stefan, betrays her when the dying king offers his crown -- and daughter's hand -- to whomever can kill Maleficent; he doesn't kill her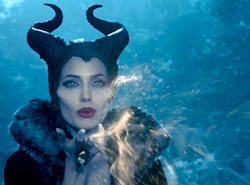 but cuts off her wings as proof for the king. Later, when Stefan and the kimg's daughter give birth to Aurora, Maleficent
casts her evil sleeping spell. Without giving away any more of the surprisingly intelligent plot, suffice it to say that there's more than a kiss of "true love" needed here to end the curse and bring happiness all around. Blu-ray extras include "From Fairy Tale to Feature Film": Reimagining Maleficent for a new generation; "Building an Epic Battle": Creating the clash between Maleficent and King Henry's forces; "Classic Couture," which examines Maleficent's head wraps and jewelry; "Maleficent Revealed," which explores the layers of special effects; and deleted scenes. Co-stars Elle Fanning, Juno Temple, Sharlto Copley, Peter Capaldi, Brenton Thwaites, Ella Purnell, Imelda Staunton and Sam Riley.

"A Most Wanted Man
," the latest big-screen adaptation of a John Le Carre spy tale, is a complicated, involved, cerebral and at times confusing thriller redeemed by Anton Corbijn's (of Depeche Mode, U2 and Metallica music video fame) dark and off-kilter direction and the agonizingly deep and moving second-to-last lead performance by Philip Seymour Hoffman (he starred in "God's Pocket" and co-stars in the upcoming "The Hunger Games: Mockingjay" films). The film revolves around German and U.S. secret agents who try to uncover the reason behind a Chechen Muslim's illegal immigration to Hamburg; ostensably he's there to repatriate money stolen from Chechnya by his rogue military father, but the Germans and Americans think he may be an extremist intent on destruction. Hoffman plays the head of the German covert operation, Robin Wright plays his American counterpart; also drawn into the intrigue is Willem Dafoe as a banker and Rachel McAdams as a young lawyer looking out for the Chechen man. Extras include a pair of featurettes: "The Making of A Most Wanted Man" and "Spymaster: John Le Carre in Hamburg." From Lionsgate.

Also due this week: Disney's "Planes: Fire and Rescue
," a sequel to last year's animated hit "Planes"; and "Hercules
," the story of the Greek hero after his famous 12 labors, with Dwayne Johnson in the titular role, from Paramount.


THIS WEEK'S HIGHLIGHTS:

For almost 25 years, Merv Griffin held sway on TV as the host of "The Merv Griffin Show," which ran on NBC, CBS and first-run syndication from 1962 to 1986. MPI Media Group has put together "The Merv Griffin Show 1962-1986," a new collection of the greatest episodes from one of the premier talk shows in television history, hosted by the charming and intelligent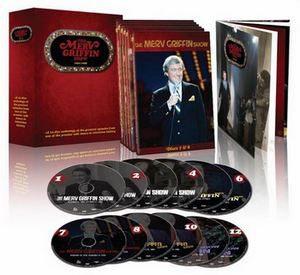 Griffin, who became one of the most beloved TV personalities of his time (winning 10 Emmy Awards). He was a savvy interviewer -- his easygoing style allowed his guests to open up and, unlike other talk shows, his interviews went on for up to 30 minutes -- and entrepreneur (he created the evergreen quiz shows "Jeopardy!" and "Wheel of Fortune" and owned the Beverly Hilton Hotel). This unprecedented retrospective covers 24 years of star-studded entertainment and provocative in-depth interviews, in a 12-disc collection containing 44 classic episodes and more than seven hours of bonus material, newly transferred from recently discovered master tapes. Features more than 200 guests from the worlds of entertainment, politics, music, sports, literature and art, most of which have not been seen for decades. Viewers will be entertained by the likes of Mel Brooks, Lucille Ball, the Everly Brothers, Willie Mays and Aretha Franklin; enlightened by Salvador Dali, Dr. Timothy Leary and Maya Angelou; and inspired by Dr. Martin Luther King Jr., Rosa Parks, President Ronald Reagan, and Sen. Robert F. Kennedy. Among the film and TV legends interviewed by Griffin in this collection are John Wayne, Bette Davis, Gene Wilder, Laurence Olivier, Ingrid Bergman, Farrah Fawcett-Majors, Warren Beatty, the cast of The Golden Girls, Dennis Hopper, Jayne Mansfield, George Clooney, Jane Fonda and the final interview with Orson Welles, who died just a few hours after the show. The array of comedy greats includes a young Jerry Seinfeld, George Carlin, Bill Maher and Jay Leno, as well as Richard Pryor and Jerry Lewis together, Joan Rivers, Steve Martin, Moms Mabley, Bill Cosby, Henny Youngman, Jack Benny, Redd Foxx, Carol Burnett, Andy Kaufman and Woody Allen. On DVD, $129.98.

At the other end of the "business" spectrum we have the Blu-ray debut of "The Sopranos: The Complete Series" (1999-2007) with 28 discs packaged in an elegant box set featuring iconic artwork from the series, $279.98; includes Digital HD copies of all 86 episodes. For six seasons,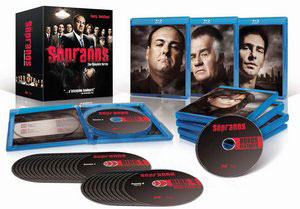 millions of viewers loyally tuned in to HBO to watch the drama unfold as modern-day mob boss Tony Soprano juggled responsibilities between his family and his other "family." David Chase's drama series stars three-time Emmy winners James Gandolfini as Tony Soprano and Edie Falco as Tony's wife Carmela, plus Lorraine Bracco as therapist Dr. Jennifer Melfi, Emmy-winner Michael Imperioli as Tony's nephew Christopher Moltisanti and Dominic Chianese as Uncle Junior. Other series regulars include Robert Iler as Anthony Soprano, Jr., Jamie-Lynn Sigler as Meadow Soprano, Tony Sirico as Paulie Walnuts, Steven Van Zandt as Silvio Dante, Aida Turturro as Tony's sister Janice, Steven R. Schirripa as Bobby "Bacala" Baccalieri, John Ventimiglia as Artie Bucco, Vincent Curatola as Johnny Sack, Frank Vincent as Phil Leotardo and Ray Abruzzo as Little Carmine. Extras include new and exclusive feature exploring how "The Sopranos" came to be and how it transformed the television landscape. "Defining a Television Landmark" features all-new interviews with cast, crew, celebrities, filmmakers and academics -- including series creator David Chase, star James Gandolfini, director Steven Soderbergh, Jeff Daniels and Steve Buscemi -- discussing the impact and influence of the groundbreaking series, with brand new archival footage. Additional bonus material includes lost scenes, two round table dinners with cast and crew, 25 audio commentaries and much more. From HBO.


BUZZIN' THE 'B'S:
"Step Up All In
" (2014) stars Ryan Guzman, Briana Evigan, Misha Gabrie, Stephen "tWitch" Boss, Izabella Miko, Alyson Stoner and Adam Sevani. In this latest edition of the popular series,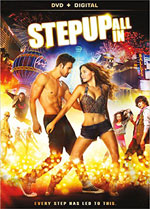 Step Up all-stars from previous installments come together in glittering Las Vegas to battle for a victory that could define their dreams and their careers. From Lionsgate ... Based on Dylan Thomas' original screenplay, the shocking horror-thriller "The Doctor and the Devils
" (1985) stars Timothy Dalton as Thomas Rock, a brilliant young anatomy professor in 1820s Edinburgh. At first accepting only the cadavers provided him for study -- those of a few hanged criminals per year -- Rock eventually recruits two grave robbers (Jonathan Pryce and Stephen Rea) to secure a better supply of corpses. Coming to the gory conclusion that they will earn more the "fresher" the corpses, the two begin committing murder and delivering warm bodies to the doctor's lecture chambers. Also stars Julian Sands, Patrick Stewart and Twiggy. From Scream Factory/Shout! Factory.


ON THE INDIE FRONT:
"Tru Love
" (2013), starring Shauna MacDonald, Kate Trotter and Christine Horne., is an acclaimed lesbian romance that follows Tru (MacDonald), a 37-year-old bed-hopping lesbian who becomes unexpectedly smitten with Alice (Trotter), an elegant 60-year-old who has come to town to
visit her daughter. Sparks fly as Alice and Tru develop an unlikely friendship. From Wolfe Video ... In "Premature
" (2014), starring John Karna, Alan Tudyk, Katie Findlay, Craig Roberts and Carlson Young, high school student Rob has the most important day of his life in front of him: a college interview, an opportunity to lose his virginity to the hottest girl in school, and plans with his friends to celebrate. Unfortunately everything goes terribly wrong, and to add to his troubles, he finds himself waking up in the morning to repeat the same stressful day over and over and over again. From IFC Films ... Set along the tumultuous Arizona-Mexico border, "Frontera
" (2014) starring Ed Harris, Michael Pena, Eva Longoria and Amy Madigan, follows Miguel (Pena), a hardworking father and devoted husband, who crosses the border illegally and is wrongfully accused of murdering the wife of a former sheriff (Harris). On DVD and Blu-ray Disc. from Magnolia Home Entertainment ... "Worst Friends
" (2014) is the story of two childhood friends who are forced to re-think their friendship as adults. When Jake is injured in a car accident, the only person willing to take care of him is his childhood friend Sam. With the aid of a tough-as-nails physical therapist, Sam helps Jake recuperate, but when Sam's high school crush enters the picture, old habits and bitter rivalries resurface, threatening to tear their friendship apart. Stars Richard Tanne, Noah Barrow, Kristen Connolly, Cody Horn, Geoffrey Arend, Larry Fessenden. From Level 33 Entertainment.


FOREIGN FILMS:
"A Five Star Life
" (2014 -- Italy) is the sophisticated story of one woman's quest for personal and professional fulfillment set against some of the most stunning cities and opulent hotels of the world. Stylish and independent, Irene (Margherita Buy) is a single career woman in her forties with a job to die for. As a luxury hotel critic, she checks into the world's finest establishments incognito to assess their standards, meticulously judging every detail from the concierge's manners to the temperature of the food to the quality of the bedsheets. Her elegant, unattached lifestyle affords her the freedom to jet around the globe at a moment's notice to experience a world of luxury, but doesn't leave her with much of a personal life. On the rare occasions she's not working, Irene's world revolves around her absent-minded sister Silvia (Fabrizia Sacchi), two lively young nieces, and best friend -- and former lover -- Andrea (Stefano Accorsi). But when Silvia begins to deal with marital problems and Andrea faces an unexpected life change, Irene's small support network is fractured and she struggles to balance a glamorous career with the growing desire for something more. After a chance meeting shakes up her worldview even more, she's compelled to reexamine her choices and charts her own path to happiness despite the expectations of others. From Music Box Films.


FOR THE FAMILY:

Get ready for the holidays: here's 10 more Thanksgiving and Christmas releases:



"A Belle for Christmas" (2013): Dean Cain, Kristy Swanson, Jet Jurgensmeyer, Haylie Duff, Meyrick Murphy. A recent widower doing his best to raise his young kids adopts an adorable puppy named Belle during the holiday season, but his dog-hating, gold-digging new girlfriend throws a milkbone in the way of their happiness. A heartwarming holiday film. From Anchor Bay


"The Christmas Gift" (1986): John Denver stars in this Dove Family-approved holiday classic, now on DVD for the first time. "The Christmas Gift" follows a recently widowed architect, George (Denver), and his young daughter. While traveling in Colorado, they find a mystical small town where everyone still believes in Santa Claus.From Paramount.


"Garfield Holiday Collection": Five holiday-themed Garfield TV specials: "Garfield Halloween Adventure," ""Garfield on the Town," "A Garfield Christmas," "A Garfield Thanksgiving" and "Garfield in Paradise." From Anderson Digital.


"Holiday Family Classics: The Thanksgiving Treasure/The House Without a Christmas Tree": Two Dove-approved family holiday telefilms that follow the everyday adventures and small miracles of the Mills family, based on the novels by Gail Rock. The stories -- "The Thanksgiving Treasure" (1973) and "The House Without a Christmas Tree" (1972) -- revolve around Addie Mills, a smart and strong-willed young girl living in Nebraska in the 1940s. Stars Lisa Lucas, Jason Robards and Mildred Natwick. From CBS/Paramount


"King Family - King Family Christmas: Classic Television Specials Volume 2": Two-disc set with four full-length holiday TV specials that entertained millions of TV viewers throughout the 1960s and '70s (and one from the 21st century) starring multi-generational entertainers the singing King Family: "Thanksgiving With the King Family" (1967), "Christmas With the King Family" (1967), "Home for Christmas With the King Family" (1974) and "Christmas With the King Family Reunion" (2009). Stars the Grammy-nominated vocal group The King Sisters along with their entire family including guitar virtuoso and big band great Alvino Rey, The Four King Cousins featuring Tina Cole ("My Three Sons"), actor Robert Clarke, trombonist and vocalist Kent Larsen, the King Kids, and all the other cousins, aunts and uncles that made up America's 39-member first family of song. From Polly O. Entertainment/MVD Visual.


"Lifetime Holiday Triple Feature" (2013): Three never-before-released TV holiday favorites: "Country Christmas Story" featuring Dolly Parton, Brian McKnight and Desiree Ross; "Twelve Trees of Christmas" starring Lindy Booth and Melanie Brown; and "Kristin's Christmas Past" featuring Shiri Appleby, Will Kemp, Elizabeth Mitchell, Judd Nelson and A. J. Langer. From Lionsgate.


"Little House on the Prairie: A Merry Ingalls Christmas": includes two classic "Little House" specials: "Christmas at Plum Creek" and "A Christmas They Never Forgot." In "Christmas at Plum Creek," the members of the Ingalls family share a heartwarming first Christmas in their new home, and Laura makes a personal sacrifice that captures the meaning of the holidays. In "A Christmas They Never Forgot," the family waits out a snowstorm by remembering favorite Christmases from the past. Restored to original broadcast length and remastered picture and sound from Lionsgate.


"Rudolph the Red Nosed Reindeer Collector's Edition" (1964) celebrates the 50th anniversary of the TV Christmas animated classic. On DVD, Blu-ray Disc with bonus features that teach kids how to draw Rudolph, Hermey and Bumble the Abominable Snow Monster; present video sing-alongs of the musical holiday favorites "Rudolph the Red-Nosed Reindeer" and "Holly Jolly Christmas"; offer a video version of a "Rudolph the Red-Nosed Reindeer" pop-up book; "Rudolph Unwrapped," a fascinating interactive section that highlights 50 little-known facts about the creation of the holiday special. From Anderson Merchandisers/Classic Media.


"A Star for Christmas" (2012): Briana Evigan, Corey Sevier, Karissa Vacker, Jeremy Howard, Travis Van Winkle, Brooke Burns. The owner of a cupcake shop falls for the star of an action movie in her small town, but things are complicated by her ex and his former girlfriend. From Monarch Home Entertainment.


"The Thanksgiving Treasure/The House Without a Christmas Tree Two-Film Collection" is a Dove Family-approved double feature based on the novels by Gail Rock. From Paramount.
SPECIAL INTEREST:
"The Dog
" (2014) is an intimate portrayal of the spirited John Wojtowicz, the man behind the infamous Brooklyn bank robbery that inspired the acclaimed film "Dog Day Afternoon." In 1972, John Wojtowicz attempted to rob a Brooklyn bank to pay for his lover's sex change operation. The act resulted in a 14-hour hostage situation that was broadcast across the nation. Three years later, Al Pacino portrayed his crime in "Dog Day Afternoon." Drawing upon extraordinary archival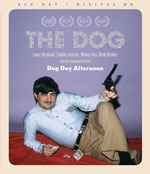 footage, the film shuffles between the 1970s and the 2000s to offer a historic perspective on New York's gay liberation movement, in which Wojtowicz played an active role. In later footage, he remains a subversive force, backed by the unconditional love of his mother Terry, whose wit and charm infuse the film. How and why the bank robbery took place is recounted in gripping detail by Wojtowicz and various eyewitnesses. Wojtowicz died in 2006. On DVD, Blu-ray Disc from Cinedigm ... "Style Wars
" (1983) makes its Blu-ray debut this week. This legendary hip-hop documentary and timeless film classic is the indispensable record of a golden age of youthful creativity and exploding hip hop subculture. When director Tony Silver and co-producer Henry Chalfant delivered the broadcast version of their prize-winning film to PBS in 1983, the world received its first full immersion in the phenomenon that had taken over New York City. The urban landscape was physically transformed by graffiti artists who invented a new visual language to express both their individuality, and the voice of their community. As New York's ramshackle subway system became a public playground, battleground, and spectacular artistic canvas, MC's, DJ's and B-boys rocked the city with new sounds and new moves, we see street corner breakdance battles turn into performance art. The soundtrack features classics performed by The Sugar Hill Gang, The Treacherous Three, The Fearless Four, Grand Master Flash and The Furious Five, Trouble Funk, Rammellzee/K-Rob and Dion. From Public Art/MVD Entertainment.


FROM TV TO DVD:

"Doctor Who: The Complete Matt Smith Years Limited Edition Blu-Ray Gift Set" (2013) id s 16-disc set that features the complete adventures of the Eleventh Doctor -- every season, every special, every episode. It also includes, for the very first time on a special bonus disc, "Doctor Who Proms 2013," "The Day of the Doctor: From Script to Screen,"" The Five Doctors Reboot," "Doctor Who: The Ultimate Guide" and "Sarah Janes Adventures: The Death of the Doctor." $148.95 from BBC Home Entertainment ... "The Exes: Seasons 1 & 2" (2011-12) is a three-disc set with 22 episodes of the TV Land comedy series, $29.99 from Paramount ... "Hot in Cleveland Season 5" (2014) is a three-disc set with 24 episodes, $29.99 from Paramount ... Universal is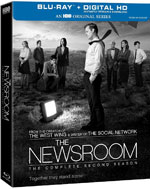 bombarding us this week with three sets from the iconic police procedural, "Law & Order": "Law & Order: The Fifteenth Year" (2004-05), a five-disc set with 24 episodes and "Law & Order: The Sixteenth Year" (2005-06), a five-disc set with 22 episodes, both featuring ADA Alexandra Borgia (Annie Parisse) and Detective Joe Fontana (Dennis Farina), $39.98 each, and "Law & Order: The Seventeenth Year" (2006-07), a five-disc set with 22 episodes, with Jesse L. Martin as detective Ed Green, $39.98 ... "Merlin: The Complete Series" (2008-13) is the BAFTA-winning retelling of the fabled Arthurian legend that amassed a cult following over the course of five action-packed seasons of swordplay and sorcery. Available as a 24-disc DVD: $129.98 and a 16-disc Blu-ray: $197.50. From BBC Home Entertainment ... "The Newsroom: The Complete Second Season" (2013) is a three-disc set with nine episodes of the smart, topical, thought-provoking and highly entertaining "The Newsroom," created by Aaron Sorkin, that takes a behind-the-scenes look at a high-rated cable-news program at the fictional Atlantis Cable News (ACN) Network, focusing on the on- and off-camera lives of its acerbic anchor (Jeff Daniels), executive producer (Emily Mortimer), their newsroom staff (John Gallagher, Jr., Alison Pill, Thomas Sadoski, Olivia Munn, Dev Patel and others), news-division boss (Sam Waterston) and parent-company CEO (Jane Fonda). Season 2 takes place during a five-day period leading up to Election Day 2012, and encompasses numerous flashbacks to earlier events from 2011 and 2012 as the newsroom team continues its quixotic mission to "do the news well" in the face of corporate and commercial obstacles, and their personal entanglements. On DVD: $59.98, Blu-ray: $79.98, from HBO ... In "Perry Mason - Double Features 7-9," the fan-favorite courtroom drama returns with a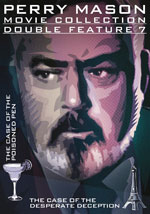 new collection of thrilling television movies starring Raymond Burr. "Double Feature Seven": "The Case of the Poisoned Pen" and "The Case of the Desperate Deception"; "Double Feature Eight": "The Case of the Silenced Singer" and "The Case of the Defiant Daughter"; "Double Feature Nine": "The Case of the Ruthless Reporter" and "The Case of the Maligned Mobster"; $16.99 each from CBS/Paramount ... "RENO 911: The Complete Series" (2003-09) is a 14-disc set with 88 uncensored episodes from the series' six seasons, $45.98 from Paramount ... "Sherlock: The Complete Seasons 1-3 Limited Edition Gift Set" (2013) includes every episode from all three seasons on both Blu-ray and DVD formats, along with the original bonus features released with each season. Includes a fourth bonus disc of extras. The set features all new commentaries; never-before-seen outtakes; a deleted scene; BBC Archive Interviews with Benedict Cumberbatch, Martin Freeman, Steven Moffat and Sue Vertue from the time of the initial Season One premiere; "Unlocking Sherlock," a 60-minute behind-the-scenes program for Season Three; and exclusive collectibles including limited edition art cards and busts of Sherlock Holmes and John Watson. $197.50 from BBC Home Entertainment ... "Quantum Leap: The Complete Series" (1989-93) is a 27-disc set with 77 episodes, $179.98 from Universal ... "The Unauthorized Saved by the Bell Story" (2014) follows six young, unknown actors thrust into the Hollywood spotlight and exposed to the challenges of growing up under public scrutiny. The movie goes behind-the-scenes of the hit '90s television sitcom to portray their struggle to maintain the squeaky-clean image of their popular characters both on and off-screen. From Lionsgate ... "White Collar Season Five" (2013-14) is a four-disc set 13 episodes, $39.98 from Fox.

Check out other November 4-10 DVD releases and reviews at OnVideo.