New in Theaters August 15: The Giver, The Expendables 3, Let's Be Cops
By Chris Kavan - 08/14/14 at 06:54 AM CT
Thanks to the outstanding performances of Guardians of the Galaxy and Teenage Mutant Ninja Turtles, August continues to be on pace for a record month. This week sees the return of an action franchise as well as another popular young-adult novel looking to emulate the success of Divergent and Hunger Games (which is not an easy task considering all the failures along the way) and a buddy "cop" comedy looking to capture the same spirit (if not the receipts) of 22 Jump Street. If the current movies can continue strong, and the newcomers can at least put up some decent numbers, hopefully the month will continue on its record-setting pace.


THE EXPENDABLES 3 I thought the original Expendables was a nifty idea - and it was a lot of fun seeing all the "classic" action stars show up in one big over-the-top romp. The second film was more of the same, but missing that spark - even though they gave up some new faces. Now, we have a third film with yet more new cast (young and old alike - from current UFC star Ronda Rousey to Wesley Snipes, Mel Gibson and Harrison Ford - amongst others) - but is this going to be enough to make us care? The big news following The Expendables 3 is the high profile leak three weeks before the movie was set to debut in theaters. This was no shaky cam operation - but a pretty much final cut - a leak that has led to lawsuits - and the big question is whether this leak will eat into ticket sales. A similar situation happened with X-Men Origins: Wolverine back in 2009 - and that movie went opened at $85 million on its way to a a nearly $180 million total. I honestly don't think it will have an appreciable affect - most people who download probably weren't going to shell out in the theaters anyway - but we'll see if this third outing can at least top the disappointing second entry.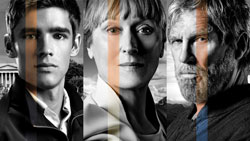 The young adult roller coaster ride continues - the ups (The Hunger Games, Harry Potter, Divergent) have been much more harder to come by than the downs (Lemony Snicket, Beautiful Creatures, Mortal Instruments, Eragon, and many, many more). So, how will The Giver be remembered? Despite having a nice pedigree in the lineup (Meryl Streep, Jeff Bridges, Alexander Skarsgård, Brenton Thwaites and even Taylor Swift and the elusive Katie Holmes) I just don't know if they have enough to make this a blockbuster. Coming from someone who has never read the book - the trailers remind me of a combination of M. Night Shyamalan's The Village mixed with A Brave New World - that is, a future regulated by authorities (and drugs) that is also hiding a big secret. Granted, I am somewhat interested in what said secret is all about - but, man, the trailers are just kind of boring to me - they need to kick things up a notch. That being said, if the people who like the book turn out in decent numbers, this could have a large opening. But if they screw things up too much - well, look at the wasteland of tween lit failures - it's not hard to imagine the less impressive outcome.
LET'S BE COPS You would think a movie about two regular joes (in this case, Damon Wayans, Jr. and Jake Johnson) dressing up as cops for a costume party and then deciding to take this further... would be pretty stupid. But, if early Wednesday numbers are any indication, this film might have a decent chance, if not to catch 22 Jump Street, at least be as good an opening as Tammy. With $5.2 million in the bank already, Let's Be Cops is easily outpacing its rather dreadful 31 Metascore - audiences have a history of giving a pass to horror films and comedies when it comes to bad reviews - so while it might not outpace some of the bigger names this weekend, it at least shouldn't be a disappointment. The supporting cast looks eclectic: Rob Riggle alongside Andy Garcia and the supremely cute Nina Dobrev - quite a recipe for success... or at least to make things interesting. This would be a solid rental for me, no more, but comedies have been hard to come by lately, and this should fit the bill.


Even if the three new films only score average openings compared to the two previous weeks - the strength of Guardians and Turtles should still help keep August in the black - and one pace for a record win - I'll be back Sunday with the final results.