New on DVD and Blu-ray Week of July 15-21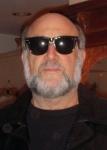 By Harley Lond - 07/15/14 at 02:59 AM CT
THIS WEEK'S THEATRICAL RELEASES:

"Under the Skin" is kind of a 21st century version of "The Man Who Fell to Earth" in which an extraterrestrial finds itself out of sync with the humans around it, but here with a different goal than Nicolas Roeg's Thomas Jerome Newton (David Bowie): An alien takes over the body of a voluptuous woman (Scarlett Johansson) and travels the highways and backroads of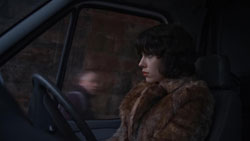 Scotland to lure unsuspecting men into an otherworldly lair where their flesh is harvested for unknown reasons. The film slowly and quietly follows the alien on her hunts until she grows too comfortable in her borrowed skin and begins to understand what it means to be human. A tour-de-force for Johansson and director Jonathan Glazer, who have built a minimalist existential gem. Extras include a "Making of Under the Skin
" featurette. From Lionsgate.

"Rio 2
": This animated sequel finds Jewel (Anne Hathaway), Blu (Jesse Eisenberg) and their three kids leaving their domesticated life in that magical city for a journey to the Amazon. There they encounter a menagerie of characters who are born to be wild, Blu goes beak-to-beak with the villainous Nigel, and meets the most fearsome adversary of all: his father-in-law. With the voices of Anne Hathaway, Jesse Eisenberg, Jemaine Clement, Tracy Morgan, George Lopez, Leslie Mann, Rodrigo Santoro, Jake T. Austin, Jamie Foxx, Kristin Chenoweth, Rita Moreno. From Fox.


THIS WEEK'S HIGHLIGHTS:

There's two superb films due this week from The Criterion Collection, both in Dual Format Blu-ray/DVD Combos:

"Scanners
" (1981) introduced me to the crazy, over-the-top world of David Cronenberg, a world of exploding heads, melting bodies and transmogrified flesh (a world that reached it's apex in his masterpiece "Videodrome"), and made me dig up copies of his earlier films, "Shivers," "Rabid" and "The Brood." What these -- as well as his version of "The Fly" -- all had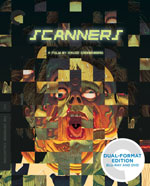 in common were mutations of the flesh and the mind, themes that would never really leave Cronenberg's films, though his later outings certainly have been tamer and less powerful than his first go-rounds. "Scanners" -- his breakout hit and one of the first Canadian films to top the U.S. box office charts -- follows the journey of a young man with frighteningly destructive telepathic powers who is kidnapped by agents from a mysterious rogue corporation that wants to use him to bring down another organization of "scanners" bent on world domination. The special effects -- in a pre-digital age -- are nothing short of spectacular, and the soundtrack, by Howard Shore, is suitably ominous and well-wrought. New, restored 2K digital film transfer, supervised by Cronenberg, with uncompressed monaural soundtrack on the Blu-ray. Extras include an absorbing documentary on the film's special effects, "The Scanners' Way"; a new interview with actor Michael Ironside; "The Ephemeral Diaries," a 2012 interview with actor and artist Stephen Lack; excerpt from a 1981 interview with Cronenberg on the CBC's "The Bob McLean Show"; and "Stereo" (1969), Cronenberg's first feature film, also on telepathy. Don't forget, "thoughts can kill!" A must-have.

"Pickpocket
" (1959): This incomparable story of crime and redemption from French master Robert Bresson follows Michel, a young pickpocket who spends his days working the streets, subway cars, and train stations of Paris. As his compulsive pursuit of the thrill of stealing grows, however, so does his fear that his luck is about to run out. Along with "A Man Escaped" (1956) -- a finely detailed portrait of a French Resistance activist, imprisoned by the Nazis, who devotes his waking hours to planning an elaborate escape -- "Pickpocket" showed the director at the height of his powers. It's an elegantly crafted, tautly choreographed study of humanity in all its mischief and grace. Bresson was one of the main figures who influenced the French New Wave -- Godard famously said that "Robert Bresson is French cinema, as Dostoevsky is the Russian novel and Mozart is the German music" -- and his films were noted for their minimalist plotting and acting, meticulous attention to detail, and an emphasis on spirituality, salvation and redemption. "Pickpocket" is presented here in a new, 2K digital film restoration, with uncompressed monaural soundtrack on the Blu-ray.


BUZZIN' THE 'B'S:
"Open Grave
" (2013), starring Sharlto Copley, Joseph Morgan, Thomas Kretschmann, Josie Ho, Erin Richards and Max Wrottesley, is a zombie apocalypse thriller about a group of terrified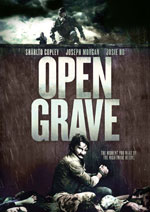 strangers, all suffering from memory loss, who have to figure out who and where they are as they fight off a vicious threat. On DVD and Blu-ray from Cinedigm ... A family vacation at a country home goes horribly wrong when a young couple and their son confront a sadistic, cult-like family who have been hiding in the house in "Torment
" (2013), starring Katharine Isabelle, Robin Dunne, Peter DaCunha and Stephen McHattie. From Vertical Entertainment ... When a mysterious epidemic spreads across the planet in which people develop an irrational fear of open spaces that causes instant death, the world's population is trapped inside buildings. As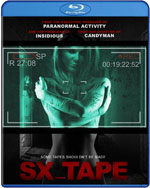 Barcelona descends into chaos, one man sets off on a quest to find his missing girlfriend by tunneling underground through sewers and subways in "The Last Days
" (2013 -- Spain), starring Quim Gutierrez, Jose Coronado, Marta Etura and Leticia Dolera. From IFC Films ... What begins as harmless sex games between a free-spirited artist and her videographer boyfriend turns much darker as the pair breaks into a boarded-up former hospital, looking for a space for a new gallery show, and a seductive prank, meaning to arouse and terrify, goes terribly wrong in "SX_Tape
" (2013), starring Caitlyn Folley and Ian Duncan. From Well Go USA.


ON THE INDIE FRONT:

In "The Face of Love
" (2013), starring Ed Harris and Annette Bening, a widow falls for a man who bears a striking resemblance to her late husband. Five years after the death of her beloved husband Garrett (Harris), Nikki (Bening) meets Tom, a man who seems to be Garrett's exact duplicate. Not only does Tom possess the same physical characteristics, but he also shares
Garrett's kindness, humor, and passion for art. And yet he is a stranger. As romance blossoms between Nikki and Tom, she finds she can't bring herself to tell him the truth about what drew her to him. But as their relationship progresses, it becomes not a question of if the truth will come out, but when. From IFC Films ... "Hank and Asha
" (2014), starring Mahira Kakkar and Andrew Pastides, is a romantic comedy about an Indian woman studying in Prague and a lonely New Yorker who begin an unconventional video correspondence -- two strangers searching for human connection in a hyper-connected world. When their relationship intensifies, they must decide whether or not to meet face to face. From FilmRise ... When a good-looking fitness trainer comes into a fortune, he decides to find a woman to settle down with before anyone discovers he's a millionaire in "What Would You Do For Love?" (2014), starring Christian Keyes, Gabrielle Dennis, Jason Weaver and Vanessa Simmons. From Entertainment One.


SPECIAL INTEREST:

In the north woods of Michigan the winters are unforgiving, jobs are hard to come by, and the line between living life and just surviving is razor-thin. But the Upper Peninsula has an annual snowmobile race, and the documentary "Northern Light
" (2013) follows three working-class families as they pin their hopes on winning this 500 mile-long test of endurance. From Icarus Films ...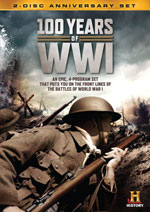 "100 Years of WWI" (2014) is a History Channel four-program set that celebrates the 100 anniversary of World War I. Harnessing the industrial know-how of combustion engines, airplanes and even the camera, WWI introduced game-changing weapons of mass destruction: armored tanks, chemical weapons, submarines and the aerial bombardments of cities. The set takes a comprehensive look at the battles that left 15 million dead, 20 million injured, and changed the perception of war forever, detailing how these weapons were developed and showing the devastation they left behind ... and offering an understanding of how people born into a simpler age learned to deal with the destructive engine of total war. The set includes the new miniseries "The History of WWI: The First Modern War" and three specials: "Modern Marvels: World War I Tech," "Dogfights: The First Dogfighters" and "Man Moment Machine: The Red Baron & The Wings of Death." Two-disc DVD, $14.98 from Lionsgate.


FROM TV TO DVD:

"America's Test Kitchen: Season 14" (2014) is a four-disc set with 19 episodes, $39.99. Each episode features recipes carefully developed to make sure they work every time: Christopher Kimball and the test cooks solve everyday cooking problems, test equipment so you never have to waste money on gadgets that don't work, and taste supermarket ingredients to save you time at the store. It's a common sense, practical approach that you won't find on other cooking shows. In addition to the popular segments such as equipment reviews, taste tests, and foolproof recipes, the 14th season features even more content and numerous visits with well-known chefs. From PBS Distribution ... Filmed on location in Scotland and based on works by bestselling author Kate Atkinson, the character-driven BBC drama "Case Histories, Series 2" (2013)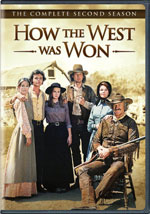 features Jason Isaacs as a former Edinburgh cop trying to make a living as a private detective. Two-disc set with three feature-length mysteries. U.S. debut. $39.99 from Acorn Media ... When irascible matriarch Viola Price (Whoopi Goldberg) learns that her next asthma attack is likely to kill her, she sets out to fix her fractured family before she sets a foot anywhere near the grave in the Lifetime movie "A Day Late and a Dollar Short" (2013), based on Terry McMillan's best-selling novel and also starring Mekhi Phifer, Ving Rhames, Kimberly Elise, Anika Noni Rose. From Lionsgate ... "Debbie Macomber's Cedar Cove Season One" (2013) is a three-disc set with 13 episodes of Hallmark Channel's first-ever original scripted series, $24.95 from Lionsgate ... "Hell On Wheels: The Complete Third Season" (2013) is a three-disc set with 10 episodes on DVD ($39.98) and Blu-ray Disc ($49.98) from Entertainment One ... "How the West Was Won: The Complete Second Season" (1978) is a six-disc set with 14 episodes, $39.98. Originally broadcast in 1978 and based on the 1962 film of the same name, the second season of this classic television series features an all-star cast including James Arness , Eva Marie Saint and Bruce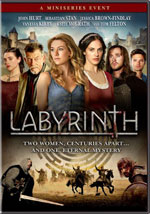 Boxleitner as well as notable guest stars Ricardo Montalban, William Shatner, Tim Matheson and Lloyd Bridges. The series follows the members of the Macahan family as they continue their daily struggles to survive and thrive in the wild American frontier. From being chased by the law to run-ins with the Army and conflicts with foreign visitors, their stories are played out against a realistic recreation of the American West in that lusty, hard-hitting period when laws were frequently broken and progress was charted by individual suffering and survival. From Warner ... The CW mini-series "Labyrinth" (2012)stared John Hurt, Sebastian Stan, Jessica Brown Findlay, Vanessa Kirby, Claudia Gerini, Katie McGrath, Tony Curran and Tom Felton in an adaptation of the best-selling series of time traveling novels by Kate Mosse that follows the lives of two women, separated by centuries but united by a common quest. From Lionsgate ... "Orphan Black: Season Two" (2014) includes all 10 episodes of the very popular cult series about an outsider, orphan and street-wise chameleon (Sarah) who unwittingly uncovers a conspiracy that is populating the world with clones. In a three-disc DVD: $29.98 and two-disc Blu-ray, $34.98. From BBC Home Entertainment.

Check out other July 15-21 DVD releases and reviews at OnVideo.