New in Theaters May 30: Maleficent, A Million Ways to Die in the West
By Chris Kavan - 05/29/14 at 06:51 AM CT
Even though X-Men: Days of Future Past killed it at the Memorial Day box office, the weekend took a big hit from the holiday weekend in 2013 - down around 27%. Hopefully that's not an indication of things to come, though I have a feeling it's going to be tough to continue the monster returns we saw last year. But X-Men should continue to play strong and it is going to be joined by a new twist on a familiar story as well as a raunchy western for a man known for pushing the envelope. Will either have a chance to top Days of Future Past? It's going to be an uphill battle, that's for sure.


MALEFICENT Angelina Jolie has been MIA on the big screen since 2010 - when she starred in the action film Salt and the not-so-well-received The Tourist. But she is hoping audiences haven't forgotten about her just yet with Maleficent - which takes the classic story of Sleeping Beauty and tells the story from the villain's point-of-view. In fact, it shows how she went from a nice, peaceful fairy to a stone-hearted, vengeful, curse-hurling monster and maybe back to finding redemption once again. My biggest concern is that, this being Disney, they are trying to recruit families with a PG rating, yet all the trailers I have seen make this look exceptionally dark for a typical "family" film. Although it's looking at a strong opening - I still think it looks too scary for the younger crowd but the PG may make it too watered down for the older teen audience. Eh - at least the cast looks good - led by Jolie, but also including the likes of Elle Fanning, Sharlto Copley, Lesley Manville, Imelda Staunton, Juno Temple and Brenton Thwaites. Still, this isn't the type of film I would rush to the box office to see myself, though it likely deserves a look once I can watch it at home. We'll see if general audiences decide to support it.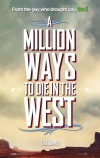 A MILLION WAYS TO DIE IN THE WEST Seth MacFarlane is a man of many talents. He's created one of the greatest animated series of our time (or worst if you hate his brand of comedy). He hosted the Oscars (where he sang a song about boobs) and he managed to make a compelling (and lucrative) film about a foul-mouthed teddy bear. But one thing he hasn't done yet - acted. All his roles up to this point (including Ted) have been providing a voice - but with A Million Ways to Die in the West, MacFarlane is finally giving us a look at the man behind the voice. I have to say, he has some great people on board: Liam Neeson, Charlize Theron, Giovanni Ribisi, Amanda Seyfried, Neil Patrick Harris and Sarah Silverman - that's quite the achievement on its own. However, westerns are a notoriously hard sell - and, aside from Blazing Saddles, western comedies are almost unheard of - but if anyone has the balls to pull this off, MacFarlane just might succeed. Raunchy comedies are a summer staple - and Neighbors has proven that the market will support them - but it remains to be seen if this will get as much attention. I'm sure the jokes will tend to be on the immature side (see Ted) but it's coming out at the right time and could give Maleficent a run for its money in terms of which film is going to come out on top.


I still think X-Men will win the weekend, but it's not a guarantee depending on what audiences feel in the mood for. It should hold up better than Godzilla, but we'll see on Sunday who comes out on top.