Sex, Slurs, Scandals and Death - Is Hollywood Truly the Most Wretched Hive of Scum and Villainy?
By Chris Kavan - 05/17/14 at 04:40 PM CT
Less than a week out - X-Men: Days of Future Past is set to open and I have to say it's one of my most anticipated movies of the summer. Yet about a month before the premiere, director Bryan Singer has been hit with several lawsuits stemming from allegations of sexual misconduct and abuse going back to 1999. Now whether you think this is an indication of a sordid underground sex ring operation out of Hollywood or a shameless grab for publicity to promote a new documentary - either way, it doesn't shine a good light on Los Angeles and the film scene.

Granted, this is far from the only controversy to rock the City of Angels - from drugs and drinking to family feuds to racist rants - there are plenty of ways to break down. While some people have found a single act is enough to torpedo a career, others have bounced - sometimes years later - from their indiscretion. Seeing the track record, Singer is probably going to come out intact, even if his current status is MIA for the X-Men press and tour. Will it affect the outcome? By and large, probably not - though we'll see if things get even more heated in the coming week.

Just off the top of my head I can think of two examples of directors managing their own scandals: Woody Allen has made some his best films in the past few years (at least to me - I loved Midnight in Paris and Blue Jasmine) but in the 1992 the director married 21-year-old Soon-Yi Previn, who, at the time, was the adopted daughter of Mia Farrow, who was Allen's long-time girlfriend. Needless to say, the word scandal was thrown about quite often - even though the relationship has now being going on for 15 now. It has not derailed the career of of the prominent filmmaker, nor has more recent allegations brought on by Dylan Farrow. I'm sure he will be directing well into the future - but I have to admit that true or not, it paints a somewhat slimy portrait of Allen.

On the other hand you have Roman Polanski - a man known for such films as Chinatown, Rosemary's Baby, The Pianist and Repulsion. He is also known for raping a 13-year-old girl in 1977 - which he pled guilty -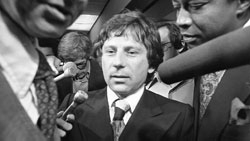 before fleeing to Europe to avoid the charges. Granted, things are much more complicated than that (including reports the judge used the trail to his own benefit) but to this day, the charges remain outstanding. That hasn't stopped Polanski from earning a Palme d'Or and Best Director Academy Award (both for The Pianist) nor a lifetime achievement award at the 2009 Zürich Film Festival (even if he was detained for awhile). Even after so long a time, people are still divided on whether to forgive him - but his work speaks volumes.

But if sex can't sink you, what can? Choice of words - nothing will derail your career in Hollywood faster than being a racist, homophobic, gender-biased asshat. Just ask Mel Gibson, Michael Richards, Gilbert Godfried and Charlie Sheen - sometimes one rogue tweet can leave you out of a job (though I don't know if yelling AFLAC! can be considered a "job") - everyone in Hollywood should always assume someone, somewhere is always recording them - because if they don't, they are likely to seem their racist rant on TMZ and then it's all downhill from there. Freedom of speech is a double-edged sword, people - though it kind of amazes me that dropping the n-word is just as bad as running an underground sex-ring. I'm not saying they should be forgiven, just that the punishment seems unduly harsh sometimes (but most of the times it's also completely justified).

But enough about the bad stuff - what about the comeback stories? Nothing is better than a near-forgotten face making a welcome return. Witness the resurgence of actors like: Robert Downey, Jr.; In the early 2000s, drug problems got him kicked off from Alley McBeal - and while some of the movies he starred in were good,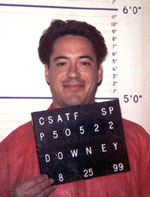 they didn't gain much recognition (The Singing Detective, Gothika, Kiss Kiss Bang Bang, Game 6 and A Scanner Darkly all fall in this period) but in 2008 he donned the Iron Man costume - and he has made a major comeback since. He also got the lead in Sherlock Holmes, and was the highlight of the comedy Tropic Thunder (as a white actor playing a black man - and really getting into character - kind of funny you can do that in a movie but not in real life). That is a good story.

But there's more - see the tale of Mickey Rourke - a boxer-turned-actor-turned-back-to-boxer-turned-back-to-actor (whew!). An amateur boxer, Rourke had some small roles early on - became a sex symbol with the release of films 9 1/2 Weeks and Angel Heart - and then fell off the grid after becoming volatile and suffering a string of box office bombs. Returning to boxing, he suffered some injuries (including a botched plastic surgery job) before returning to tentatively to film in the early 2000s. It was Robert Rodriguez who set Rourke back on the mainstream track with Sin City - soon to be followed by the critically lauded The Wrestler, as well as roles in The Expendables and Iron Man 2. He is still a bit of a loose cannon (as seen by his exclusion from the subsequent Expendables films) - but Rourke is living proof Hollywood will welcomes you back.

For every great story of a return - there are probably a dozen more tragedies you can cite - drug overdoses (River Phoenix, John Belushi, Chris Farley, Brad Renfro, Philip Seymour Hoffman and so many more), alcoholism (Errol Flynn, John Cassavetes), suicide (George Sanders, Charles Boyer, Jonathan Brandis, Dana Plato) and plenty more deaths due to accidents and murders (ranging from the likes of Marilyn Monroe, James Dean and Natalie Wood to Phil Hartman and Paul Walker). Hollywood is no stranger to deaths to both those who have little to their name (Peg Entwistle and Elizabeth Short) to those who are in their prime (Heath Ledger, Sal Mineo). I don't know if there is a great predication for such deaths in Hollywood compared to the general population, but every time I read about another death, I can't help but be affected.

But the question remains whether Hollywood is a bed of debauchery and bad decisions or if it is simply a case of all the bad parts making the headlines while the decent part flies under the radar. One thing is for certain - Hollywood is far removed from anything I would describe as a "normal" life and, given the choice, I don't know if I would choose to deal with stress and hassle in order to achieve the fame and fortune.