New on DVD and Blu-ray Week of April 22-28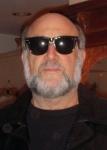 By Harley Lond - 04/22/14 at 01:11 AM CT
THIS WEEK'S BEST BETS
From the opening shots of the daring "Master of the House" (1925), you know you're in the hands of a cinematic master. Carl Theodor Dreyer made some of the silent and post-silent era's biggest and splashiest opuses ("Joan of Arc," "Vampyr"), but this early gem is a finely detailed, ahead-of-its-time examination of daily domestic life. It's the heartfelt story of a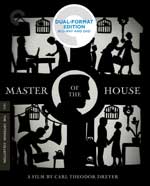 housewife who, under the thumb of her unfeeling and tyrannical husband, turns the tables on him and, with the help of a wily nanny, gets revenge, teaching him a lesson in equality, humility and humanity. Though the film's visual language seems tame by today's standards, Dreyer here was exploring and testing out the cinematic shorthand of cross-cutting, closeup, and visual metaphor -- and the film is considered an early example of feminism on-screen. The film also was an enormous box office success. Master of the House
is available In a dual format Blu-ray/DVD combo, in a new 2K digital restoration, with a recent score by Gillian Anderson, presented in uncompressed stereo on the Blu-ray, from The Criterion Collection ... Early in his career, Don Siegel ("The Killers," "Dirty Harry") made his mark with this sensational and high-octane but economically constructed drama set in a maximum-security penitentiary. "Riot in Cell Block 11
" (1954) is a ripped-from-the-headlines social-problem picture about prisoners' rights that was inspired by a recent spate of uprisings in American prisons. In a new high-definition digital restoration, with uncompressed monaural soundtrack on the Blu-ray. Also from The Criterion Collection.

Rod Steiger gives a mesmerizing Oscar-nominated performance as the embittered survivor of a Nazi death camp -- where his wife, parents and children were murdered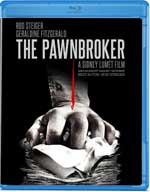 -- who can't escape the ghosts of his past in Sidney Lumet's gritty and at times harrowing realist drama "The Pawnbroker
" (1964). His soul robbed of hope, Sol takes refuge in misery and a bitter condemnation of humanity -- the endless parade of prostitutes, pimps and thieves who pass through his pawnbroker shop -- and ridicules his idealistic assistant, Ortiz, who dreams of a better life. Only when Ortiz, powerfully portrayed by Jaime Sanchez, puts his life on the line for Sol, does he learn the ultimate truth about hope and humanity. The film was controversial for its time and was denounced by many censorship groups, including the Catholic Legion of Decency, for a taboo-breaking nude scene. Two of the film's best features are the gorgeous black-and-white cinematography and the memorable trumpet score by Quincy Jones. Remastered and making its debut on Blu-ray (also available in a DVD version) from Olive Films.

An unremarkable film about a remarkable woman, "Bettie Page Reveals All
" (2013) takes a look at the most photographed pinup model of the 20th century. Page was raised as one of six children in an impoverished Southern family, was her high school graduation class salutatorian, and, after divorcing her first husband, moved to New York City in hopes of becoming an actress. Instead, she became a pinup model and took the country by storm with her unabashed enthusiasm, girl-next-door good looks and uninhibited exhibitionism (including her infamous leather, dominatrix and S&M portrayals) in hundreds of thousands of photographs and
hundreds of "nudie-cutie" 16mm films throughout the 1950s. She appeared as a Playboy centerfold in January 1955, and had numerous TV and off-Broadway acting roles. In 1959, Page gave it all up and walked away and, for almost 40 years, lived in obscurity. By the late 70s, she had become a cult figure for a new generation of artists and literati, and her image was splashed across art galleries, graphic novels and photo books. Despite her renewed fame, Page was, at times, penniless, and received little from the hipsters who fed off her image. This film is filled with iconic and rare photographs and film loops, including unseen images from private collections; the real Bettie Page even tells her story in her own words via audio interviews taped a decade prior to her death in 2008. Also along for the ride are iconic sex goddesses of yesteryear Tempest Storm, Bunny Yeager and Mamie van Doren, modern-day supermodels Naomi Campbell and Rebecca Romijn, cultural pundit Perez Hilton, and a host of Page-inspired artists and models. Despite all this, however, "Bettie Page Reveals All" plods along, in need of tighter narration, direction and editing. For Page fans only. On DVD, Blu-ray Disc from Music Box Films.

Another icon of the 50s makes his way home to DVD this week: "The Mr. Magoo Theatrical Collection (1949–1959)" is a four-disc that brings together for the first time on DVD all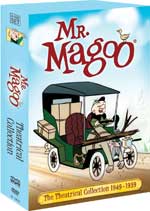 53 theatrical cartoons -- including 12 cartoons in anamorphic widescreen for the first time --and the feature film "1001 Arabian Nights," featuring the near-sighted, bumbling, wealthy, short-statured retiree who gets into a series of sticky situations as a result of his nearsightedness and his stubborn refusal to admit the problem. Voiced by the multitalented comedic actor Jim Backus, Quincy Magoo or simply Mr. Magoo, was an instant hit and went on to become a classic animated character starring in two Academy Award–winning theatrical shorts, three television series and two television specials. All the shorts have been newly remastered in their original theatrical aspect ratios. On DVD, $34.93 from Shout! Factory.

William Friedkin's cult suspense thriller, "Sorcerer
," largely overlooked since its 1977 release, has now been fully restored by Warner Bros. Home Entertainment (the film was originally released by Paramount and Universal) under Friedkin's supervision via a 4K film resolution scan of the original 35mm camera negative. The startling and haunting soundtrack by Tangerine Dream (the first film credit for the German electronic experimental band) has also been restored from the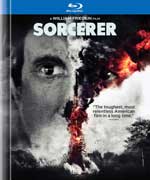 original 35mm 4-track stereo masters and remastered in DTS-HD Master Audio 5.1. The plot originated with the same Georges Arnaud novel that inspired Henri-Georges Clouzot's French suspense classic "The Wages of Fear" (1953) and, largely because of being overshadowed by that connection and the misleading title (released just after "Star Wars" as Friedkin's follow-up to "The Exorcist," audiences were expecting not a suspense thriller but another supernatural outing), the film bombed -- some good acting, fabulous cinematography and locations, and truly gripping action and story line. Roy Scheider, Bruno Cremer, Francisco Rabal and Amidou play four men who, for various reasons, are forced to leave their respective home countries and end up in a dismal South American town where an American oil company is hiring courageous drivers willing to haul nitroglycerin over 218 miles of treacherous terrain. The four sign up for the hazardous duty and travel in two trucks (one named Sorcerer) in the hopes of buying their freedom, and travel a terrain of death and destruction. Previously available only in crummy VHS and pan-and-scan DVD editions. Packaged as a 40-page Blu-ray book with images from the film and excerpts about the production of "Sorcerer" from the book, "The Friedkin Connection: A Memoir," with a new forward written by Friedkin. Also available in a new DVD edition.

I so wanted to enjoy the "Inspector Lavardin Collection," two mystery-suspense films from the French suspense master Claude Chabrol making their U.S. Blu-ray debut this week. Unfortunately, both films lack the bite and intrigue of Chabrol's best outings. In "Chicken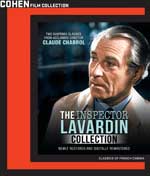 With Vinegar" (1985, also known as "Coq au Vin"), a cruel invalid (Stephane Audran) who consistently terrorizes her teen son into abject obedience is threatened with the loss of her home by a conniving trio who want her property as part of a deal for a lucrative development project. After several of the principal figures suffer grisly deaths, Inspector Jean Lavardin (Jean Poiret) arrives to get to the bottom of it all. In the 1986 followup "Inspector Lavardin," the detective travels to a small coastal town to investigate the puzzling death of a wealthy writer found murdered on a beach, with the word "pig" scrawled on his backside. In two-disc DVD and two-disc Blu-ray sets from Cohen Film Collection.


BUZZIN' THE 'B'S:

In "The Suspect
" (2013), starring Mekhi Phifer, William Sadler and Sterling K. Brown, a small town bank robbery leads to a brutal showdown between a sheriff and a mysterious stranger and when the obvious suspect is apprehended not far from the crime scene, the police think that the case is solved. But they couldn't be more wrong: The real crime hasn't even happened yet. On DVD, Blu-ray Disc from Image Entertainment ...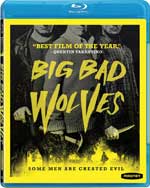 In "Big Bad Wolves
" (2013 -- Israel), a series of brutal murders puts the lives of three men on a collision course: the father of the latest victim now out for revenge, a vigilante police detective operating outside the boundaries of law, and the main suspect in the killings, a religious studies teacher arrested and released due to a police blunder. Stars Lior Ashkenazi, Rotem Keinan and Tzahi Grad. On DVD, Blu-ray Disc from Magnolia Home Entertainment ... Based loosely on the 1959 sci-fi classic "The Giant Gila Monster," the revived "Gila!
" (2012) (still set in the 1950s, but here the Gila monster's giant size and voracious appetite come from accidental toxic chemical contact) features the ferocious, rampaging giant Gila monster, classy hot rods, vintage 50's rock 'n roll music, cute co-eds, fist fights, drag racing and an all-star cast who rally to defend their town. The movie follows a small-town sheriff and a young hot-rod mechanic as they suddenly face the giant Gila monster's surprise attacks -- first on farm animals, hapless humans, a passing freight train and then a small Indiana town busily preparing for the big Christmas rock 'n' roll dance. Stars Brian Gross, Terence Knox and Christina DeRosa. Directed by 'B' and cult-filmmaker Jim Wynorski. From Polyscope/MVD Entertainment ... "The Lost Empire
" (1985), starring Raven De La Croix, Angela Aames and Melanie Vincz, is Wynorski's first outing, long lost in distribution limbo but finally making its way to DVD. After officer Rob Wolfe is killed trying to stop a gang of ninjas from robbing a jewelry store, his sister, officer Angel Wolfe, vows to avenge his death. Her investigation leads her to the mysterious Dr. Sin Do, who is supposedly in league with an undead wizard named Lee Chuck. The doctor is holding a martial arts tournament on a secret island fortress, so Angel, after rounding up some of her martial-artist friends, enters the tournament in the hopes of finding Sin Do and Lee Chuck and bringing them to justice. Also from MVD Entertainment ...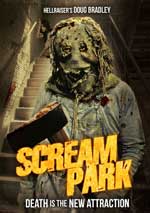 In "Scream Park
" (2012), the Fright Land amusement park is on the verge of closing down for good. But the park's owner has one last plan to sell more tickets ... murder. Hiring two backwoods maniacs to break into the park and hack and slash all his employees, Hyde thinks these killings will create a media sensation, but he's just unleashed a horror that no one can survive. Stars Doug Bradley and Nicole Beattie. From Wild Eye Releasing/MVD Entertainment ... "Seven Warriors
" (1989 -- Hong Kong), starring Sammo Hung, Adam Cheng, Max Mok, Jacky Cheung, Lam Kwok-Bun, Wu Ma, Shing Fui-On, Tony Leung Chiu-Wai and Lo Lieh, is a modern retelling of Akira Kurosawa's "Seven Samurai;" here terrified Chinese villagers recruit brave mercenary warriors to defend against marauding Japanese invaders. On DVD, Blu-ray Disc from Well Go USA ... After taking a wrong turn down an abandoned road, a group of teenagers run out of gas and find themselves stranded in the middle of the woods in "Legend of the Psychotic Forest Ranger" (2011) and you know the rest: Campy horror full of plot holes and cheesy dialogue. Stars Michael G MacDonald, Samuel MacDonald LeMoine, Colleen MacIsaac, Stefanie Peters and Gabe House. From Level 33 Entertainment ... In the romcom "Barefoot
" (2014), starring Evan Rachel Wood, Scott Speedman, Treat Williams, Kate Burton and JK Simmons, the "black sheep" son of a wealthy family meets a young psychiatric patient who's been raised in isolation her entire life and he takes the naive young woman home for his brother's wedding. From Lionsgate ...
In "Empire of the Apes" (2013), starring Steve Diasparra, DeLorenzo, Elizabeth V. Costanzo, Jeff Kirkendall and Danielle Donahue, three escaped female convicts in a distant galaxy crash land on a primitive world inhabited by a race of warlike apes. Not only do they have to fight blood lusting gorillas, but hot on their heels is the prison warden bent on returning them to the prison ship they escaped from.From David Sterling/MVD Entertainment ... "Lady Whirlwind/Hapkido" is a martial arts double feature starring renowned martial-arts trained actress and Hong Kong cinema cultural icon Angela Mao Ying, who starred in more than 35 action films in the 70s and 80s. The two Golden Harvest action classics: In "Lady Whirlwind" (1972), Tien (Angela Mao Ying) arrives in town seeking revenge on the man, Ling, who abandoned her sister, causing her to take her own life. Ling is on a mission to take down the leader of the gambling and opium syndicate, and Tien agrees to postpone her plans until Ling finished his mission. Also stars Sammo Hung Kam-Bo and Yi Chang. In "Hapkido" (1972), three students (including Angela Mao Ying) move back to China to start up a martial-arts school in Hapkido, but a rival Japanese martial-arts club will do all they can to crush any competing club that opens in their area. Also stars Carter Wong, Sammo Hung Kam-Bo, with cameos by Biao Yuen, Corey Yuen and Jackie Chan. From Shout! Factory.


SPECIAL INTEREST:

In "American Masters: Billie Jean King" (2014), Tennis champion Billie Jean King presents her own story with perspective from fellow tennis stars who played alongside her or were influenced by her. During her professional tennis career, King won 39 Grand Slam titles, helped form the Virginia Slims Series (pre-cursor to WTA Tour), founded the Women's Sports Foundation and Women's Sports magazine, and co-founded World TeamTennis (WTT). Her competitiveness on the circuit was matched by her efforts on behalf of women and the LGBT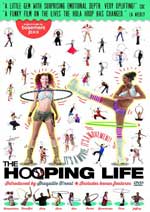 community. Features new interviews with King, Serena & Venus Williams, Hillary Clinton, Elton John, Maria Sharapova, Rosie Casals, Chris Evert, Gloria Steinem, Margaret Court, and others. From PBS Distribution ... "The Hooping Life" (2013) is the first film to capture the origins and rise of modern day hula-hooping --a.k.a hooping. With an introduction and narration by hooper (of basketball and hula alike) Shaquille O'Neal, the film illuminates eight extraordinary stories of hoop devotees who have embraced it as an art form, a teaching aid, and even an instrument of redemption. From Cinedigm ... "Tyler Perry's Madea's Neighbors from Hell (The Play)" (2014) is the newest musical stage play from blockbuster director, writer and producer Tyler Perry; it pits no-nonsense matriarch Madea up against some troubled new neighbors and arrives on DVD after only one premiere performance weekend to packed audiences in Atlanta, Georgia. Features new songs written by Perry and performed by the cast, which includes Perry, Cassi Davis and Wess Morgan. From Lionsgate ... "The Address" (2014) is a new film by Ken Burns that tells the story of a Vermont school where boys with learning differences memorize and recite the Gettysburg Address. Each year the students at the Greenwood School in Putney, Vermont, are encouraged to memorize, practice and recite the Gettysburg Address. In its exploration of the Greenwood School, the documentary also unlocks the history, context and importance of President Lincoln's most powerful address. The Greenwood School students, boys ages 11-17, all face a range of complex learning differences that make their personal, academic and social progress challenging. The documentary reveals how President Lincoln's historic words motivate and engage these students a century-and-a-half after he delivered a speech that would go on to embolden the Union cause with some of the most stirring words ever spoken. From PBS Distribution.


FROM TV TO DVD:

"Doctor Who: The Web of Fear" (1968) is a six-part adventure that has been restored and digitally remastered thanks to the discovery of a batch of missing episodes last year. Previously available exclusively on iTunes, "The Web of Fear" introduces the Second Doctor (Patrick Troughton). On DVD from BBC Home Entertainment ... "The Good Witch's Garden" (2008), starring Catherine Bell and Chris Potter, is the second chapter in the ongoing Hallmark Channel Original Movie "Good Witch" series. Settling into Grey House and continuing her romance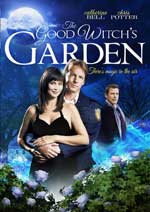 with the town sheriff, Cassie works to fit in and to turn Grey House into a bed and breakfast ... but is surprised when a stranger declares he is the legal owner of the house. From Cinedigm ... "The King Family Classic Television Specials Collection Volume 1" features four 1968 and 1969 holiday specials from the famous singing King Family: "Easter With The King Family," "Mother's Day With The King Family," "September/Back-to-School With The King Family" and "June With The King Family." In 1967, following the success of their hit television series "The King Family Show," the Family launched a series of popular monthly syndicated TV specials which would spawn a show business phenomenon. Over the next five years the Kings produced and starred in 17 specials (most of which re-aired annually for nearly a decade), released six top-selling albums, headlined a second TV series, and appeared in concert at the nation's top venues including The Hollywood Bowl. On DVD, $19.95, from MVD Entertainment ... "Newhart: The Complete Third Season" (1984-85) is a three-disc set with 22 episodes, $29.93. In this season, Dick Loudon (Newhart) and his wife Joanna (Mary Frann) have their hands full running their quaint colonial inn. In addition to the seemingly never-ending parade of unusual guests, they must contend with the quirky antics of their employees and friends: the spoiled maid Stephanie (Julia Duffy), dim-bulb handyman George (Tom Poston), and the back(wards)woodsmen Larry, Darryl, and Darryl (William Sanderson, Tony Papenfuss, and John Voldstad). On DVD from Shout! Factory.

Check out other April 22-28 DVD releases and reviews at OnVideo.