Let's Celebrate the MTV (Plug Your) Movie Awards, Shall We?
By Chris Kavan - 04/16/14 at 04:04 PM CT
I'm showing my age, but I remember back when the MTV Movie Awards were really a throw-away celebration. Back when people like Chewbacca the Wookie and Jason Vorhees were awarded "Lifetime Achievement" awards and everyone who bothered to show up dressed in street clothes. But those days are gone. Now, in a bid to be a bit more relevant, the awards take themselves (slightly) more seriously. I say slightly, because while it's no secret who is going to win (I'm looking at you snap-buttoned shirted Zac Efron) and the categories are still "wacky" - Best Kiss, Best Villain, Best On-Screen Duo, etc - they have attempted to appeal to a more mainstream (and younger) crowd.

However, this is not without its drawbacks. For one - for about three years running you may have as well called the awards the Twilight Movie Awards, as the sparkling vampires took home nearly every award for a good long while (making me gag the whole way).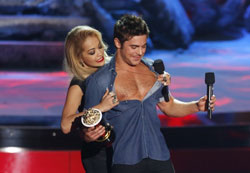 At least this year the awards were spread out (though The Hunger Games was the "big winner" I guess) but my main beef is that the show has degenerated in to one long advertisement. It seemed like every presenter chose was done because they had some movie coming out and they even had special presentations to show extended sneak peaks at upcoming movies - The Fault in Our Stars, The Amazing Spider-Man 2 and X-Men: Days of Future Past all got this treatment. Was is surprising to me that "Trailblazer" winner Channing Tatum has a few film (22 Jump Street) coming out and that co-star Johah Hill was picked to honor him? Or that Lifetime Achievement winner Mark Wahlburg just happens to be featured in the upcoming Transformers movie? Oh, hell no.

While I loved Conan's opening where he got 49 (that wasn't really Jack Nicholson flipping the bird and you can't prove otherwise) celebrity cameos - he really didn't have much to do during the show itself.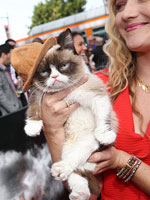 And I saw a distinct lack of some big-name people - no Jennifer Lawrence, pretty much no one from American Hustle at all - Amy Adams, Jeremy Renner, Bradley Cooper and Christan Bale were nowhere to be seen. Jared Leto was there (and gave a great speech) but no Matthew McConaughey. For all the love given to The Hunger Games - we had to settle for Sam Claflin and Josh Hutcherson to carry the weight - no Woody Harrelson, Liam Hemsworth or Elizabeth Banks to be found. Yes, they did have some good representation, but I have a feeling if half the people there didn't have a movie coming out in the next few months, they wouldn't have shown up, either (I'm looking at you Shailene Woodley, Cameron Diaz, Seth MacFarlane and Ellen Page). The only "celebrity" there not promoting a movie of some kind seemed to be the dapper-hatted (and sleepy) Grumpy Cat - and props to her.

There were few times I didn't feel like I was watching an extended advertisement - the duet with Rihanna and Eminem was sizzling and entertaining; Wahlberg's expletive-filled acceptance speech was hilarious and (at least seemed) off-the-cuff and the Paul Walker tribute was a nice touch. These awards a meant to be tongue-in-cheek - a bit of fluffy fun - but this year there was way too much self promotion to make it overly enjoyable. Plus, we didn't even get to see about half the awards (Best Hero, Best On-Screen Duo and Best Female Performance were all omitted) probably in favor of more clips from upcoming movies. Next year I hope they dial down the advertisements and go back to being a cheeky fun awards show - but I can only hope at this point.