Who Spoils the Spoilers?
By Chris Kavan - 04/09/14 at 05:39 PM CT
I have a love/hate relationship with spoilers. On the one hand, if it's something I'm highly invested in, I want to know all I can - but on the other hand, knowing something ahead of time just seems like cheating. Lately, I have been eating up every single thing I can find on the next Star Wars film. I'm a massive Star Wars fan - and it reminds me of how obsessive I got when Lost was on TV. And, apparently, I am far from alone.

Psychologist at USC San Diego performed a study and found out that people get more enjoyment when they have been told spoilers ahead of time. Granted, the study was about reading a story (not watching a movie), and it was limited in scope, but in the end it essentially boiled down to people are happier and get more out of the story when they have been spoiled. I can't say that entirely surprises me, either. But there is a limit - I hate being told, word for word, line for line, what I'm about to see. But little teases and bits and pieces of the whole story - I'm all about that.

When the Hunger Games was announced, I ate up every bit of casting news that came along - and have been following the sequels the same way. Star Wars is no different, the big announcement lately was that actor Peter Mayhew has been confirmed to return as everyone's favorite co-pilot Chewbacca.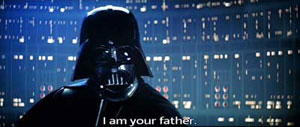 This follows the many rumors that the main original Star Wars cast (Mark Hamill, Harrison Ford and Carrie Fisher) will return in some capacity in Episode VII. It's so early, and so many rumors are flying around, who know what, who, where or pretty much anything about the actual plot... but damned if I don't want to know every second-hand piece of information I can get. Granted, half the populace is still up in arms about Disney buying out Lucasfilm and think it's spells doom for the franchise... but until I see some concrete evidence I'm holding out hope this is going to be good.

I can talk about spoilers in another way - The Walking Dead and Game of Thrones. I'm a firm believer in reading the original material before watching the shows and/or movies that they are based off of. While Game of Thrones obviously strictly follows the source material, The Walking Dead has taken quite a different detour compared to the original graphic novels. Is reading beforehand considered a spolier? I would say so - despite having never seen any of the season 3 episodes of Game of Thrones, I already know what is going to happen during the Red Wedding everyone says is the greatest episode of television, like ever. So did a lot of other people - but that didn't stop people from enjoying the episode and certainly didn't stop the massive amount of social media attention is got. So in that aspect, spoilers don't ruin the outcome of the story because, by nature, print and television (or film) are entirely different forms of media and you can enjoy both on different levels.

But far be it me to spoil everything for everyone - the Fine Bros. have already got that covered (and, yes, don't click this unless you want a lot of spoilers):

But that's the thing - I choose to seek out spoilers, but I absolutely hate it when someone spoils something for me. I think back to the Simpsons episode where Homer and Marge are walking out of The Empire Strikes Back and Homer casually remarks while walking passed the large group of people standing in line "Wow, what an ending! Who would have thought Darth Vader was Luke Skywalker's father!" - and, of course, people get mad at him. I don't like being told by what's going to happen (though, I admit, I'm probably terrible at doing this myself - as I tend to get excited about good films I have seen and spill too many details) but if I seek it out on my own, I have no one to blame but myself (for better or worse).

What are your views on spoiler? Do you seek them out - do you avoid them like the plague - do you contribute to the madness? Let's find out, shall we.