By Harley Lond - 01/14/14 at 02:29 AM CT
THIS WEEK'S THEATRICAL RELEASES:

"Enough Said": Nicole Holofcener is the best director you've never heard of. Her forte is quiet, small romantic comedies that revolve around women struggling to find themselves in the world -- weak and strong women who stand up to the world as women and not as appendages to men. She's cut her directing chops on TV's "Sex and the City," the "Gilmore Girls," "Six Feet Under" and "Bored to Death," and has helmed two very quirky features films -- "Friends With Money" and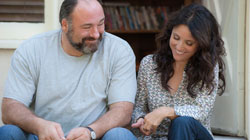 "Please Give" -- before hitting her stride with this delightfully honest and real comedy. Julia Louis-Dreyfus stars as Eva, a divorced and single parent who works as a masseuse and meets and falls for a TV museum curator named Albert (James Gandolfini) who, unknown to Eva, is the ex-husband of one of Eva's clients, Marianne (Catherine Keener), a beautiful poet who incessantly complains about her ex-husband. The unfolding of the characters and the romance at the center of Enough Said is handled so delicately -- and with such generous humor -- that you just give yourself effortlessly to the scenario -- hoping for the best but bracing yourself for the worst. Everyone here deserves high praise -- in particular Louis-Dreyfus -- but don't expect the Academy to come knocking. Highly recommended. Also stars Catherine Keener, Toni Collette, Ben Falcone. Extras include some clever "Second Takes" (outtakes). From Fox.

"Lee Daniels' The Butler": Director Lee Daniels' career has been nothing if not eclectic, from the off-kilter hit-woman thriller "Shadowboxer" through the award-winning "Precious" through the very down-and-dirty "The Paperboy." "The Butler" is the director's easiest outing, a paean to the Civil Rights movement that explores desegregation and the struggle for Black equality during the course of four decades as told through the story of White House butler Eugene Allen, who served eight American presidents from 1952 to 1986. The straight-ahead melodrama follows the life story of Cecil Gaines, his wife and two sons as they deal with slavery, the Freedom Riders southern busing, assassinations, race riots, the Vietnam War, the Black Panthers and American politics. Forest Whitaker as Cecil and Oprah Winfrey as wife Gloria are outstanding; problematic are the presidential castings: John Cusack as Nixon, Liev Schreiber as L.B.J., and Alan Rickman as Ronald Reagan. Based on the story "A Butler Well Served by This Election" by Wil Haygood. Also stars Jane Fonda, Cuba Gooding Jr., Terrence Howard, Lenny Kravitz, James Marsden, David Oyelowo. Extras include a slight featurette on "The Original Freedom Riders," deleted scenes and a gag reel. From The Weinstein Co.

"The Spectacular Now": A delightfully warm and honest teen romance based on the Tim Tharp book about Sutter Keely (Miles Teller), a high school senior and effortless charmer whose "live in the moment" outlook on life begins to wear thin as he nears graduation. Content to float through school and work, with no plans for the future, Sutter unexpectedly falls for a "nice girl" who has dreams-- and their relationship changes both their outlooks on life. "The Spectacular Now" is a pretty cogent look at growing up teen and middle-class in America, and doesn't pull too many punches as passions, failures, yearnings and successes are revealed and dissected. Winner of the Special Jury Prize at the 2013 Sundance Film Festival. Extras include deleted scenes, commentary and behind-the-scenes featurettes. Also stars Shailene Woodley, Brie Larson, Bob Odenkirk, Dayo Okeniyi, Jennifer Jason Leigh, Kyle Chandler. From Lionsgate.

"You're Next": A fresh twist on the home-invasion horror film. A family reunion at a remote weekend estate turns nasty when the house comes under siege by a mask-wearing team of crossbow-bearing assailants -- who quickly dispatch half of the 10 people on hand. The family has no idea who's attacking them or why they're under attack -- and when it seems that the remaining family members will all meet the same horrible fate, one unlikely member turns the tables and fights back against the villains. The action is fast-paced and gruesome -- and there's a great twist about three-quarters of the way through. A highly effective and fairly well acted scarer. Stars Sharni Vinson, Nicholas Tucci, AJ Bowen, Ti West, Rob Moran, Joe Swanberg, Wendy Glenn, Amy Seimetz, Barbara Crampton. Extras include commentary and a behind-the-scenes featurette. From Lionsgate.

"20 Feet from Stardom": In this compelling and very watchable documentary, award-winning director Morgan Neville shines a spotlight on the untold true story of the backup singers behind some of the greatest musical legends of the 20th and 21st centuries. Along with rare archival footage and a great soundtrack, this documentary includes interviews with Bruce Springsteen, Stevie Wonder, Mick Jagger and Sting, to name just a few. But these world-famous figures take a backseat to the diverse array of backup singers -- including Darlene Love, Judith Hill, Merry Clayton, Lisa Fischer, Tata Vega and others -- whose lives and stories take center stage in the film. From Radius-TWC.

"Riddick": The latest chapter of the saga that began with 2000's hit sci-fi film "Pitch Black" and 2004's "The Chronicles of Riddick" reunites writer-director David Twohy and star Vin Diesel. The infamous antihero Riddick, wanted by every bounty hunter in the known galaxy, has been left for dead on a sun-scorched planet that appears to be lifeless. Soon, however, he finds himself fighting for survival against fierce predators; to get off the planet, he has to activate an emergency beacon, one that will also alert mercenaries -- who rapidly descend to the planet in search of their bounty. Now he has to fight off alien and human monsters to survive. Though this outing is heads and tails above the first sequel (but not nearly as good as the surprise hit "Pitch Black"), Diesel has taken himself a bit too seriously as Riddick, mouthing interstellar survival platitudes and theology as he flexes his invincible muscles to fight off all comers, picking them off one by one. Great special effects but a predictable story line. (It also features the most gratuitous nude scene in recent memory -- he-woman Katee Sackoff bares her breasts for no apparent reason.) Also stars Jordi Molla, Matt Nable, Karl Urban, Dave Bautista, Bokeem Woodbine, Matt Nable, Raoul Trujillo, Nolan Gerard Funk. Extras include several behind-the-scenes and special effects featurettes. From Universal.

Also due this week: "Fruitvale Station" and "Carrie," both of which were not available for review.


COLLECTIBLES:
Three classic film restorations come to the forefront this week. headed up by
"Sunrise"
(1927) , directed by F.W. Murnau and starring George O'Brien, Janet Gaynor, Margaret Livingston and Bodil Rosing.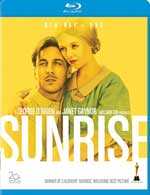 Murnau's story of betrayal and redemption earned Oscars at the first Academy Awards ceremony in 1929 for the most "Unique and Artistic Picture," Best Actress (Janet Gaynor) and Best Cinematography. The love and loyalty of a farmer and his wife are put to the ultimate test in this classic silent film. "Sunrise" used the groundbreaking Fox Movietone sound system, making it one of the first studio films with a true soundtrack, featuring music and sound effects. Extras include the original Fox Movietone version and European silent version, commentary by ASC Cinematographer John Bailey, outtakes with commentary by John Bailey, original theatrical trailer, original scenario by Carl Mayer with annotations by F.W. Murnau, Original "Sunrise" screenplay and restoration notes. Available as a Blu-ray/DVD combo from Fox.
From The Criterion Collection comes
"Rififi"
(1955). After making such American noir classics as "Brute Force" and "The Naked City," the blacklisted director Jules Dassin went to Paris and embarked on his masterpiece: a twisting, turning tale of four ex-cons who hatch one last glorious robbery in the City of Light. Rififi is the ultimate heist movie, a melange of suspense, brutality, and dark humor that was an international hit, earned Dassin the best director prize at the Cannes Film Festival, and has proven wildly influential on decades of
heist thrillers in its wake. In particular, the half-hour long, silent robbery scene is breathtaking in its austerity and impact. In a new 2K digital restoration, with uncompressed monaural soundtrack on the Blu-ray ... Also from Criterion is
"Thief"
(1981). American auteur Michael Mann burst out of the gate with his bold artistic sensibility fully formed with "Thief," his first theatrical feature. James Caan stars, in one of his most riveting performances, as a no-nonsense ex-con safecracker planning to leave the criminal world behind after one final diamond heist, but discovering that escape is not as simple as he hoped. Finding hypnotic beauty in neon and rain-slick streets, sparks and steel, "Thief" effortlessly established the moody stylishness and tactile approach to action that would define such later iconic entertainments from Mann as "Miami Vice," "Manhunter" and "Heat." New digital restoration from a 4K film transfer, approved by director Michael Mann, with 5.1 surround DTS-HD Master Audio soundtrack on the Blu-ray.
BUZZIN' THE 'B'S:
In an attempt to heal from the deterioration caused by the pressures of sudden fame and too much alcohol, famous Beat author Jack Kerouac escapes to an isolated, mist-shrouded cabin in the primitive landscape of the Big Sur woods. Instead of finding the peace he desires, he is foiled once again by his own inner demons and sets off on a visceral collision course of paranoia, sex, delirium tremens, misery and madness in
"Big Sur"
(2013), starring Jean-Marc Barr, Kate Bosworth, Josh Lucas, Stana Katic, Anthony Edwards and Radha Mitchell. From Arc Entertainment ... Firefighter lieutenant Dan Farrell (William Baldwin), a widower and single dad, has no interest in a romantic relationship but when his team responds to a fire at a local florist shop, he can't help but notice the beautiful owner, Kate, and a budding relationship begins -- until Kate's ex-boyfriend returns to town with a marriage proposal in
"Be My Valentine"
(2013), starring William Baldwin, Natalie Brown, Christian Martyn and James Thomas. From Cinedigm ...
"Blue Caprice"
(2013), starring Isaiah Washington, Tequan Richmond, Tim Blake Nelson and Joey Lauren Adams, dramatizes the notorious and horrific Beltway (Washington, D.C.) sniper attacks of 2002 from the point of view of the two perpetrators, whose distorted father-son relationship facilitated their long and bloody journey across America. From IFC Films ... When John Moon (Sam Rockwell) accidentally shoots a young woman and discovers a bag full of cash, the isolated hunter becomes the hunted in
"A Single Shot"
(2013). His struggle to conceal both the death and the money triggers a cascade of events and encounters that ultimately escalates into a battle for survival. Co-stars William H. Macy, Ted Levine, Kelly Reilly, Jason Isaacs, Joe Anderson and Jeffrey Wright. On DVD and Blu-ray from Well Go USA ... The comedy
"A.C.O.D."
(2013) follows a seemingly well-adjusted Adult Child of Divorce (Adam Scott) who is forced to revisit the chaos of his parents (Catherine O'Hara and Richard Jenkins) bitter divorce all over again after his younger brother (Clark Duke) decides to get married. Co-stars Amy Poehler, Jane Lynch, Jessica Alba and Clark Duke. From Paramount ... In
"Plus One"
(2013), starring Ashley Hinshaw, Rhys Wakefield and Logan Miller, three college friends hit the biggest party of the year but what starts out as a fun evening quickly descends into a bloody chaos that challenges their friendships when an unexplained paranormal phenomenon disrupts the proceedings: perfect replicas of all the partying kids suddenly appear. What's even weirder, they're doing everything their originals did 15 minutes earlier. From IFC Films ... When a dysfunctional gang's prison breakout goes violently wrong in
"Fresh Meat"
(2012), they need a hideout in a hurry. Picking the McMansion of a middle-class family in the suburbs seems like a safe bet, until it becomes clear that this particular family has reintroduced some very old-fashioned cuisine to their table. Will the gang escape the trap, or is there gangster in the casserole tonight? Stars Temuera Morrison, Nicola Kawana, Hanna Tevita and Kate Elliott. From Cinedigm ... In
"Richard the Lionheart"
(2013), starring Chandler Maness, Burton Anthony Perez, Stewart Arnold, Christopher Jones and Malcolm McDowell, the aging King Henry II has chosen his son Richard to lead England in the coming war against France. To test Richard's loyalty, honor and skill, Henry sends him to a hellish prison in which the captives must fight a never-ending stream of enemies in order to survive. From Lionsgate ... A cynical man journeys to a Haitian insane asylum in search of his missing brother to discover that all the inmates and the hospital administrator are seemingly possessed by a bloodthirsty voodoo spirit in
"Voodoo Possession"
(2014), starring Ryan Caltagirone and Danny Trejo. From Image Entertainment ...
"I'm in Love with a Church Girl"
(2013), starring Ja Rule, Adrienne Bailon, Michael Madsen, Stephen Baldwin and Vincent Pastore, is an inspirational thriller about an ex-high-level drug trafficker, Miles Montego, who has tried to move on but is still rolling with his old friends. When Miles meets Vanessa, a woman who is different than every other woman he's met, he's drawn to her beauty and her spirituality. As their connection grows deeper, both are tested to their last ounce of faith in God and in each other. On DVD and Blu-ray from Cinedigm ... A high school senior moves with her family from buttoned-up Washington D.C. to decidedly relaxed Los Angeles, where she's taken under the wing by the school's "mean girls," pursued by a stoner and a star football player, and learns about the wild side of high school life in
"Getting That Girl"
(2011), starring Gia Mantegna, Escher Holloway, Daniel Booko, Inbar Lavi and Will Rothhaar. From Level 33 Entertainment.
ON THE INDIE FRONT:
"Short Term 12"
(2013) stars Brie Larson, John Gallagher Jr., Kaitlyn Dever, Stephanie Beatriz, Rami Malek and Alex Calloway in a surprisingly earnest small film. Grace is a twenty-something supervisor at a group home for troubled and at-risk teens who is passionate, tough, and in love with her long-term boyfriend and co-worker, Mason. But Grace's difficult past, her fierce independence -- and the arrival of a distraught new girl at the facility -- create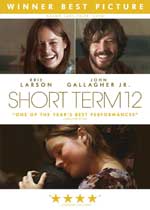 complications that push Grace and Mason to the brink. Grace and Mason come to embrace a surprising future together, discovering truth, humor, and family in unexpected places along the way. On DVD and Blu-ray from Cinedigm ... A steamy July 4th night brings four people together in two tales of seduction and conflicted desire in
"Four"
(2012). Joe is a black, middle-aged, married man out on date with June, a young white man he met on the Internet. Abigayle is Joe's precocious daughter, out herself with a hot, wisecracking Latino basketball player named Dexter. As the two couples get to know each other intimately, their realities are tested and the outcome is bracing. Stars Wendell Pierce, Emory Cohen, Aja Naomi King and E.J. Bonilla. From Wolfe Video ...
"In Montauk"
(2012), starring Nina Kaczorowski, Lukas Hassel and George Katt, is a drama-romance about a photographer with a successful husband, a baby on the way and a close circle of family and friends who retreats to the wintry Long Island seascape to prepare for a show but actually embarks on a journey of self-discovery. When a prickly but brilliant composer-musician knocks on her door with an odd request, a series of events are put into motion that force her to make choices she couldn't have fathomed. From Siren's Tale Productions.
FOR THE FAMILY:
"SpongeBob and Friends: Patrick SquarePants"
(2013) contains 14 episodes featuring best buddies SpongeBob and Patrick in school, at work and at play. $14.99 from Paramount ...
"Power Rangers Megaforce: The Mysterious Robo Knight"
(2014) features four robo-charged episodes as Troy, Noah, Emma, Gia and Jake "power up" to defend Earth from evil insectoid monsters. The Rangers must use friendship, teamwork and their Megazords to overcome evil villains Beezara, Dizchord, Bluefur, Bigs, Hisser and Creepox. From Lionsgate ...
"Wolverine vs. Sabretooth"
(2014) is a motion-animation DVD comic book that documents the biggest, best and quite possibly last battle between Wolverine and Sabretooth. $14.97 from Shout! Factory.
SPECIAL INTEREST:


"The Contradictions of Fair Hope" (2013): This powerful and riveting documentary -- executive produced by S. Epatha Merkerson -- examines a little known aspect of American history, when newly freed slaves throughout the South formed "benevolent societies" to respond to abject hunger, illness and fear of a pauper's grave. Setting the stage in rural Alabama, prior to Emancipation, the film traces the developments, struggles, contributions and gradual loss of traditions of one of the last remaining African American benevolent societies known as "The Fair Hope Benevolent Society." Narrated by Whoopi Goldberg with music by Christian McBride. $14.98 from Shelter Island.


"Frankenstein: The Real Story" (2014): Features three engrossing documentaries that explore the Frankenstein story from various angles: "In Search of the Real Frankenstein" looks at scientists throughout history who experimented with reviving dead animals and human corpses in attempts to find the secret force of life. "Frankenstein" explores the origins of the tale that became the first science fiction novel. Did it spring from Mary Shelley's imagination or did she base it on an 18th-century German doctor who conducted gruesome experiments on live humans? "It's Alive: The True Story of Frankenstein, Part 1" further traces the story through all its artistic renditions: 19th-century stage adaptations, silent film versions including the 1931 film starring Boris Karloff, its superb 1935 sequel "Bride of Frankenstein," Mel Brooks' hilarious satire "Young Frankenstein" and the 1994 Kenneth Branagh film starring Robert De Niro. From Lionsgate.


"Greedy Lying Bastards" (2013): Documentary follows the people and organizations casting doubt on climate science and claims that greenhouse gases are not affected by human behavior. The oil and gas business, notably ExxonMobil and Koch Industries, and affiliated think tanks, are the main culprits, together with the politicians who support them. They have turned discussions about climate change into a circus-type atmosphere where corporations and political spokespeople assert bogus facts about global warming without having any scientific background. Filmmaker and political activist Craig Rosebraugh, in association with executive producer, actress Daryl Hannah, document the impact of an industry that has continually put profits before people, waged a campaign of lies designed to thwart measures to combat climate change and used its collective clout to minimize intriguing regulations and undermine the political process in the U.S. and abroad. $19.98 from The Disinformation Company.


"Marvin Hamlisch: What He Did for Love" (2014): American Masters bio of the man behind "The Way We Were," "Nobody Does It Better," the scores for "The Sting," "Sophie's Choice" and the Broadway juggernaut "A Chorus Line." The documentary is a deeply personal, insider portrait of one of the greatest artists of our time. Candid new interviews with Hamlisch's family, friends and A-list collaborators include wife Terre Blair Hamlisch, Barbra Streisand, Carly Simon, Steven Soderbergh, Quincy Jones, Christopher Walken, Tim Rice, Joe Torre, Woody Allen, John Lithgow, Lucie Arnaz, Ann-Margret, Howard Stringer, Kelli O'Hara, Brian D'Arcy James, Idina Menzel, Melissa Manchester, songwriter Carole Bayer Sager and many others. From PBS Distribution.


"Our Nixon" (2013): Throughout Richard Nixon's presidency, three of his top White House aides documented their experiences with Super 8 home movie cameras. Young, idealistic and dedicated, they had no idea that a few years later they'd all be at the center of a history-making impeachment scandal. This unique and personal visual record, created by H.R. Haldeman, John Ehrlichman and Dwight Chapin, was seized by the FBI during the Watergate investigation, then filed away and forgotten for almost 40 years. This documentary presents those home movies for the first time, along with other rare footage, creating an intimate and complex portrait of the Nixon presidency as never seen before. From Cinedigm.


"Rewind This!" (2013): The videocassette tape, once the cutting edge of home entertainment, is now a relic, but the story of its rise and fall is compelling viewing in this loving and enlightening history of the format and the lives it helped change. Until the late 1970s, the only way to see movies uncut and uncensored was in a theater or on the new and not-widely-available pay cable. But the arrival of VHS, and its competing videotape format Beta, created a revolution that would ultimately change how movies were seen, distributed and even produced. It was an exploding industry without rules, where new terms like "fast-forward" and "direct-to-video" entered the vocabulary, and where the previously unheard of notion of owning movies became a reality. This documentary traces the story of VHS tape from its heyday as the mainstream home video format to its current status as a nostalgic relic and prize to collectors who still cherish it. Featuring interviews with both filmmakers and enthusiasts from the VHS era, including Troma Entertainment legend Lloyd Kaufman, art-house auteur Atom Egoyan and "Hobo With a Shotgun" filmmaker Jason Eisener, this is the definitive story of the format that came to be synonymous with the home entertainment revolution. $24.98 from FilmBuff.


"The Universe in 3D: A Whole New Dimension" (2014): The acclaimed History series is back with three visually-stunning episodes in 3D. "Crash Landing on Mars" explores how events might play out if humans were stranded on the red planet. "Worst Days on Planet Earth" imagines how our seemingly hospitable planet has been shaped through utter chaos and destruction: how giant volcanoes scorched the Earth and darkened skies, and how asteroids the size of Everest slammed into the ocean. In "God and the Universe," physicists and theologians discuss whether the seemingly miraculous creation of a universe calibrated to support life proves the existence of a creator or can be explained by the laws of physics. $19.99 from Lionsgate.


"Unmanned: America's Drone Wars" (2013): Documentary from respected filmmaker, Robert Greenwald investigates the impact that U.S. drone strikes have across the globe. The film reveals the realities of drone warfare: The violation of international law, the loss of innocent life among children, women and elders, the far-reaching implications for the communities that live under drones, and the resulting blowback the United States faces. Formats: DVD, $19.98 from The Disinformation Company.
Check out other January 14-20 DVD releases and reviews at OnVideo.
Comments