New in Theaters Nov. 22: The Hunger Games: Catching Fire, Delivery Man
By Chris Kavan - 11/21/13 at 06:45 AM CT
After two weeks at the top, Thor is going to have to take the backseat to the next big movie. And this time, it's going to be a tidal wave. When the original Hunger Games hit, everyone knew it was based on a popular YA novel and starred some of the most talked about up-and-coming young actors in Hollywood. With Catching Fire - there are no unknowns - Hungers Games was a monster hit - taking in over $400 million domestically - and star Jennifer Lawrence has gone on to become one of the biggest actresses in Hollywood. All things point to a monster weekend for the fall's most anticipated film.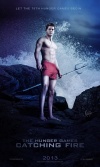 THE HUNGER GAMES: CATCHING FIRE Early reviews have been nearly universally good for Catching Fire. Gone is the shaky cam style that perturbed so many people - welcomed is the deeper character study and bond between the actors (that I felt was the biggest weakness in the first film). Plus, Lawrence has been getting raves for her return as Katniss Everdeen - and high marks are coming in for fellow returnees Josh Hutcherson (as Peeta) and Donald Sutherland (as the duplicitous President Snow). Also earning good marks are newcomers Philip Seymour Hoffman (as new Master of Games Plutarch Heavensbee), Sam Claflin (as Finnick Odair) and Jena Malone (as Johanna Mason). I thought the original film was one of the better adaptations to come along in quite awhile - but Catching Fire seems to have improved upon it across the board. New director Francis Lawrence (who has tackle both romance in Water for Elephants and action in I Am Legend) seems to know exactly how to balance the action with the more dramatic element - and, while I initially had my doubts about splitting the last book into two films - if he stays on, it may not turn out too bad after all. Gravity came on strong, but I think Catching Fire is going to be the biggest film of the fall - and probably easily one of the top five films of the year. We'll see how big it opens, but I have no doubt it will be epic.


DELIVERY MAN So what film would dare go up against Catching Fire? That Sisyphean task falls to Vince Vaughn, who is the lead star in Delivery Man - who plays a (what else) man-child underachiever who finds out that, due to some oversight as the sperm bank, is the unwitting father to 533 children. From what I see, despite being told not to, he gets involved in the lives of (some) of his kids, even as many of them are going to court in order to uncover his identity. Granted, I admit the film does look like it is somewhat appealing - fun and maybe even a bit heartfelt - but, let's face it, it's going to get crushed - and I doubt it will even top Best Man Holiday. This is going to be relegated to rental status but I think it looks like one of the better Vaughn offerings in awhile.


The only story this Sunday is going to be be just how much Hunger Games: Catching Fire is going to rake in. I have a feeling it's going to be one of the best debuts of the year - but the weekend will tell the tale.