New in Theaters June 21: Monsters University, World War Z
By Chris Kavan - 06/20/13 at 01:57 PM CT
Man of Steel took flight with a record June opening last weekend - helped in no small part by an extra boost from Father's Day. This week sees the return of the family film along with a Brad Pitt's horror film darling that has been marketed to death and could still fall flat on its undead face. If Superman can continue to hold strong, however, the weekend may still come out as a win for Hollywood.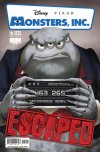 MONSTERS UNIVERSITY Pixar has dipped in the sequel well before, and while I still appreciate original content over something that has been done before, at least Monsters University makes sense. We get to see what Mike (Billy Crystal) and Sully (John Goodman) were like before they became scare-tastic buddies. Somehow the previews evoke memories of Revenge of the Nerds and Animal House (though on a family-friendly level of course). The university setting does give a lot of room for comedy and character. But the biggest thing this film has going for it? Lack of competition. The only family film out right now is Epic, and it's been out far too long to make much of an impact at this point. By now, kids are restless and adults are looking for something to placate them: result, this movie should easily take the top spot, even if Man of Steel holds up well in its second weekend. I don't know how it will line up compared to previous Pixar films, but it will do well enough to warrant more spinoff/sequel stories (still waiting for the Incredibles 2).


WORLD WAR Z When I first heard they were making a film based on Max Brooks' excellent novel about the survivors of a zombie epidemic, I was completely stoked. But as time went by, and it looked like the movie would bear little in common with the book (other than the title) I became much less enthused. Now, I'm just hoping the movie doesn't suck. It has been marketed to death - but it may not help it overcome the waves of bad press (including having to reshoot the ending) it has been subjected to. Pitt is a bankable start, but I don't think it's going to be enough to save this from being a pretty hard sell. I'll watch it mainly because I'm a zombie nut and I'm intrigued enough that I want to see what has been done. Will it be good? Juries still out on that one - but it may struggle to reach second place against a superhero.


This weekend should be interesting. I'll be on the hunt for zombies for sure, even if I don't like what I see. Come Sunday, we'll know which monsters truly rule the box office.