By Harley Lond - 04/26/21 at 09:05 PM CT
THIS WEEK'S BEST BETS
"Wanted for Murder/ Cast a Dark Shadow": Death and seduction are the themes of these newly-restored thrillers from the golden age of British noir. "In Cast a Dark Shadow" (1955), Dirk Bogarde stars as "Teddy" Bare, a smooth-talking cad who maintains a life of leisure by preying on a series of lonely, wealthy women. But the headstrong sister (Kay Walsh) of one of his late wives is determined to bring Teddy's killing streak to an end. In "Wanted for Murder" (1946), the polished exterior of a refined gentleman (Eric Portman) conceals the heart of a strangler. A young record shop clerk (Dulcie Gray) holds the key to his capture,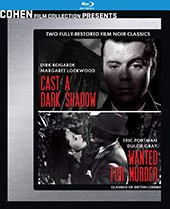 which puts her at the head of the queue to become his next victim. Wanted for Murder / Cast a Dark Shadow is on Blu-ray from Cohen Film Collection ... Dum-Dum, Wacky, Creeps, Fingers: They're just a few of the hoodlums in the world of amateur sleuths and professional bon vivants Nick and Nora Charles. And now there's a new hood: parenthood. A birthday -- make that boithday -- party that some of da boys hold for infant Nick Jr. is part of the fun in this third film in the witty series, "Another Thin Man" (1939). The case begins when the Charles family arrives for a weekend with a Long Island industrialist who fears someone wants to kill him. Sure enough, his fears come true. Nick (William Powell) is among the suspects. Asta scrams with what may be the murder weapon. And Nora (Myrna Loy) has her own ideas about the case and sneaks off to a nightclub to ferret out a clue. "Madam, how long have you been leading this double life?" Nick asks. "Just since we've been married," she replies. In a Blu-ray debut from Warner Archive ... "Irma Vep" (1996 -- France), the live-wire international breakthrough of Olivier Assayas, stars a magnetic Maggie Cheung as a version of herself: a Hong Kong action-movie star who arrives in Paris to play the latex-clad lead in a remake of Louis Feuillade's classic silent crime serial "Les vampires." What she finds is a behind-the-scenes tangle of barely controlled chaos as egos clash,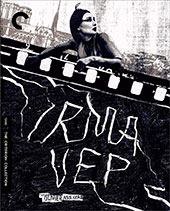 romantic attractions simmer, and an obsessive director (a cannily cast Jean-Pierre Léaud) drives himself to the brink to realize his vision. Blending blasts of silent cinema, martial-arts flicks, and the music of Sonic Youth and Luna into a hallucinatory swirl of postmodern cool, Assayas composes a witty critique of the nineties French film industry and the eternal tension between art and commercial entertainment. On DVD, Blu-ray, with new 2K digital restoration from the original camera negative, approved by director Olivier Assayas, with 5.1 surround DTS-HD Master Audio soundtrack on the Blu-ray. From The Criterion Collection ... Framed for manslaughter after he breaks a story about city corruption, reporter Frank Ross is sure he'll prove his innocence and walk out of prison a free man in "Each Dawn I Die" (1939) But that's not how the system works at Rocky Point Penitentiary. There, cellblock guards are vicious, the jute-mill labor is endless, and the powers Ross fought on the outside conspire to keep him in. Frank's hope is turned to hopelessness. And he's starting to crack. Two of the screen's famed tough guys star in this prison movie that casts a reform-minded eye on the brutalizing effects of life in the slammer. James Cagney as Ross, the embittered, stir-crazy fall guy and George Raft (Cagney's friend since their vaudeville days) portrays racketeer Hood Stacey, who may hold the key to springing Ross. In a Blu-ray debut from Warner Archive ...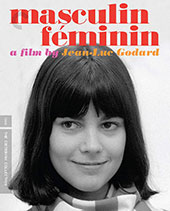 With "Masculin féminin" (1966 -- France), the ruthless stylist and iconoclast Jean-Luc Godard introduces the world to "the children of Marx and Coca-Cola," through a gang of restless youths engaged in hopeless love affairs with music, revolution, and one another. French New Wave icon Jean-Pierre Léaud stars as Paul, an idealistic would-be intellectual struggling to forge a relationship with the adorable pop star Madeleine (real-life yé-yé girl Chantal Goya). Through their tempestuous affair, Godard fashions a candid and wildly funny free-form examination of youth culture in pulsating 1960s Paris, mixing satire and tragedy as only Godard can. In a Blu-ray debut, with new 4K digital restoration, approved by cinematographer Willy Kurant, with uncompressed monaural soundtrack, from The Criterion Collection.


BUZZIN' THE 'B'S:
In a career that forever raised the bar for everything from hookers, cannibals and necrophiles to Ator, Emanuelle and Caligula, the long-unseen chum bucket
"Deep Blood"
(1990 -- Italy) from producer/director/EuroSleaze master Joe D'Amato may be his most bizarrely entertaining anomaly ever. Shot on location in Florida surf and Rome swimming pools, D'Amato combines 80s teen movie clichés and Native American mysticism with stupefying dialogue, over-the-top performances and shark footage that Bruno Mattei would later swipe for "Cruel Jaws" to create what Oh, The Horror! calls "a weird, demented experience that begs to be discovered and embraced." A cast of local unknowns -- along with, inexplicably, the 60s comedy team of Charlie Brill & Mitzi McCall -- star in this last word in Italian Sharksploitation, now scanned in 2K from the original negative for the first time ever. On DVD, Blu-ray, from Severin Films ... The star of "Caddyshack," "Ghostbusters" and "Groundhog Day" headlines and co-directs the Big Apple heist-and-pursuit caper
"Quick Change"
(1990). Bill Murray plays Grimm, a frazzled urbanite who disguises himself as a clown – and sets out to rob a bank. Geena Davis and Randy Quaid play accomplices in Grimm's daring scheme and Jason Robards is the blustery cop caught up in Grimm's "Clown Day Afternoon." Swiping a million bucks is a snap compared to getting out of town. Grimm and cohorts commandeer a car, a cab, a bus, a baggage tram and a plane (and encounter future stars Stanley Tucci and Tony Shalhoub in supporting roles) to make what becomes a less-than-merry escape. In a Blu-ray debut from Warner Archive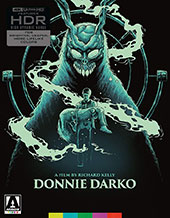 Arrow Video has on hand this week a limited edition two-disc 4K Ultra HD Blu-ray release of
"Donnie Darko"
(2001). Jake Gyllenhaal stars as a troubled teen who struggles with visions of a six-foot rabbit named Frank that encourages him to commit crimes. This feature debut from director Richard Kelly became a cultural phenomenon, with the film earning praise for being daring and original. This new 4K UHD release includes both the theatrical and director's cut, both with new 4K restorations approved by Kelly and cinematographer Steven Poster. This special release also includes a 100-page hardcover book and a double-sided fold-out poster featuring newly commissioned art by Luke Preece ... In
"Vanquish"
(2021), starring Ruby Rose, Morgan Freeman and Patrick Muldoon, a mother, Victoria (Rose), is trying to put her dark past as a Russian drug courier behind her, but retired cop Damon (Freeman) forces Victoria to do his bidding by holding her daughter hostage. Now, Victoria must use guns, guts, and a motorcycle to take out a series of violent gangsters -- or she may never see her child again. On DVD, Blu-ray, from Lionsgate.
FOREIGN FILMS:
In
"Heavy Trip (Hevi reissu"
(2018 -- Finland), starring Rune Temte, Johannes Holopainen, Kai Lehtinen and Torstein Bjørklund, Turo (Holopainen) is stuck in a small village in the Finnish countryside where his greatest passion is being the lead vocalist for the amateur metal band Impaled Rektum. The only problem
is that he and his fellow headbangers have practiced for 12 years without playing a single gig. But that's all about to change when the guys meet the promoter of a huge heavy metal music festival in Norway, and they decide that it's now or never. Hitting the road in a stolen van with a corpse, a coffin and a new drummer from a local mental hospital in tow, Impaled Rektum travels across Scandinavia to make their dreams come true. The Blu-ray debut includes a limited edition slip cover; a standard Blu-ray will be released May 25. From Doppelganger Releasing.
Check out other new DVD/Blu-ray releases, streaming films, and information and reviews at OnVideo.
Comments