By Harley Lond - 06/15/20 at 07:21 PM CT
THIS WEEK'S BEST BETS:
Buster Keaton is at the peak of his slapstick powers in "The Cameraman" (1928), the first film that the silent-screen legend made after signing with MGM, and his last great masterpiece. The final work over which he maintained creative control, this clever farce is the culmination of an extraordinary, decade-long run that produced some of the most innovative and enduring comedies of all time. Keaton plays a hapless newsreel cameraman desperate to impress both his new employer and his winsome office crush as he zigzags up and down Manhattan hustling for a scoop. Along the way, he goes for a swim (and winds up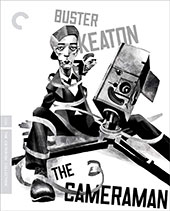 soaked), becomes embroiled in a Chinatown Tong War, and teams up with a memorable monkey sidekick (the famous Josephine). The marvelously inventive film-within-a-film setup allows Keaton's imagination to run wild, yielding both sly insights into the travails of moviemaking and an emotional payoff of disarming poignancy. The Cameraman
is on DVD and Blu-ray, with a new 4K digital restoration undertaken by the Cineteca di Bologna, the Criterion Collection, and Warner Bros. From The Criterion Collection ... From Karel Reisz, the renowned director of "Saturday Night and Sunday Morning," "Isadora," "Who'll Stop the Rain," "The French Lieutenant's Woman" and "Sweet Dreams," comes the cult classic "Morgan, A Suitable Case for Treatment [Blu-ray]
" (1966), starring screen great Vanessa Redgrave and legendary character actor David Warner in one of his few starring roles. A gorilla-fixated artist with distinctly anarchist tendencies, Morgan (Warner) tries to regain the affections of his divorced wife Leonie (Redgrave) by variously kidnapping her, attempting to blow up her future mother-in-law and attacking her fiancé (Robert Stephens). Cut with scenes from King Kong and Tarzan films, Morgan's depiction of madness, dark humor and vintage performances made it one of the wildest, funniest and most provocative comedies of the '60s. Nominated for two Oscars: Best Actress in a Leading Role (Redgrave) and Best Costume Design, Black-and-White (Jocelyn Rickards). On DVD, Blu-ray, from Kino Lorber) ...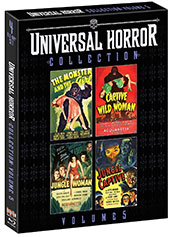 The "Universal Horror Collection: Volume 5
" includes four tales of terror from the archives of Universal Pictures, the true home of classic horror. A mobster's brain is transplanted into an ape who carries out his revenge in "The Monster and the Girl" (1941). A mad scientist turns an ape into a beautiful, but deadly woman in "Captive Wild Woman" (1943). "Jungle Woman" (1944), the sequel to "Captive Wild Woman," is an eerie thriller with all the danger of wild animals on the loose and a sexy killer on the prowl. And in "The Jungle Captive" (1945), a scientist has experimented on re-animating animals ... but now he has decided to go one step further and re-animate a human. New 2K scans from fine grain film elements on all films except "Captive Wild Woman." On Blu-ray from Scream Factory ... Famed Japanese auteur Takashi Miike, best known for cult classics "Audition," "Ichi the Killer" and "The City of Lost Souls," redefines the spaghetti Western with "Sukiyaki Western Django: Collector's Edition
" (2007 - Japan), an epic tale of blood, lust and greed starring Hideaki Ito, Yusuke Iseya, Kaori Momoi and Quentin Tarantino. Two clans (the reds and the whites) battle for a legendary treasure hidden in a desolate mountain town. One day, a lone gunman, burdened with deep emotional scars but blessed with incredible shooting skills, drifts into town. The two clans try to woo the lone gunman to their sides, but he has ulterior motives. Dirty tricks, betrayal, desire and love collide as the situation erupts into a final, explosive showdown. In English.On DVD, Blu-ray, from FilmRise ...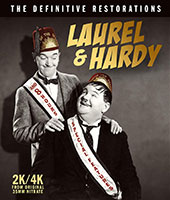 The comedy films of Stan Laurel and Oliver Hardy have been beloved around the world since they were first released between 1927 and 1940. Unfortunately, many of the available copies are blurred dupes printed from worn-out negatives. Now, the best of their short comedies and two of their finest features have been fully restored in "Laurel & Hardy: The Definitive Restorations
". They look and sound as spectacular as when they were first released. World premieres of Laurel and Hardy's legendary 1927 silent "pie fight" film "The Battle of the Century" makes its video debut after being "lost" for 90 years and the only reel of L&H bloopers and out-takes, "That's That!" Includes classic short comedies "Berth Marks," "Brats," "Hog Wild," "Come Clean," "One Good Turn," "Helpmates," "The Music Box" (the legendary Academy Award winning "piano moving" short), "The Chimp," "County Hospital," "Scram!," "Their First Mistake," "Towed in a Hole," "Twice Two," "Me and My Pal," "The Midnight Patrol," and "Busy Bodies" In addition to the feature films "Sons of the Desert" and "Way Out West" (which includes the team's famous soft shoe dance routine). 2K and 4K transfers from the finest original 35mm nitrate materials. Restorations provided by Jeff Joseph/SabuCat in conjunction with UCLA Film & Television Archive and Library of Congress. On DVD, Blu-ray, from Kit Parker Films/MVD Entertainment ...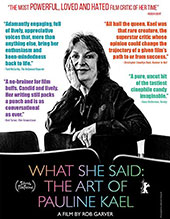 Tagged by Roger Ebert as the most influential film critic of the late 20th century, "What She Said: The Art of Pauline Kael
" (2020) tells the story of Kael's turbulent life and work, through never-seen archival footage, her published writing and personal letters, and interviews with both friends and foes of her pen. Kael is voiced by Sarah Jessica Parker, and participants include Quentin Tarantino, Camille Paglia, David O. Russell, Molly Haskell, Francis Ford Coppola, and daughter Gina James. Pauline Kael (1919-2001) was likely the most powerful, and personal, movie critic of the 20th century. Writing for The New Yorker and publishing a dozen best-selling books, she ruthlessly pursued what made a movie or an actor's performance work, or not, and why. Her passion made her both admired and despised amongst her readers and her subjects. Kael's own story is one of struggle and obsession: The fight to establish her voice and have it heard, and to raise a daughter on her own in a time when the obstacles were high. The latter golden age of movies of the 1960s and 1970s are the focus of this film that pursues the question of what made Kael's work so individual, so controversial -- and so damned good. From Juno Films/MVD Entertainment ... And, lastly, there's the "Friday the 13th
Killer 40th Anniversary Blu-ray Steelbook." Originally released in May of 1980, "Friday the 13th" captured audiences' imaginations and permeated our collective psyche. The film spawned one of the longest-running and most successful horror franchises in film history with 11 subsequent movies and, 40 years later, the iconic machete-wielding killer continues to haunt, fascinate and terrify new generations. Features artwork from the original movie poster and includes the uncut, unrated version of the film, as well as access to a digital copy of the original theatrical version. The film stars Betsy Palmer, Adrienne King, and Kevin Bacon. On Blu-ray from Paramount.


BUZZIN' THE 'B'S:
"Burden
"
(2020), starring Garrett Hedlund, Andrea Riseborough, Forest Whitaker, Tom Wilkinson, Tess Harper, Austin Hebert and Usher Raymond, tells the incredible true story of Michael "Mike" Burden (Hedlund), an ardent young member of the South Carolina Ku Klux Klan who rose to the rank of Grand Dragon -- and walked away from all of it with the help of a new love and an unlikely ally, the African American religious leader and social activist Reverend David Kennedy (Whitaker). Set in a small South Carolina town scarred from deep-rooted racism in the mid-nineties, an unlikely friendship forms when Kennedy shelters Mike Burden, along with his girlfriend Judy, a single mother. Through his faith and love, Reverend Kennedy helps Mike leave his violent past in the Klan, ultimately helping to heal the community. From Universal ...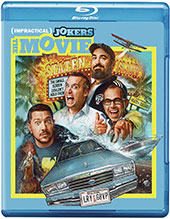 "Impractical Jokers: The Movie
"
(2020), starring Brian Quinn, Joe Gatto, James Murray, Sal Vulcano and Paula Abdul, tells the story of a humiliating high school mishap from 1992 that sends the Impractical Jokers on the road competing in hidden-camera challenges for the chance to turn back the clock and redeem three of the four Jokers. On DVD, Blu-ray, from Warner ... Years after a bacterium killed 31 million people, David Oscar must come out of hiding and face his past in
"Kill Mode
"
(2020), starring Dave Mantel, Julia Batelaan, Cyriel Guds and Yasmin Blake. David is tracked down by the remaining members of his former rebel group, who persuade him to take part in an important mission which they believe will lead to a cure for the infected and will destroy the pharmaceutical company they believe to be responsible for the sickness. As they break into a secure facility expecting to find the cure, they discover a young girl who has been held captive and subjected to experiments for years. As David and his companions help her escape the company facility, the mutation inside her body manifests itself and the rebels discover why she has been kept under lock and key all this time. On DVD, Blu-ray, from RLJE Films ... From the novel by Damon Galgut comes the thriller
"The Quarry
"
(2020), starring Shea Whigham, Michael Shannon, Catalina Sandino Moreno in a tale of sin and redemption set in the wilds of Texas. After murdering a traveling preacher, a fugitive drifter (Whigham) travels to a small town and poses as the man he killed. Though the congregation loves the drifter's sermons of forgiveness, the local police chief (Shannon) is suspicious of the man. Soon a gruesome discovery at a local quarry forces the killer to fight for his freedom. On DVD, Blu-ray, from Lionsgate ...
In
"Sniper: Assassin's End
"
(2019), starring Chad Michael Collins, Sayaka Akimoto and Tom Berenger, Special Ops sniper Brandon Beckett (Collins) is set up as the primary suspect for the murder of a foreign dignitary on the eve of signing a high-profile trade agreement with the United States. Narrowly escaping death, Beckett realizes that there may be a dark operative working within the government, and partners with the only person whom he can trust: his father, legendary sniper Sgt. Thomas Beckett (Berenger). Both Becketts are on the run from the CIA, Russian mercenaries and Lady Death, a Yakuza-trained assassin (Japanese actress and singer Sayaka Akimoto in her Hollywood film debut) with sniper skills that rival both legendary sharpshooters. On DVD, Blu-ray, from Sony ... After his impressions of a comedian named Marques (Katt Williams) make him an online sensation, Deandre (Jay Pharoah) goes to L.A. with dreams of stand-up stardom in
"2 Minutes of Fame
"
(2020). But his girlfriend (Keke Palmer) needs him to be a stand-up guy and help raise their young son. Marques, the reigning king of comedy, isn't about to give up his throne, and plots a rude awakening for Deandre. Co-stars RonReaco Lee, Deon Cole and Keke Palmer. From Lionsgate ...
Produced in 1960 as "Body in the Web,"
"Horrors of Spider Island
"
(1960 -- Germany), starring Harald Maresch, Helga Franck and Alexander D'Arcy, became a notorious Adults Only feature throughout Europe (though banned in the UK). Three years later and sheared of its nudity, it was repackaged for American audiences as a brain-melting monster movie filled with stripper-cat-fights, skimpy lingerie, and radioactive arachnids. The completely uncensored version, scanned from the Düsseldorf dupe negative, as well as the alternate U.S. release, scanned from a pristine low con print, are now together for the first time. On DVD, Blu-ray, from Severin Films ... In
"Driven
"
(2019), starring Casey Dillard, Richard Speight Jr., Jessica Harthcock, Nicholas Roylance, Andy Field, Bill Luckett and Leah Hudspeth, Emerson Graham's nights as a cab driver are filled with annoyances and inconveniences, but until tonight, never attacks and disappearances. After picking up a mysterious passenger her evening goes from working a job to performing a quest as they must race against the clock to stop demons from invading the world. From Uncork'd Entertainment ...
With
"Satan's Slave
"
(1982 -- Indonesia), starring Ruth Pelupessi, W.D. Mochtar and Fachrul Rozy, Indonesian exploitation studio Rapi Films and writer-director Sisworo Gautama Putra unleashed a chiller that rocked the Muslim nation, transformed the country's genre film industry, and remains one of the most influential shockers in Asian horror history. While mourning the death of his mother, a troubled teen discovers a nightmare world of restless spirits, supernatural vengeance and occult terror. Scanned from the original negative. A 2017 remake became an international festival favorite and one of Indonesia's biggest hits ever. On DVD, Blu-ray from Severin Films ... When a group of young microbiologists head deep into the Australian wilderness to test water samples, they inadvertently enter the domain of a mysterious local in
"The Marshes
"
(2018 -- Australia), starring Dafna Kronental, Mathew Cooper, Sam Delich and Eddie Baroo. As they travel through the marshes, he stalks their every move, determined to kill anyone who enters his land. On DVD, Blu-ray,from RLJE Films ...
In
"A Soldier's Revenge
"
(2020), starring Neal Bledsoe, Rob Mayes, AnnaLynne McCord, Val Kilmer and Jake Busey. Civil War soldier-turned-bounty-hunter Frank Connor (Bledsoe), haunted by wartime horrors, spends his time post-war polishing off two things: whiskey and fugitives. When two desperate children arrive on his doorstep and enlist his help to find their missing mother (McCord), Frank must face his past in order to take down the notorious Major Briggs (Mayes), with whom he has a score all his own to settle. On DVD, Blu-ray, from Well Go USA ... In
"The Luring
"
(2019), starring Rick Irwin, Dan Berkey, Molly Fahey, Henry Gagliardi and Michaela Sprague, a man tries to recover a lost memory by returning to his family's Vermont vacation home where an unspeakable act took place leaving him institutionalized as a child. From Wild Eye Releasing ... In
"Wrestlemassacre
"
(2018), starring Richie Acevedo, Tony Atlas and Julio Bana Fernandez, Randy is an awkward groundskeeper who is obsessed with professional wrestling. Longing for a sense of belonging with grandiose dreams of becoming a wrestling superstar, he is only met with abject humiliation. A brutal shaming at a local wrestling school pushes Randy over the edge and he sets out on a blood soaked rampage to punish those who wronged him. From Wild Eye Releasing.
ON THE INDIE FRONT:
In
"The Etruscan Smile
"
(2018), starring Brian Cox, Rosanna Arquette, JJ Feild, Thora Birch, Tim Matheson, Peter Coyote and Treat Williams, Cox stars as Rory MacNeil, a rugged Scotsman who is forced to leave behind his beloved home and seek medical treatment in San Francisco. Moving in with his estranged son, Rory's life will be transformed, when he least expects it, through the redemptive power of love. On DVD, Blu-ray, from Lightyear Entertainment ... In
"Saint Frances
"
(2019), starring Kelly O'Sullivan, Ramona Edith-Williams, Jim True-Frost, Francis Guinan, Lily Mojekwu, Mary Beth Fisher and Charin Alvarez, flailing 34-year-old Bridget (O'Sullivan) finally catches a break when she meets a nice guy and lands a much-needed job nannying 6-year-old Frances (played by a scene-stealing Edith-Williams). But an unwanted pregnancy introduces an unexpected complication. To make matters worse, she clashes with the obstinate Frances and struggles to navigate a growing tension between Frances' moms. Amidst her tempestuous personal relationships, a reluctant friendship with Frances emerges, and Bridget contends with the inevitable joys and shit-shows of becoming a part of someone else's family. On DVD, Blu-ray, from Oscilloscope Laboratories.
FOREIGN:
Film Movement has three Romy Schneider films debuting on Blu-ray this week.
"Claude Sautet & Romy Schneider Duo (César et Rosalie / Les Choses de la Vie)
"
Best known for her turns as the youthful Empress Elisabeth of Austria (Sissi) -- whose 19th-century reign spawned a trilogy of popular German films in the late 1950s -- and for French films of the late '60s and '70s, Romy Schneider wooed international audiences with a mix of aristocratic poise and sex appeal.
In
"Les choses de la vie"
(1970), Pierre (Michel Piccoli), a middle-aged engineer, has his life flash before his eyes after being involved in a horrific car accident. While falling in and out of consciousness, he reflects on the recent events that have transpired between him and estranged wife, Catherine (Lea Massari), and his young lover, Hélène (Romy Schneider). Based on the acclaimed Paul Guimard novel "Intersection." In "César et Rosalie" (1972), sometimes two and two make three. Rosalie and David ... Rosalie and César ... César and David .... After her marriage ends in divorce, the beautiful Rosalie (Schneider) begins dating César (Yves Montand), a wealthy playboy and businessman. But when her old flame, David (Sami Frey), unexpectedly re-enters her life, the two men simultaneously vie for her affections. Both films are digitally restored in HD from original elements. Also released this week is
"L'important c'est d'aimer"
(1975), in which Schneider delivers a César Award-winning performance as a down-on-her-luck actress. Forced to earn a living by accepting demeaning roles negotiated by her erratic husband, Nadine Chevalier (Schneider) encounters tabloid photographer Servais (Fabio Testi) on the set of her latest film. Desperate to win her affections, Servais secretly uses money borrowed from a shady associate to bankroll her next project, a production of "Richard III" with Nadine starring opposite the maniacal German thespian Karl-Heinz Zimmer (Klaus Kinski). Digitally restored in HD from original elements.
Check out other new DVD/Blu-ray releases, streaming films, and information and reviews at OnVideo.
Comments