By Harley Lond - 06/09/20 at 06:45 AM CT
THIS WEEK'S BEST BETS:
"An Unmarried Woman" (1978): One woman's journey of self-discovery brings about a warmly human cultural conversation about female liberation, in this wonderfully frank, funny chronicle of changing 1970s sexual politics by Paul Mazursky. When her husband of 16 years abruptly leaves her for a younger woman, Manhattan gallery worker Erica (a fantastic, Oscar-nominated Jill Clayburgh in her defining role) finds herself alone and adrift -- but also newly empowered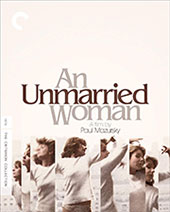 to explore her needs and desires as she tests the waters of a new relationship with a charismatic artist (Alan Bates). Candidly addressing issues of sex, intimacy, loneliness, and divorce from an unabashedly feminist perspective, "An Unmarried Woman" makes the simple but radical assertion that a woman's most important relationship is the one she has with herself. An Unmarried Woman
is on DVD, Blu-ray, with New 4K digital restoration, with uncompressed monaural soundtrack on the Blu-ray. From The Criterion Collection ... The "Deanna Durbin Collection
" features three classic films starring screen legend Deanna Durbin. "100 Men and a Girl" (1937) - Durbin shines in this delightful story of an inventive and determined young woman who will stop at nothing to get what she wants. The daughter of an unemployed musician, Patricia Cardwell (Durbin) decides she will persuade conductor Leopold Stokowski to help her launch an orchestra that will employ her widowed father (Adolphe Menjou) and 99 other out-of-work musicians. Though faced with this seemingly impossible task, Patricia leads her unemployed orchestra to the home of the unsuspecting Stokowski and conducts them in Liszt's "Second Hungarian Rhapsody" from the top of his staircase. His reaction is priceless, as are the numerous musical numbers, including "It's Raining Sunbeams" and "A Heart That's Free." This enchanting musical treat is a triumphant celebration of Hollywood and a tribute to one of the cinema's best-loved stars. "3 Smart Girls Grow Up" (1939) - Penny (Durbin) has a knack for matchmaking and realizes that her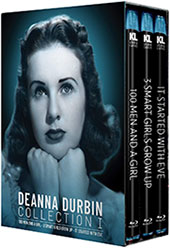 own two sisters Joan (Nan Grey) and Kay (Helen Parrish) could use her help since one of them is in love with the other's boyfriend. In attempting to manipulate the situation so that both sisters end up with the ideal fiancé, Penny only creates further problems until her father is forced to intervene on her behalf. Often noted as Durbin's first young adult role, this breezy, lighthearted entry co-stars Robert Cummings, Charles Winninger and William Lundigan. "It Started With Eve" (1941) brings together the exceptional talents of Durbin and Charles Laughton in a hilarious misadventure of love and romance. An old millionaire (Laughton), believed to be in his final days, wishes to meet the young lady that his son Johnny (Robert Cummings) is planning to wed. When the future bride-to-be is unavailable, the dutiful son finds a quick replacement in a random hat check girl (Durbin). Surprisingly, she quickly steals his heart and when his father makes a remarkable recovery, Johnny must juggle the phony bride-to-be with the newly arrived true bride of his heart. All three films were directed by the great Henry Koster. On Blu-ray from Kino Lorber Studio Classics ... "Film Noir: The Dark Side of Cinema III
": Three Noir films from 1949-50. "Abandoned" (1949) - Noir great Dennis O'Keefe and Gale Storm expose a baby-selling racket in this searing crime drama co-starring Jeff Chandler and Raymond Burr. When Paula Considine (Storm) arrives in Los Angeles to find her sister Mary, she soon learns the unwed mother is dead and her newborn infant is missing. Teaming up with a cynical reporter named Mark Sitko (O'Keefe), Paula discovers Mary was the victim of a black market adoption ring run by Mrs. Leona Donner (Marjorie Rambeau) and her sleazy assistant Kerric (Burr). Hoping to entrap the pair, Paula and Sitko devise a plan but the sting operation proves to have deadly consequences. "The Lady Gambles" (1949) - From Michael Gordon, the outstanding director of "The Web," "An Act of Murder," "Pillow Talk" and "Portrait in Black," comes this classic film noir starring screen legend Barbara Stanwyck as a once respectable and vibrant wife who has become a desperately out-of-control high-roller gambler. A chance visit into a Las Vegas casino introduces Joan Boothe (Stanwyck) to the seductive allure of poker and the craps table. All too soon, she ignores her devoted husband (Robert Preston) and older sister (Edith Barrett) as she compulsively chases after hard-hearted Lady Luck. "The Sleeping City" (1950) - Drug pushing and gambling set the stage for murder in this hardboiled film-noir thriller shot on the streets of New York. When a doctor is shot dead outside Bellevue Hospital, detective Fred Rowen (Richard Conte) is assigned to find the killer. Posing as an intern, Rowen is befriended by the hospital's elevator operator and a ward nurse (Coleen Gray) he begins to date. As his investigation continues and potential witnesses wind up dead, Rowen finds himself next on the murderer's list when he uncovers a narcotics ring. Suddenly, everyone is a suspect and he doesn't know whom he can trust. Directed by George Sherman ("Larceny," "Big Jake").On Blu-ray from Kino Lorber Studio Classics.


BUZZIN' THE 'B'S:
"Outback
"
(2019 -- Australia), starring Kym Cramp, Brendan Donoghue and Lauren Lofberg, tells the terrifying tale of a young couple lost in the wilderness and fighting for survival. Wade and Lisa head to Australia hoping to recharge their failing romance. When their GPS fails, they leave their car and head off on foot to find a new route. As night falls, they must spend the night in the bush without food, water, or weapons, surrounded by snakes, scorpions, and wild dogs. Now, one decision could mean the difference between life ... and certain death. Based on a true story. From Lionsgate ... In
"We Summon the Darkness
"
(2020), starring Alexandra Daddario, Keean Johnson, Maddie Hasson, Amy Forsyth, Logan Miller, Austin Swift and Johnny Knoxville, Alexis (Daddario) and two girlfriends -- on the way to a heavy metal concert -- hear a news report of a local murder believed to be tied to a series of satanic
killings. After the show, the girls invite three guys to join them at the estate owned by Alexis's father, a fire-and-brimstone preacher (Knoxville). What starts as a party suddenly turns dark and deadly. On DVD, Blu-ray, from Lionsgate ... In
"The Dinner Party
"
(2020), starring Bill Sage, Jeremy Lodon, Lindsay Anne Williams and Mike Mayhall, renowned surgeon and culinary enthusiast Carmine Braun invites playwright Jeffrey Duncan and his wife to join his eccentric friends at their semi-annual dinner party, having promised to fund Duncan's new play to Broadway. As the evening descends into madness, the group's true intentions are revealed, along with an ancient secret that will change the Duncans' lives and fortunes forever. From Uncork'd Entertainment ... In
"The Candy Witch
"
(2020), starring Kate Lush, Abi Casson Thompson, Heather Jackson and Richard D Myers, two ghost hunters are called upon to help a distressed family who claim they are being tormented by an evil spirit known as The Candy Witch. As the mystery of her curse is uncovered, surprising and sinister turns are discovered around The Candy Witch's identity. Can the evil curse be stopped before more people are killed by the demonic spirit? On DVD, Blu-ray, from Uncork'd Entertainment ... For the first time ever, experience the complete legacy of writer-producer-director Al Adamson, with 31 remastered films on 14 Blu-ray discs, plus the award-winning documentary "Blood & Flesh: The Reel Life & Ghastly Death of Al Adamson" in
"Al Adamson: The Masterpiece Collection
."
Adamson's oeuvre spans a wild beyond-belief world of bloody brains, vicious cowboys, naughty nurses, decrepit actors, sexy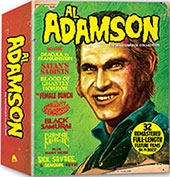 stewardesses, mad scientists, brutal bikers, Blaxploitation mayhem, kung fu killers and "scenes so SICK the Movies could never show them before!" The life and career of B-movie maverick Adamson – known for such low budget classics as "Satan's Sadists," "Dracula vs. Frankenstein" and
The Naughty Stewardesses
(as well as his own grisly 1995 murder) – reveals perhaps the most bizarre career in Hollywood history. Films Included:"Angels' Wild Women," "Black Heat," "Black Samurai," "Blazing Stewardesses," "Blood & Flesh: The Reel Life & Ghastly Death Of Al Adamson," "Blood Of Dracula's Castle," "Blood Of Ghastly Horror," "Brain Of Blood," "Carnival Magic," "Cinderella 2000," "Death Dimension," "Dracula Vs. Frankenstein," "Dracula's Castle," "Five Bloody Graves," "Girls For Rent," "Half Way To Hell," "Hell's Bloody Devils," "Horror Of The Blood Monsters," "Jessi's Girls," "Lost," "Mean Mother," "Nurse Sherri," "Nurses For Sale," "Psycho A-Go-Go," "Satan's Sadists," "Sunset Cove," "The Dynamite Brothers," "The Fakers," "The Female Bunch," "The Fiend With The Electric Brain," "The Naughty Stewardesses," "Uncle Tom's Cabin." In a limited, numbered edition release of only 2000 units. On Blu-ray, with an illustrated 126-page book, from Severin Films.
ON THE INDIE FRONT:
"This Teacher"
(2018), starring Hafsia Herzi, Sarah Kazemy and Lucy Walters, follows a French Muslim woman (Herzi) as she travels to New York City from the rough neighborhoods outside of Paris to visit her childhood best friend. But when their reunion turns disastrous, she escapes to a cabin upstate. However, she soon finds she is not alone, and her sojourn in nature gradually descends into a terrifying study of the intolerance and suspicion she encounters and reflects back to an Islamophobic America. From Breaking Glass Pictures ... In
"A Simple Wedding
"
(2019), starring Tara Grammy, Christopher O'Shea, Rita Wilson, Shohreh Aghdashloo, Maz Jobrani and Houshang Touzie, Iranian-American Nousha has a habit of sabotaging her relationships and frustrating her parents as she is their only hope for a real Persian wedding. Nousha falls fast when she meets Alex, a bisexual artist, activist and DJ living in an old warehouse. When her parents discover that she and Alex are living together before marriage, chaos unfolds as they prepare for a wedding that's anything but simple. Rita Wilson is an executive producer of the film. From Breaking Glass Pictures.
FOREIGN:
In
"Home
"
(2018 -- Belgium), starring Sebastian Van Dun, Mistral Guidotti, Loïc Bellemans and Karlijn Sileghem, 17-year-old Kevin is released from prison for violent behavior and goes to live with his aunt and her family, including Sammy, his cousin. While apprenticing as a plumber he starts to integrate with Sammy's group of friends who are still in high school. Like all teenagers, they just want to party and ignore any responsibilities, but one of them is hiding a problem at home that will put the entire group in jeopardy. On DVD, Blu-ray, from Altered Innocence.
FOR THE FAMILY:
"Think Like a Dog
"
(2020), starring Gabriel Bateman, Kunal Nayyar, Julia Jones, Janet Montgomery, Bryan Callen, Todd Stashwick, Megan Fox and Josh Duhamel, is a family comedy that follows 12-year-old Oliver, a tech prodigy whose middle-school science fair experiment goes awry, creating a telepathic connection between him and his furry friend, Henry. The bond brings Oliver and Henry even closer as they join forces to comically overcome complications at school, and help Oliver's parents rekindle their marriage along the way. On DVD, Blu-ray, from Lionsgate.
SPECIAL INTEREST:
"Lost in America
"
(2018): Director Rotimi Rainwater's shocking documentary sheds light on the millions of youth living on the streets everyday in America. The film follows Rainwater as he takes an all-encompassing look at youth homelessness, highlighting issues such as human trafficking, the foster care system, youth rejected because of their sexuality, domestic violence, abuse and more. Executive produced by Rosario Dawson, Jewel Kilcher, the documentary features interviews with Dawson, Jewel, Halle Berry, Tiffany Haddish, Jon Bon Jovi, Sanaa Lathan among many others. From Indican Pictures ...
"Seadrift"
(2019): In 1979, a Vietnamese refugee shoots and kills a white crab fisherman at the public town docks in Seadrift, TX. What began as a dispute over fishing territory erupts into violence and ignites a maelstrom of boat burnings, KKK intimidation, and other hostilities against refugees along the Gulf Coast. Taking place after the Fall of Saigon, when hundreds of thousands of Vietnamese nationals desperately fled the communist takeover of their home country, the documentary Seadrift examines the events leading up to the shooting and its dramatic aftermath, revealing the unexpected consequences that continue to reverberate today. From First Run Features.
FROM TV TO DISC:
"Modern Family Season 11"
(2019-20): All 18 episodes of the acclaimed series' final season. The Pritchett-Dunphy-Tucker extended clan is a wonderfully large an blended family that gives us a look at the hilarious and warm -- and sometimes twisted -- lives of an American modern family. As Haley and Dylan and the twins move in with Phil and Claire, Manny heads for college, Alex tries out life beyond academics, and Luke seeks his next move. Mitch and Cam try to understand their gifted teen, and Jay and Gloria navigate their now seasoned marriage. From Fox.
Check out other new DVD/Blu-ray releases, streaming films, and information and reviews at OnVideo.
Comments