By Harley Lond - 03/24/20 at 12:40 AM CT
FROM THE BIG SCREEN:
"1917" and "The Grudge."

THIS WEEK'S BEST BETS:
Described by critic Mark Kermode as an "extraordinary filmmaker" and "one of the UK's most imaginative talents," visionary British director Philip Ridley followed his sensational debut "The Reflecting Skin" with another surreal incursion into the dark heart of the "American dream" in "The Passion of Darkly Noon
" (1995). Darkly Noon (Brendan Fraser) is the sole survivor of a military-style attack on an isolated religious community. Stumbling through a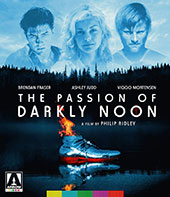 forest in a daze, he is rescued by the free-spirited and enigmatic Callie (Ashley Judd). Darkly finds himself feeling strange new desires for Callie as she nurses him back to health ... only to watch her jump into the arms of her returning mute lover Clay (Viggo Mortensen). Lost in the woods with only his fundamentalist upbringing to make sense of his unrequited passions, Darkly soon descends into an explosive and lethal rage. Now available for the first time worldwide on Blu-ray, Ridley's talent for spellbinding, hallucinogenic dream imagery is on full display in a glittering new transfer of his most formally inventive and electrifying film. The mesmerizing soundtrack includes two songs co-written by Ridley for the film, "Look What You've Done (To My Skin)" performed by Gavin Friday and "Who Will Love Me Now?" performed by PJ Harvey. New 2K restoration from the original camera negative, approved by Philip Ridley. On Blu-ray from Arrow Video/MVD Entertainment ... The landmark film "The Cranes are Flying
" (1957 -- Russia) by the virtuosic Mikhail Kalatozov was heralded as a revelation in the post-Stalin Soviet Union and the international cinema community alike. It tells the story of Veronica and Boris, a couple who are blissfully in love until the eruption of World War II tears them apart. With Boris at the front, Veronica must try to ward off spiritual numbness and defend herself from the increasingly forceful advances of her beau's draft-dodging cousin. Winner of the Palme d'Or at the 1958 Cannes Film Festival, "The Cranes Are Flying" is a superbly crafted drama with impassioned performances and viscerally emotional, gravity-defying cinematography by Kalatozov's regular collaborator Sergei Urusevsky. On DVD, Blu-ray from The Criterion Collection ...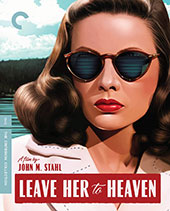 In "Leave Her to Heaven
" (1945), novelist Richard Harland (Cornel Wilde) seems to have found the perfect woman in Ellen (Gene Tierney), a beautiful socialite who initiates a whirlwind romance and steers him into marriage before he can think twice. Yet the glassy surface of Ellen's devotion soon reveals monstrous depths, as Richard comes to realize that his wife is shockingly possessive and may be capable of destroying anyone who comes between them. A singular Hollywood masterpiece that draws freely from the women's picture and film noir alike, "Leave Her to Heaven" boasts elegant direction by melodrama specialist John M. Stahl, blazing Technicolor cinematography by Leon Shamroy, and a chilling performance by Tierney, whose Ellen is a femme fatale unlike any other: a woman whose love is as pure as it is poisonous. On DVD, Blu-ray, from The Criterion Collection.


BUZZIN' THE 'B'S:
In
"Come to Daddy
"
(2019), starring Elijah Wood, Stephen McHattie, Garfield Wilson, Ronald Plum and Madeleine Sami, Norval Greenwood, a privileged man-child, arrives at the beautiful and remote coastal cabin of his estranged father, who he hasn't seen in 30 years. He quickly discovers that not only is Dad a disapproving jerk, but he also has a shady past that is rushing to catch up with him. Now, hundreds of miles from his cushy comfort zone, Norval must battle with demons both real and perceived in order to reconnect with a father he barely knows. On DVD, Blu-ray, from Lionsgate ...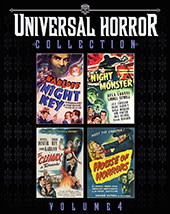 In
"The Wizard
"
(1989), haunted by a family tragedy, and desperate to get to California, young Jimmy Woods (Luke Edwards) flees with his conniving brother, Corey (Fred Savage). Along the way they encounter Haley (recording artist and actress Jenny Lewis), a street-smart teen on her way to Reno. Together, they make their way to California, pursued by a sinister bounty hunter, as well as the boys' father (Beau Bridges) and brother (Christian Slater). Meanwhile, their ticket to California just might be found in Jimmy's hidden talent: video games. New 4K scan. On Blu-ray from Shout! Select ... When Muffy St. John (Deborah Foreman) invited her college friends up to her parents' secluded island home for the time of their lives, she just forgot to tell them it just might be the last time of their lives in
"April Fool's Day
Collector's Edition Blu-ray"
(1986). As soon as the kids arrive on the island, someone starts trimming the guest list ... one murder at a time. And what starts out as a weekend of harmless "April Fool's Day" pranks turns into a bloody battle for survival. On Blu-ray from Scream Factory ... In
"Lore
"
(2017), starring Lyndsey Lantz, Max Lesser and Sean Wei Mah, a woman searches for her missing son in the remote wilderness of Washington with the help of her estranged husband and a Native American guide. When an evil creature starts to hunt them, their journey becomes a fight for survival.
From Indican Pictures ... When their parents leave town, three teenage girls decide to throw a party in their new country home in
"Hunter's Moon
"
(2020), starring Thomas Jane, Jay Mohr, Sean Patrick Flanery, Katrina Bowden, Juliet Delaney, Amanda Wyss and India Ennenga. But when a gang of dangerous local boys with sinister intentions turn up, the women are forced to not only defend themselves from the evil inside of the house, but an unseen bloodthirsty predator that is hunting them one by one outside of the house. From Lionsgate ...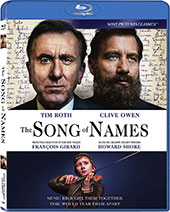 "The Song of Names
"
(2019), starring Tim Roth, Clive Owen, Catherine McCormack, Jonah Hauer-King, Gerran Howell and Luke Doyle, is an emotional detective story spread over two continents and a half century. Several years after his childhood friend, a violin prodigy, disappears on the eve of his first solo concert, an Englishman travels throughout Europe to find him. Beneath the film's stunning and pulsing musical revelations burn the horror of a war and the lost souls extinguished from history. On DVD, Blu-ray, from Sony ...
"Frankenstein: The True Story
"
(1973), starring James Mason, Leonard Whiting, David McCallum, Jane Seymour, Nicola Pagett and Michael Sarrazin, retells Mary Shelley's unforgettable story. Victor Frankenstein's medical experiments result in the shocking discovery that he can revive the dead. But when the creature he brings forth becomes a killer, is anyone safe? New 2K scan of the original telefilm elements to the two-part, 3 hr. and 6 min. version, including the introduction by actor James Mason. On Blu-ray from Scream Factory ... Lifetime's first steamy book-to-screen series from New York Times best-selling author Jane Green -- with stars Alyssa Milano, Zane Holtz, Erika Christensen, Antonio Cupo, Andy Favreau, Justina Machado, and Elisabeth Rohm -- tell tales of forbidden lust, shocking secrets, and desperate love.
"Love & Temptation: 3-Film Collection"
set includes the telefilms "Tempting Fate," "Family Pictures" and "To Have and to Hold." From Lionsgate.
FOREIGN FILMS:
In
"Jinpa
"
(2019 -- Tibet), on an isolated road passing through the vast barren plains of Tibet, a truck driver who has accidentally run over a sheep, chances upon a young man who is hitching a ride. As they drive and chat, the truck driver notices that his new friend has a silver dagger strapped to his leg. He comes to understand that this man is out to kill someone who wronged him earlier in life. As he drops the hitchhiker off at a fork in the road, little does the truck driver realize that their short time together has changed everything, and that their destinies are inexorably intertwined. A story of revenge and redemption. From Icarus Films.
SPECIAL INTEREST:
"Shooting the Mafia
"
(2019 -- Italy) is award-winning director Kim Longinotto's shocking and powerful film about a photojournalist who, at great personal risk, devoted herself to covering organized crime in Italy. Sicilian photographer Letizia Battaglia began a lifelong battle with the Mafia when she first dared to point her camera at a brutally slain victim. A woman whose passions led her to abandon traditional family life and become a photojournalist in the 1970s - the first female photographer to be employed by a daily Italian newspaper - Battaglia found herself on the front lines during one of the bloodiest chapters in Italy's recent history. She fearlessly and artfully captured everyday Sicilian life - from weddings and funerals to the grisly murders of ordinary citizens - to tell the story of how the community she loved in her native Palermo was forced into silence by the Cosa Nostra. Weaving together Battaglia's striking black-and-white photographs, rare archival footage, classic Italian films, and the now 84-year-old's own vivid memories, the documentary paints a portrait of a remarkable woman whose bravery and defiance helped expose the Mafia's brutal crimes. On DVD, Blu-ray, from Cohen media Group ...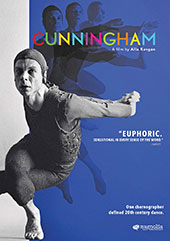 The documentary
"Cunningham
"
(2019) traces Merce Cunningham's artistic evolution over three decades of risk and discovery (1944–1972), from his early years as a struggling dancer in postwar New York to his emergence as one of the world's most visionary choreographers. The documentary weaves together Merce's philosophies and stories, creating a visceral journey into his innovative work. A breathtaking explosion of dance, music and never-before-seen archival material. From Magnolia Home Entertainment ... In
"Back to the Fatherland
"
(2017 -- Austria), Gil and Kat have been friends since college. Gil is from Israel and the granddaughter of Holocaust survivors; Kat is from Austria, and her grandfather was a Nazi officer. Through them we meet other young men and women whose grandparents were murdered or persecuted during the war, and whose families fled Germany and Austria. What's interesting is that many have decided to move back to "the Fatherland," a choice their families don't agree with or understand. Why do they choose to return? This revealing documentary explores the challenges and opportunities for reconciliation and understanding between the generations on both sides of the Shoah. From First Run Features.
Check out other new DVD/Blu-ray releases, streaming films, and information and reviews at OnVideo.
Comments