By Chris Kavan - 03/11/20 at 08:13 PM CT
Here we are, halfway through March and while there haven't been too many fireworks, overall things are still looking good. This week, we get the short-delayed The Hunt, which looks to be the most divisive film of the year. We also have Vin Diesel getting back to his action roots with Bloodshot and finally we have another uplifting Christian-themed romance in I Still Believe. With Onward coming in under expectations, it could be a bit more wide open for these new releases - all of which have a good shot at at least landing in the top five.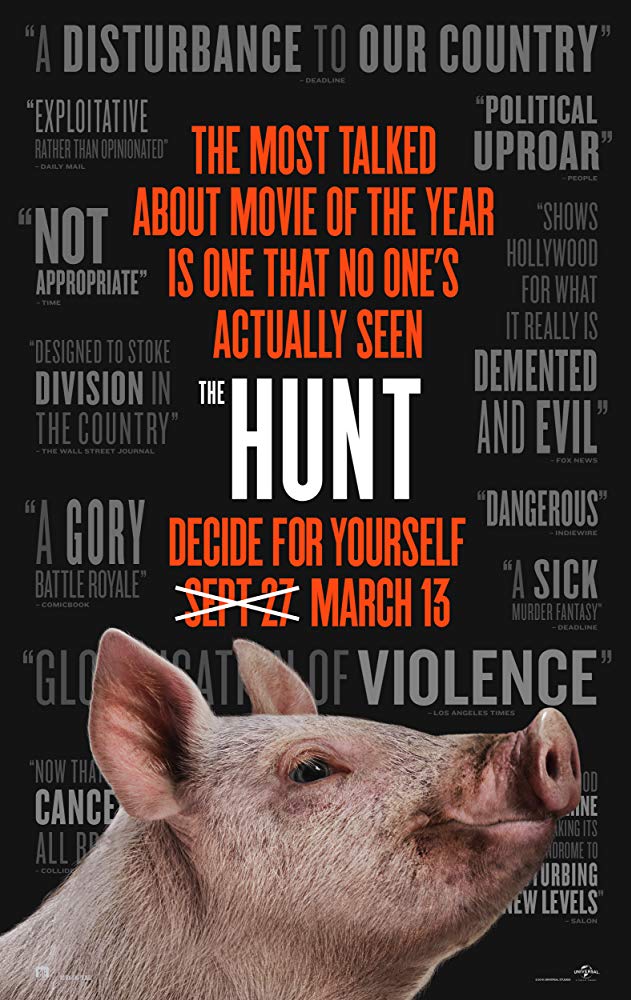 THE HUNT
The Hunt was supposed to be released back in September 2019, but following mass shootings in Dayton and El Paso (and some unflattering tweets from the President himself), the film was shelved. While some questioned whether the film would ever see a theatrical release, here we are just sixth months later. Very loosely based on "The Most Dangerous Game", The Hunt follows a group of twelve strangers who find themselves in a clearing with no idea of how they got there - but they soon find out the reason - The Hunt. That's right, it's hunting season and they are the quarry. Action/horror/political satire - it's hard to say exactly where this film is going to land - but we do know that one of the potential victims, Crystal (Betty Gilpin) turns the tables on the hunters and fights back. The cast includes the likes of Hilary Swank, Ike Barinholtz, Wayne Duvall, Ethan Suplee, Emma Roberts, Christopher Berry, Sturgill Simpson and Kate Nowlin. It's interesting to note the main cast (that is the people being hunted) all have nicknames - including Vanilla Nice, Big Red, Staten Island, STFU Gary and Yoga Pants among them. Early reviews have been on the mixed negative side and people have much bigger things to worry about now then how political this film gets - so without the outrage, I don't see this being a huge opening. And it still has to compete with the very-well received Invisible Man. I actually thing the film missed the boat - maybe a three month delay would have been better.
BLOODSHOT
Vin Diesel is no stranger to over-the-top action - from Pitch Black to Babylon A.D. to The Last Witch Hunter, the actor is not afraid to take chances on different IPs. Thus we come to Bloodshot, based on a comic book, that sees Diesel play Ray Garrison aka Bloodshot - a reanimated super soldier who uses his newfound power to go after those responsible for the death of his wife... only to learn that those he trusts - even himself - are hiding an agenda. Eiza González, Sam Heughan, Toby Kebbell, Talulah Riley and Guy Pearce round out the main cast. I mean, this is right in Diesel's main wheelhouse - lot's of action, brooding anti-hero main character, trust issues - and fans should eat this up. Plus, aside from Bad Boys for Life (now going into its 9th week) there is no solid action options out there. I don't think it's going to have enough power to dethrone Onward, but it could top The Hunt. This is old-school action at its best - but with middling reviews, I don't know if it's going to have much staying power at the box office.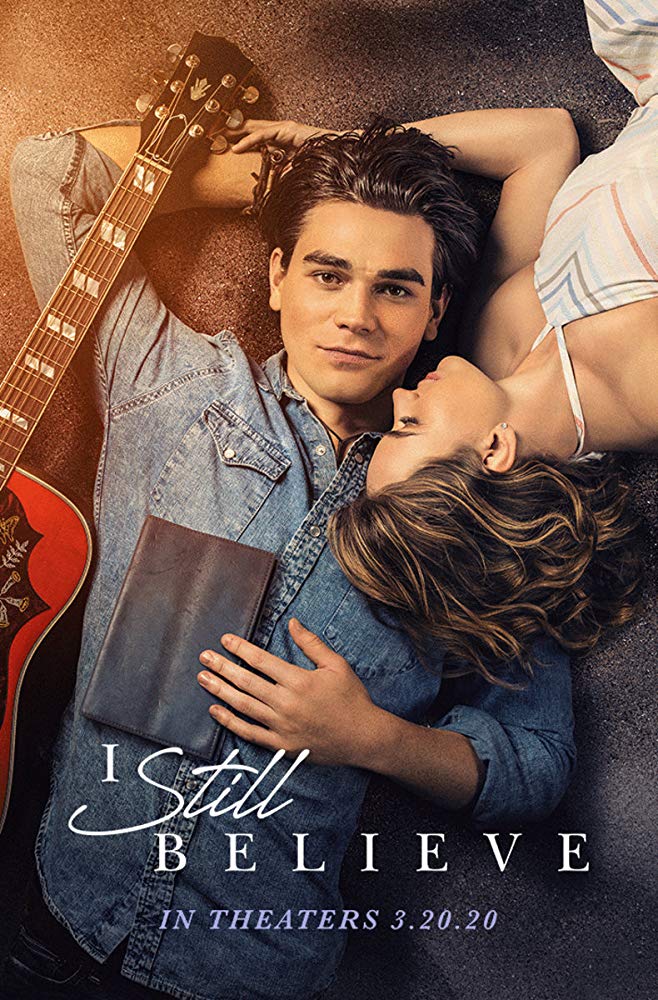 I STILL BELIEVE
The last of the new releases is I Still Belive, based on the life of Christian music star Jeremy Camp (played by Riverdale star K.J. Apa). It follows his time in college, his rise as star and meeting his eventual first wife Melissa Henning (Britt Robertson) which leads to both love and loss - and hope. The film is directed by Andrew Erwin, Jon Erwin, who found success in the similarly-themed "I Can Only Imagine," (which earned $83.4 million domestic) and this looks to follow in much the same footsteps, but I'm guessing the results won't be quite as eye-popping, but Christian-themed films tend to either do well or die a quick death, and I think this is going to wind up on the positive side of things. While the sermonizing may be a bit more heavy-handed this time around, I still don't think this is going to stoop to God's Not Dead levels of brow-beating Christianity - though I could always be wrong. I Still Believe could easily top both Bloodshot and The Hunt - because, at least on opening weekends, this genre tends to bring out big crowds - and even amidst a new pandemic, those who support Christian-themed films aren't going to miss out.
With things moving rapidly due to Covid-19 and its effect on large public gatherings, we'll see if that extends to the box office. The next few weeks and months could bring big changes but as long as the show goes on - so will I.
Comments