By Harley Lond - 10/25/19 at 07:06 AM CT
FROM THE BIG SCREEN:
Computer technology takes the original story of "The Lion King" (1994) to new vistas with this "almost--real" tale of Simba, King Mufasa, Scar, Nala, Rafiki, Zazu, Timon and Pumbaa. But too much realism destroys the charm of this animated tale, draining it of the heart that beat so warmly two and a half decades ago. I suppose if this is your first time for "The Lion King" it can be fun, but to a sentimental fool like me it just can't replace (or even stand alongside) the original. Directed by Jon Favreau with the voices of Donald Glover, Beyoncé, Chiwetel Ejiofor, John Oliver, James Earl Jones, John Kani, Alfre Woodard, JD McCrary, Shahadi Wright Joseph, Penny Johnson Jerald , Keegan-Michael Key, Eric André, Florence Kasumba, Billy Eichner, Amy Sedaris. Extras include "The Journey to The Lion King
: The Music, The Magic, The Timeless Tale"; "More to Be Scene" recording studio and layer-by-layer progressions of some of most iconic moments; music videos: "Never Too Late" (lyric video) by Elton John and "Spirit" performed by Beyoncé Knowles-Carter; filmmaker introduction; audio Commentary by director Jon Favreau; song selection: "Circle of Life," "I Just Can't Wait to be King," "Be Prepared," "Hakuna Matata," "The Lion Sleeps Tonight," "Spirit" and "Never Too Late"; "Protect the Pride: Favreau, the Lion Recovery Fund and conservationists highlight efforts to protect the majestic lions and their home. From Disney.


THIS WEEK'S BEST BETS:
"The Return of Martin Guerre
"
(1982), starring Gérard Depardieu, Nathalie Baye and Tchéky Karyo. In the 16th century, Martin Guerre (Depardieu), who went off to war seven years earlier, unexpectedly returns home to his village and family. But something strange has happened to him in the intervening years: He seems to demonstrate more wisdom, strength of character and tenderness than both the locals and his wife, Bertrande (Baye), remember him as having. Accusations of identity theft arise, landing the man Bertrande loves in court -- and leaving the audience guessing, along with the characters, if this is the actual Martin. The real-life case resonated throughout French history and had already been turned into a book, play and opera before producer-director Daniel Vigne enlisted the services of the great screenwriter Jean-Claude Carrière ("The Discreet Charm of the Bourgeoisie," "The Unbearable Lightness of Being") for this adaptation. With visuals drawn from Bruegel's paintings, this richly textured drama won three César Awards. In a 4K restoration director's cut, on DVD, Blu-ray, from Cohen Film Collection ...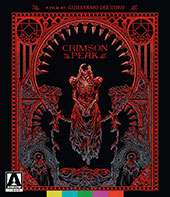 "Crimson Peak
"
(2015): From the imagination of Oscar-winning director Guillermo del Toro comes this lavish, stunningly realized journey into the dark heart of Gothic romance. Beginning in Buffalo, New York, during the 1880s, "Crimson Peak" stars Mia Wasikowska as Edith Cushing, an aspiring writer who is haunted by the death of her mother. Edith falls in love with seductive stranger Thomas Sharpe (Tom Hiddleston), who whisks her off to Allerdale Hall, his baronial, yet dilapidated English mansion built upon a mountain of blood-red clay. Here Edith meets Lucille (Jessica Chastain), Thomas's sister who at times seems hostile and jealous. As Edith struggles to feel at home in the imposing residence, she gradually uncovers a horrendous family secret and encounters supernatural forces that will help her discover the terrible truth behind Crimson Peak. On Blu-ray from Arrow Video/MVD Entertainment.
BUZZIN' THE 'B'S:
In
"The Dead Center
"
(2018), when a very dead suicide victim (Jeremy Childs) disappears from the morgue, it sets in motion a chain of events that has the power to immolate everything, and everyone, it touches. Troubled psychiatrist Daniel Forrester (Shane Carruth) is drawn to help a mysterious patient who is brought to the emergency psych ward in a catatonic state with no memory of how he reached the hospital. As if to exorcise his own demons, the doctor feverishly tries to break through to his mysterious patient. But as a spate of mysterious deaths shake the ward to its core, Forrester comes to suspect that there is more to his new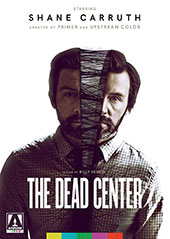 ward than meets the eye. As he comes to realize what he's unleashed, a desperate race against the forces of evil threatens to swallow him whole. The Dead Center is a smart supernatural thriller that explores the demons that live inside all of us from writer-director Billy Senese, recently hailed as a "masterful new voice in terror." On DVD, Blu-ray from Arrow Video/MVD Entertainment ... In
"The Killer of Dolls
"
(1974 -- Spain), a bizarre and totally unique piece of Spanish horror, David Rocha plays Paul, a young man thrown out of medical school due to his inability to deal with the sight of blood. He goes home to Montpellier in France where his father is a gardener on a huge estate. But the fear of blood is not Paul's only quirk: He was raised as a girl after his sister died and likes to play with dolls, performing strange operations on them, attempting to extract their hearts. Meanwhile, in the park surrounding the estate, a number of young girls have been found murdered. The killer seems to be a mysterious individual wearing a black wig, a white doll mask and speaking with a woman's voice. As the killings multiply around him, Paul sinks ever deeper into a world of hallucination and nightmare. Brand new 4k transfer from the film negative. On Blu-ray from Mondo Macabro ... In
"She's Just a Shadow
"
(2019), starring Tao Okamoto, Haruka Abe and Loka pop star Kihiro, the stories of a beautiful Japanese madam, a deranged, drug-addled Tokyo gangster and his crew, and a sadistic serial killer on the loose intersect against a dreamlike backdrop of ultra-violence and orgiastic sex as everyone tries futilely to rewrite their futures and cheat death. A dreamlike yet modern take on the gangster genre, "She's Just a Shadow" is the action-packed story of a matriarchal crime family engaged in a vicious gang war, while a deranged killer is leaving his victims on railroad tracks all over Tokyo. The only thing more dangerous than the killer is the vicious love triangle within the family itself. From Breaking Glass Pictures ...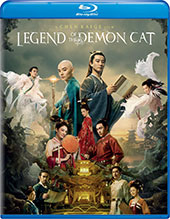 In the visually lush Xianxia fantasy
"Legend of the Demon Cat
"
(2017 -- China), starring Xuan Huang, Shôta Sometani, Yuqi Zhang and Hao Qin, a cat possesses a General's wife, leaving a series of clues that a Poet and Monk follow in order the solve the mysterious death of a famous Concubine. Havoc descends upon the Imperial Court of the Tang Dynasty when the General's wife is possessed by an ancient demon. Through a series of unexpected twists and turns, the unlikely duo of an eccentric poet and dutiful monk, unravel the dark and ancient mystery behind a centuries-old death of a beautiful courtesan in hopes it holds the key to saving the general's wife. On Blu-ray from Well Go USA ... After being dumped by both her boss and her boyfriend, Olive (Amanda Crew) flees the city for the weekend and rents an ornate country house from an old-fashioned widower named Harvey (Robert Patrick) in
"Tone-Deaf
"
(2019). She's hoping for a few days of peace. What she gets is a weekend of sheer terror: Olive awakens Harvey's darkest urges and is plunged into a blood-soaked fight for her life. On DVD, Blu-ray, from Lionsgate ... In
"Satanic Panic
"
(2019), starring Hayley Griffith, Ruby Modine, Rebecca Romijn, Arden Myrin and Jerry O'Connell, a pizza delivery girl at the end of her financial rope has to fight for her life - and her tips - when her last order of the night turns out to be high society Satanists in need of a virgin sacrifice. On DVD, Blu-ray from RLJE Films.
FOR THE FAMILY:
"Bakugan: Battle Planet - Origin of Species"
(2019) is a two-disc set with 13 episodes. Twelve years after The Great Collision, Dan Kuso and his friends (aka The Awesome Ones) begin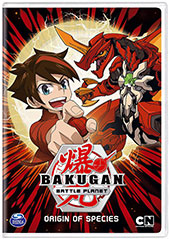 to unravel the mystery of the Bakugan. With each new Bakugan they discover, The Awesome Ones become even greater heroes as they defend their neighborhood, protect each other, and battle dark forces. From Cartoon Network ...
"Wonder Woman: Bloodlines
"
(2019) is the latest entry in the popular series of DC Universe Movies. Amazon princess Diana of Themyscira chooses to save fighter pilot Steve Trevor and return him to his home in America -- setting in motion one of Wonder Woman's most captivating chapters. Fulfilling the role of both ambassador as well as protector, Diana soon earns the name Wonder Woman from the gracious people of Earth. Equally strong in body, heart and will, she makes it her mission to help a troubled young girl enlisted by a deadly organization known as Villainy, Inc., whose criminal members have their sights set on invading Themyscira, Diana's paradise home. From Warner.
SPECIAL INTEREST:
"When We Were Kings
"
(1996): In 1974, Leon Gast ("Our Latin Thing") traveled to Africa to film Zaire 74, a music festival planned to accompany an unprecedented sports spectacle: the Rumble in the Jungle, in which late-career underdog Muhammad Ali would contend with the younger powerhouse George Foreman for the boxing heavyweight championship title -- "a fight between two blacks in a black nation, organized by blacks," as a Kinshasa billboard put it. When the main event was delayed, extending Ali's stay in Africa, Gast wound up amassing a treasure trove of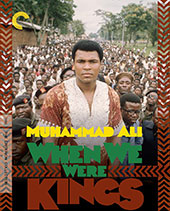 footage, capturing the wildly charismatic athlete training for one of the toughest bouts of his career while basking in his role as black America's proud ambassador to post-colonial Africa. Two decades in the making, "When We Were Kings" features interviews with Norman Mailer and George Plimpton that illustrate the sensational impact of the fight, rounding out an Academy Award-winning portrait of Ali that captures his charm, grace, and defiance. On DVD, Blu-ray, with new, restored 4K digital transfer, with 5.1 surround DTS-HD Master Audio soundtrack on the Blu-ray. From The Criterion Collection ...
"David Crosby: Remember My Name
"
(2019) is a revealing and deeply personal documentary exploring the life and creative renaissance of music icon David Crosby. A cultural force for over 50 years, Crosby faced an uncertain future after the 2015 dissolution of Crosby, Stills and Nash. Racked with health issues and personal obstacles, Crosby forged a new path at the age of 76. Seeking out younger musicians and recording a pair of critically-praised new albums, Crosby now sets out to make a mark in a world now so different from the generation he came to define in the 60s. With unflinching honesty, self-examination, regret, fear, exuberance and an unshakable belief in family and the transformative nature of music, Crosby shares his often-challenging journey with humor and bite. On DVD, Blu-ray, from Sony.
FROM TV TO DISC:
"NOS4A2: Season 1"
(2019) is a single disc with all 10 episodes of the AMC series. Vic McQueen (Ashleigh Cummings) is a gifted young woman who discovers she has a supernatural ability to find lost things. Charlie Manx (Zachary Quinto) is a supernatural villain who feeds off the souls of children and then deposits what remains of them into Christmasland -- a twisted place of Manx's imagination where every day is Christmas Day and unhappiness is against the law. Vic strives to defeat Manx and rescue his victims — without losing her mind or falling victim to him herself. On DVD, Blu-ray, from RLJ Entertainment ...
"Veronica Mars (2019): The Complete First Season"
(2019) is a two-disc set with all eight episodes. Television's favorite super-sleuth is back, and on a mission to save Neptune -- with more secrets, snooping, and seduction. Spring breakers are getting murdered in Neptune, thereby decimating the seaside town's lifeblood tourist industry. After Mars Investigations is hired by the parents of one of the victims to find their son's killer, Veronica (Kristen Bell) is drawn into a mystery that pits the enclave's wealthy elites, who would rather put an end to the month-long bacchanalia, against a working class that relies on the cash influx that comes with being the West Coast's answer to Daytona Beach. On DVD, Blu-ray, from Warner.
Check out other new DVD/Blu-ray releases, streaming films, and information and reviews at OnVideo.
Comments