By Harley Lond - 08/20/19 at 07:00 AM CT
FROM THE BIG SCREEN:
"A Dog's Journey," the sequel to 2017's "A Dog's Purpose." Here Bailey (voiced again by Josh Gad) is living the good life on the Michigan farm of his former "boy" now grown to manhood, Ethan (Dennis Quaid) and Ethan's wife Hannah (Marg Helgenberger), and he now continues his adventure through multiple lives filled with love, friendship and devotion. Extras include deleted and extended scenes, gag reel, "A Dog's Sequel" featurette, "Everyone's Best Friend" featurette, "Working With Dogs" featurette, "A Healing Journey" featurette, "Scoring the Journey" featurette, feature commentary with director Gail Mancuso. From Universal ... In "The Hustle
," Rebel Wilson and Anne Hathaway star as a pair of con artists plying their trade in a stunning seaside town in the south of France. It's a female-centered remake of the 1988 film "Dirty Rotten Scoundrels" (starring Steve Martin and Michael Caine), which in turn was a remake of the 1964 film "Bedtime Story" (starring Marlon Brando and David Niven). Extras include "Hitting the Mark" behind-the-scenes featurette; "Comedy Class" featurette; "Con Artists" costume design and production design featurette; commentary with director Chris Addison. From Universal ... "Brightburn
" follows the adventures of a young boy from an alien planet who crash lands in rural America. The couple who finds him as an infant attempt to raise him into a good man while helping him learn to control the miraculous powers he develops as he grows. Breaking with convention, however, the boy doesn't become a hero; instead, his darker impulses begin to take hold, turning the normal rebelliousness and angst of growing up into a deadly and horrific nightmare. Stars Elizabeth Banks, David Denman, Matt Jones, Meredith Hagner. Extras include three "Quick Burns" vignettes hosted by Elizabeth Banks, producer James Gunn and director David Yarovesky; "Hero-Horror!" featurette; "Nature vs. Nurture" featurette about the creative process involved in flipping the script of the traditional "Superhero" and diving into what motivates and moves the new Anti-hero, Brandon Breyer; commentary. From Sony.


THIS WEEK'S BEST BETS:
Beatlemania never ends: (2018) The Beatles defined music and popular culture like no other band -- but how exactly did they make the journey from Merseyside teenagers to international pop stars in the 60s? Featuring unique and revealing interviews from those involved in the early years of The Beatles,
"The Beatles: Made on Merseyside
"
(2018) follows the Fab Four's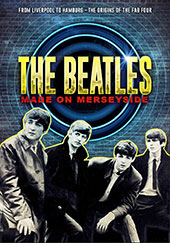 ascent from Liverpool and Hamburg to the pinnacle of rock success. Recounting how American rock 'n' roll and rhythm and blues dragged post-war Liverpool into one of the most vibrant music cities ever with the Mersey Sound, this acclaimed doc delves into the young history of the Fab Four, their early band iterations and why it took so long for them to break through the noise. From school bands, to colleges, Hamburg to The Cavern Club, The Beatles moved from skiffle to rock 'n' roll before creating their own unique sound that took the world by storm. With newly filmed contributions from the "fifth Beatle" Pete Best, Quarrymen Colin Hanton and Len Garry, Brian Epstein's business associate Joe Flannery, The Beatles first ever secretary Freda Kelly, original Mersey Beat magazine owner Bill Harry, and flatmates of John Lennon and Stuart Sutcliffe, the film charts the original music and the energy and excitement that led to the explosion of Beatlemania and one of the most influential and beloved bands in history. From Omnibus Entertainment/Film Movement ... There's a trio of Blu-ray debuts this week:
"Cruising
"
(1980): Academy Award-winner William Friedkin ("The Exorcist," "The French Connection") directs Al Pacino as an undercover cop pitched into New York's seedy underbelly in Cruising - available for the first time on Blu-ray in a brand new director-approved transfer.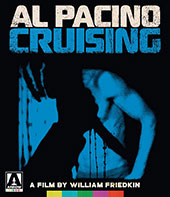 New York is caught in the grip of a sadistic serial killer who is preying on the patrons of the city's underground bars. Captain Edelson (Paul Sorvino) tasks young rookie Steve Burns (Pacino) with infiltrating the S&M subculture to try and lure the killer out of the shadows -- but as he immerses himself deeper and deeper into the underworld, Steve risks losing his own identity in the process. Taking the premise and title from reporter Gerald Walker's novel, "Cruising" was the subject of great controversy at the time of its release and remains a challenging and remarkable movie to this day, with Pacino's haunted lead performance as its magnetic centerpiece. Brand new restoration from a 4K scan of the original camera negative, supervised and approved by writer-director William Friedkin; newly remastered 5.1 DTS-HD Master Audio supervised by Friedkin. From Arrow Video/MVD Entertainment ...
"The Harder They Come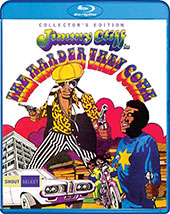 (Collector's Edition)"
(1972): Jimmy Cliff stars as Ivan Martin in 1972's "The Harder They Come," the first feature film to come out of Jamaica. An aspiring singer who leaves his rural village for the big city of Kingston, Ivan is hoping to make a name for himself. Robbed of his money and possessions on his first day in town, he finds work with a self-righteous preacher and an unscrupulous music mogul who exploits young hopefuls. In desperation, the simple country boy turns outlaw, at war with both the police and his rivals in the ganja trade. Ivan's dream of stardom soon becomes a reality as he rises to the top of both the pop charts -- and the most-wanted lists. Directed and produced by Jamaican Perry Henzell, and written by Henzell and Trevor D. Rhone, the film also stars Janet Bartley, Carl Bradshaw, and Toots and The Maytals. Features a new transfer from the original 16mm negative. From Shout! Factory ...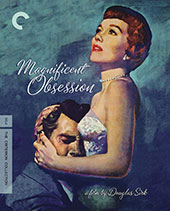 "Magnificent Obsession
"
(1954): Reckless playboy Bob Merrick (Rock Hudson, in his breakthrough role) crashes his speedboat, requiring emergency attention from the town's only resuscitator -- at the very moment that a beloved local doctor has a heart attack and dies waiting for the lifesaving device. Thus begins one of Douglas Sirk's most flamboyant master classes in melodrama, a delirious Technicolor mix of the sudsy and the spiritual in which Bob and the doctor's widow, Helen (Jane Wyman), find themselves inextricably linked amid a series of increasingly wild twists, turns, trials, and tribulations. In a high-definition digital restoration, with uncompressed monaural soundtrack. From The Criterion Collection ... And, lastly this week, we have
"Akio Jissoji: The Buddhist Trilogy
"
(1970 -- Japan). Akio Jissôji created a rich and diverse body of work during his five decades in Japan's film and television industries. For some, he is best-known for his science-fiction: the 1960s TV series "Ultraman" and 1988's box-office success "Tokyo: The Last Megalopolis." For others, it is his 1990s adaptations of horror and mystery novelist Edogawa Rampo. And then there are his New Wave films for the Art Theatre Guild, three of which - "This Transient Life," "Mandara" and "Poem,"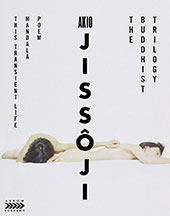 forming The Buddhist Trilogy - are collected here. Winner of the Golden Leopard award at the 1970 Locarno Film Festival, "This Transient Life" is among the Art Theatre Guild's most successful - and most controversial - productions. The film concerns a brother and sister from a rich family who defy the expectations placed on them: he has little interest in further education or his father's business, instead obsessing over Buddhist statues; she continually refuses a string of suitors and the prospect of marriage. Their closeness, and isolation, gives way to an incestuous relationship which, in turn, breeds disaster. "Mandara," Jissôji's first color feature, maintained the controversial subject matter, focusing on a cult who recruit through rape and hope to achieve true ecstasy through sexual release. Shot, as with all of Jissôji's Art Theatre Guild works, in a radically stylized manner, the film sits somewhere between the pinku genre and the fiercely experimental approach of his Japanese New Wave contemporaries. The final entry in the trilogy, "Poem", returns to black and white and is centered on the austere existence of a young houseboy who becomes helplessly embroiled in the schemes of two brothers in this exploration of faith in a post-industrial world. On Blu-ray from Arrow Video/MVD Entertainment.
BUZZIN' THE 'B'S:
In
"The Assault
"
(2017), starring Tom Sizemore, Kevin Nash and Jordan Ladd, Lindsay is tired of her husband Seth's abuse and she's out for revenge. Lindsay and her exotic-dancer friend Nikki are stealing Seth's riches in a series of brazen armed robberies. But things get complicated when Nikki seduces Broza (Sizemore), the detective on the case. When their final heist goes horribly wrong, the two women must flee for their lives - with an unsuspecting Broza in hot pursuit. From Lionsgate ... In
"The Brink
"
(2017 -- China), starring Max Jin Zhang, Shawn Yue, Yue Wu and Janice Man, a renegade cop is on a mission to bring a shady smuggler to justice by any means necessary. When his investigation leads to a Triad mob boss and global smuggling ring, his manhunt quickly turns from local misconduct into a violent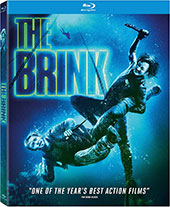 international incident. There's a relentless barrage of high flying action and explosive fight sequences, and once the fists start flying, they never stop - not even underwater. On DVD, Blu-ray/DVD Combo, from Well Go USA ... In
"The Sun is Also a Star
"
(2019), starring Yara Shahidi, Charles Melton, Cathy Shim, Gbenga Akinnagbe and Faith Logan. college-bound romantic Daniel Bae and Jamaica-born pragmatist Natasha Kingsley meet—and fall for each other—over one magical day amidst the fervor and flurry of New York City. Sparks immediately fly between these two strangers, who might never have met had fate not given them a little push. But will fate be enough to take these teens from star-crossed to lucky in love? With just hours left on the clock in what looks to be her last day in the U.S., Natasha is fighting against her family's deportation as fiercely as she's fighting her budding feelings for Daniel, who is working just as hard to convince her they are destined to be together. From MGM/Warner.
FROM TV TO DISC:
"Arrow: The Complete Seventh Season"
(2018-19) is a five-disc DVD, four-disc Blu-ray, with all 22 episodes. Following Oliver Queen's shocking decision to turn himself over to the FBI and reveal his identity as the Green Arrow to the public, he has spent the past five months in prison while his team was left behind to protect Star City. In the wake of Ricardo Diaz's escape, Oliver has yet again turned into someone else inside Slabside Maximum Security Prison. Determined to keep a low profile to shorten his sentence for the sake of his family, Oliver's limits will be tested when he and Team Arrow are pitted against the most ruthless villains they have yet to face. From Warner ...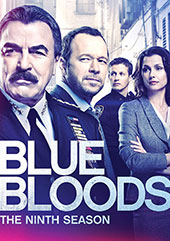 "Blue Bloods: The Ninth Season"
(2018-19) is a six-disc set with all 22 episodes as the Reagan family (a multi-generational family of cops dedicated to New York City law enforcement) drama continues with an all-star cast including Tom Selleck, Donnie Wablberg, Bridget Moynahan, Will Estes and Len Cariou. Frank Reagan (Selleck) is the New York Police Commissioner and heads both the police force and the Reagan brood. A source of pride and concern for Frank is his eldest son, Danny (Wahlberg), a seasoned detective, family man and Iraq War vet who on occasion uses dubious tactics to solve cases with his partner, Detective Maria Baez. The Reagan women in the family include Erin (Moynahan), a New York Assistant D.A. who also serves as the legal compass for her siblings and father. Jamie is the youngest Reagan, a Harvard Law graduate and the family's "golden boy." Unable to deny the family tradition, Jamie decided to give up a lucrative future in law and follow in the family footsteps as a cop. He's found a friend and ally in Eddie Janko, his female partner who keeps him on his toes, but has very different reasons than the Reagans for joining the police force. After several years of working together, Janie (Estes) and Eddie finally succumbed to their strong feelings for one another and are engaged to be married. Following Jamie and Eddie's engagement during season eight's finale, the ninth season finds the family questioning the future of their partnership. Meanwhile, Erin is on tap for a promotion after her boss's untimely death and Danny prepares to send his eldest son, Jack, to college. From CBS/Paramount ...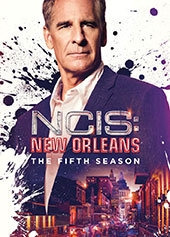 "NCIS: New Orleans: The Fifth Season"
(2018-19) is a six-disc set with all 24 episodes. The hit series starring Scott Bakula follows the local field office that investigates criminal cases involving military personnel in The Big Easy, a city known for its music, entertainment and decadence. returns immediately after the assassination attempt on Agent Dwayne Pride (Bakula) as he fights for his life in the ICU, while the team searches the city for the hit woman who tried to kill him. In the fifth season, Pride will explore new opportunities in the agency while Special Agent Hannah Khoury (newcomer Necar Zadegan) is called in to lead the New Orleans office in his absence. From CBS/Paramount ...
"Ronja, The Robber's Daughter"
(2017 -- Japan) is a four-disc set with all 26 episodes of the first television series produced by the renowned Studio Ghibli. One stormy night, a girl is born inside a mountain fort, surrounded by her parents and a loving band of robbers. Now 10 years old, Ronja has grown into a strong and active girl, who discovers the forest as both a beautiful and frightening place inhabited by unique creatures. She befriends the son of her father's rival, which begins the drama of her friendship and family loyalties. As she struggles to balance this friendship with her family relationship, she comes to understand that differences can be overcome with the help of love and understanding. On Blu-ray from GKIDS and Shout! Factory ...
"The Walking Dead" Season 9"
(2018-19) is a five-disc set with all 16 episodes. Last season brought the culmination of "All Out War," which pitted Rick Grimes and his group of survivors against the Saviors and their leader, Negan. With Negan's life in his hands, Rick had a character-defining choice in front of him, and he spared Negan to uphold the values his late son, Carl, championed -- values that created conflict within his group. Now, with the survivors rebuilding civilization under Rick's leadership a year and a half after the end of the war, it's a time of relative peace among the communities. However, the world they knew is rapidly changing, nature is literally taking over, and, as time passes, the communities confront unexpected obstacles and danger. But nothing can prepare them for the formidable force they're about to encounter, threatening the very idea of civilization our survivors have worked so hard to build. On DVD, Blu-ray, from Lionsgate.
Check out other new DVD/Blu-ray releases, streaming films, and information and reviews at OnVideo.
Comments