By Harley Lond - 07/02/19 at 06:58 AM CT
THIS WEEK'S BEST BET:
In "FM" (1978), the airwaves crackle with the delectable sound of smooth rock in this comedy about the heady world of late-70s US radio. Michael Brandon stars as Jeff Dugan, the ultra-cool program director at Q-SKY Radio, LA's number one rock station. Dugan encourages a free-wheeling culture at work, employing an array of eccentric DJ personalities: Mother (Eileen Brennan), a husky, world-weary ex-hippie; Eric Swan (Martin Mull), a mad-cap romantic looking for love, and The Prince of Darkness (Cleavon Little), a cool cat who keeps the night-time airwaves alive.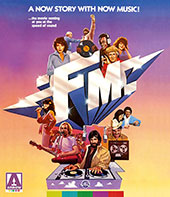 But when the station's future is thrown in to jeopardy by corporate bosses looking to cash-in, the Q-SKY troupe are forced to batten down the hatches and turn up the volume -- will a fully-fledged rock 'n' roll rebellion save the day? Legendary cinematographer John A. Alonzo ("Chinatown", "Scarface") directs this slickly-produced rock film, which combines studio hijinks with epic footage of Linda Ronstadt and Jimmy Buffett in concert. "FM
" also boasts an incredible platinum-selling soundtrack featuring a pantheon of AOR greats including Steely Dan, The Doobie Brothers, Eagles and Tom Petty (who also cameos). Now, High Fidelity meets High Definition as "FM" debuts on Blu-ray. From Arrow Video/MVD Entertainment.


BUZZIN' THE 'B'S:
In
"The Best of Enemies
"
(2019), starring Sam Rockwell, Taraji P. Henson, Wes Bentley, Anne Heche, John Gallagher Jr. and Bruce McGill, civil rights activist Ann Atwater (Henson) faces off against C.P. Ellis (Rockwell), Exalted Cyclops of the Ku Klux Klan, in 1971 Durham, North Carolina over the issue of school integration. On DVD, Blu-ray/DVD Combo, from Universal ... In
"Dead Trigger
"
(2017), starring Dolph Lundgren, Autumn Reeser, Romeo Miller and Isaiah Washington, a mysterious virus kills billions and creates scores of zombies. To combat it, the government develops a video game -- Dead Trigger -- that simulates the outbreak, then recruits the game's best zombie killers to combat the real-life horde. Led by Captain Kyle Walker (Lundgren) to Terminal City, the virus's point of origin, the players' mission is simple: find the team of scientists working on a cure. On DVD, Blu-ray, from Lionsgate ...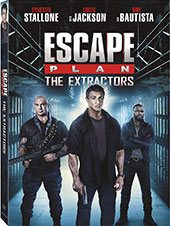 "Escape Plan: The Extractors
"
(2019), starring Sylvester Stallone, Jaime King, Dave Bautista, Curtis "50 Cent" Jackson, Devon Sawa, is the second sequel to 2013's "Escape Plan." After security expert Ray Breslin (Stallone) is hired to rescue the kidnapped daughter of a Hong Kong tech mogul from a formidable Latvian prison, Breslin's girlfriend (King) is also captured. Now he and his team must pull off a deadly rescue mission to confront their sadistic foe and save the hostages before time runs out. On DVD, Blu-ray/DVD Combo, 4K Ultra HD/Blu-ray Combo, from Lionsgate ...
"Crown and Anchor
"
(2018), starring Michael Rowe and Matt Wells, follows James Downey, who is living a disciplined and straight edge lifestyle as a result of growing up with an abusive alcoholic father. His estranged cousin Danny is drowning his own trauma with drugs and booze. When their lives are forced to intersect once more, they each begin to unravel as the past returns with violent and tragic consequences. From Uncork'd Entertainment ... When an unusually bitter Arctic blast has made its way to downtown Cincinnati, some homeless patrons turn the a public library building into a shelter for the night by staging an "Occupy" sit in
"The Public
"
(2018), starring Alec Baldwin, Emilio Estevez, Jena Malone, Taylor Schilling, Christian Slater, Gabrielle Union, Michael K. Williams, Jeffrey Wright and Che "Rhymefest" Smith. What begins as an act of civil disobedience becomes a stand-off with police and a rush-to-judgment media constantly speculating about what's really happening. This David versus
Goliath story tackles some of our nation's most challenging issues, homelessness and mental illness and sets the drama inside one of the last bastions of democracy-in-action: your public library. On DVD, Blu-ray/DVD Combo, 4K Ultra HD/Blu-ray Combo, from Paramount ... In
"Deadsight
"
(2018), starring Liv Collin and Adam Seybold, Mara Madigan (Collins) is a pregnant police officer about to go on maternity leave. But on her last day on the job, she wakes up to a world ravaged by a nightmarish and bloody plague of the living dead. Amidst the chaos and violence, she finds Ben Neilson (Seybold), a man who is virtually blind, helpless, and has a mystery shrouding his past. Somehow these two must put their heads together and find a way to safety to escape this living hell. From RLJE Films ... With a potent strain of pot sweeping the City, DTA agents attempt to infiltrate a small town farming operation that has a strong leader and interesting family members in
"High on the Hog
"
(2019), starring Sid Haig, Robert Z'Dar and Joe Estevez. From IndieCan Pictures.
FOREIGN FILMS:
In
"Styx
"
(2019 -- Germany), ER doctor Rike (Susanne Wolff) leaves behind her everyday life to fulfill a long-held dream: a solo crossing of the Atlantic. But when she boards the Asa Gray, her gleaming white sailboat, in Gibraltar, she has no way of knowing the troubles or personal transformations that await her on the open seas. Following a rough storm, she happens upon an overloaded, damaged boat teeming with dozens of refugees. When emergency calls to the Coast Guard and nearby commercial vessels go unreturned and rescue seems unlikely, she's forced to take matters into her
FOR THE FAMILY:
"Mia and the White Lion
"
(2018 -- France), starring Daniah De Villiers, Mélanie Laurent, Langley Kirkwood and Ryan Mac Lennan, was filmed over the course of three years and centers on a willful young girl named Mia whose life is turned upside down when her family decides to leave London to manage a lion farm in South Africa. When a beautiful white lion, Charlie, is born, Mia finds happiness once again and develops a special bond with the growing cub. As Charlie grows to full size, Mia uncovers an upsetting secret kept hidden by her father. Distraught that Charlie could be in danger, Mia decides to rescue him. The two friends set out on an incredible journey across the South African savanna in search of a sanctuary where Charlie can live out his life in freedom. On DVD, Blu-ray/DVD Combo, from Shout! Factory ...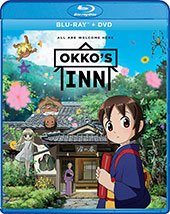 "Okko's Inn
"
(2019 -- Japan) is from the famed anime studio Madhouse. After losing her parents in a car accident, Okko goes to live in the countryside with her grandmother, who runs a traditional inn near an ancient spring said to have healing waters. Okko soon discovers there are spirits living there only she can see -- welcoming ghosts who keep her company, play games and help her navigate her new environment. Okko strives to be a gracious host, and this is soon put to the test by a string of challenging guests with different stories. But ultimately Okko discovers that dedicating herself to others becomes the key to taking care of herself. On DVD, Blu-ray/DVD Combo, from GKIDS/Shout! Factory.
Check out other new DVD/Blu-ray releases, streaming films, and information and reviews at OnVideo.
Comments