By Harley Lond - 06/12/19 at 03:49 AM CT
FROM THE BIG SCREEN:
"Captain Marvel": Set in the 1990s, "Captain Marvel" is an all-new adventure from a previously unseen period in the history of the Marvel Cinematic Universe that introduces the MCU's first stand-alone, female-franchise title character: Carol Danvers aka Captain Marvel. Audiences loved Brie Larson as Ms. Marvel, so expect many more sequels. Co-stars Samuel L. Jackson, Ben Mendelsohn, Annette Bening, Clark Gregg, Jude Law and Djimon Hounsou. Extras for Captain Marvel
include commentary, featurettes, gag reel, deleted scenes. From Disney ... "Five Feet Apart
" is a romantic drama about two kids with cystic fibrosis who feel a powerful connection to each other -- but restrictions dictate that they maintain a safe distance between them. As their feelings grow, they face a life-changing question: How does love feel when even a single touch is off limits? Stars Haley Lu Richardson and Cole Sprouse. From Lionsgate ... "Captive State
" takes place a decade after an extraterrestrial force has occupied the Earth, deceiving humanity with the promise of peace and unity. Chicago Police Officer William Mulligan (John Goodman) is tasked with maintaining law and order in a city on the brink of rebellion. Gabriel (Ashton Sanders), the young brother of a fallen militant and the son of Mulligan's ex-partner, is faced with the crucial choice: Collaborate… or fight back. Also stars Vera Farmiga and D.B. Sweeney. Extras include commentary and a pair of behind-the-scenes featurettes. From Universal.


THIS WEEK'S BEST BETS:
"Swing Time
"
(1936): In this irresistible musical, the legendary dancing duo Fred Astaire and Ginger Rogers are at the pinnacle of their art as a feckless gambler and the shrewd dancing instructor in whom he more than meets his match. Director George Stevens laces their romance with humor and clears the floor for the movie's showstopping dance scenes, in which Astaire and Rogers take seemingly effortless flight in a virtuosic fusion of ballroom and tap styles. Buoyed by beloved songs by Dorothy Fields and Jerome Kern—including the Oscar-winning classic "The Way You Look Tonight"—Swing Time is an exuberant celebration of its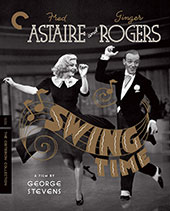 stars' chemistry, grace, and sheer joy in the act of performance. On DVD and Blu-ray, with new 2K digital restoration, with uncompressed monaural soundtrack on the Blu-ray. From The Criterion Collection ...
"Devil's Kiss
(Redemption)"
(1976 -- France/Spain) From the film vaults of Eurociné -- the mind-boggling company that brought you "Zombie Lake," "Crimson," and "Orloff Against the Invisible Man" -- comes this riotous French/Spanish co-production, originally titled "La perversa caricia de Satán" ("The Perverse Caresses of Satan")! When the Countess de Moncourt (Silvi Solar) is left destitute by the suicide of her husband, she resumes her former identity as Claire Grandier -- comely Goth and medium! Teaming up with Dr. Gruber (Olivier Mathot), a down-on-his-luck telepath, they accept an invitation from an eccentric duke to stage a séance at his candle-lit castle, as a follow-up to a funky fashion show of hilarious "avant garde" wear. Impressed by Claire's command of the supernatural, the duke invites her and Gruber to room at his chateau. Working from a dank cellar with the help of a lascivious dwarf, Claire -- aided by Gruber's telepathic powers -- succeeds in reanimating a pauper's mutilated corpse and sending it on a mission of revenge ... but how will she control this doddering zombie should Gruber succumb to his weak heart? "Devil's Kiss" was the first and only horror film directed by "Georges Gigo" -- the French pseudonym of Spanish-born Jorge Luís Gigó Aznar, who can be seen as the fashion show announcer. A moody mélange of Frankenstein, Dracula, Lovecraft, and Munster cheese, it's the sort of atmospheric, lecherous, ultimately insane witch's brew that could only come from the cauldrons at Eurociné.On DVD, Blu-ray, from Kino Lorber ...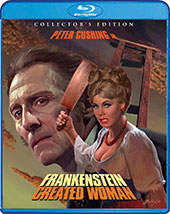 "Frankenstein Created Woman
Blu-ray Collector's Edition"
(1967) Stars Peter Cushing, Thorley Walters, Robert Morris, Susan Denberg. A new 2K scan from the original film elements. Baron Frankenstein (Cushing) and Dr. Hertz (Walters) are embarking upon an experiment to capture the souls of the dead and impose them into other bodies. When their assistant, Hans (Morris), is unjustly accused of murdering his girlfriend Christina's father and put to death, the two men claim his body and trap his soul in their laboratory. Meanwhile, Christina (Denberg) is consumed with grief and commits suicide. Frankenstein and Dr. Hertz are able to transfer Hans' soul into Christina's healed body, which results in a vision of beauty. Their experiment appears successful until Frankenstein discovers that Christina's seductive appetites are being driven by the spirit of Hans and his passion for revenge. From Scream Factory.
BUZZIN' THE 'B'S:
In
"Crisis Hotline
"
(2019), starring Corey Jackson, Christian Gabriel and Pano Tsaklas, a cynical counselor at a crisis hotline finds himself in a life or death situation when a young man calls and threatens to kill three people and then himself. From High Octane Pictures ... In
"Hallowed Ground
"
(2019), starring Miles Doleac, Sherri Eakin, Ritchie Montgomery andLindsay Anne Williams, a married couple, trying to rebuild their relationship after an affair, travels to a secluded cabin and stumbles into a blood feud between the Native American owners of the property and the neighboring clan, who obsessively guard their land and punish those who trespass on it in terrifying ways. From Uncork'd Entertainment ...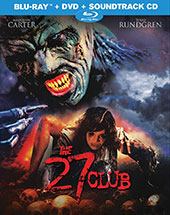 "The 27 Club
"
(2018), starring Maddisyn Carter, John Hennigan and Victoria De Mare, tries to answer the question, Why did Brian Jones, Jimi Hendrix, Janis Joplin, Jim Morrison, and Kurt Kobain all die at the age of 27? When an aspiring singer and a journalism student seek answers to the notorious curse of the so-called "27 Club," they find themselves trapped in an evil underworld that takes artists souls as payment for eternal fame. Features legendary singer, songwriter, and record producer Todd Rundgren. On DVD, Blu-ray/DVD/CD Combo, from Cleopatra Entertainment ... In
"Leprechaun Returns
"
(2018), starring Taylor Spreitler, Pepi Sonuga, Sai Bennett, Linden Porco and Mark Holton, the deadly, wisecracking Leprechaun is back in all his gory glory. When the sorority sisters of the Alpha Upsilon house decide to go green and use an old well as their water source, they unwittingly awaken a pint-sized, green-clad monster. The Leprechaun wants a pot of gold buried near the sorority house, but first he must recover his powers with a killing spree -- and only the girls of AU can stop him. On DVD, Blu-ray, from Lionsgate ... In
"Between the Trees
"
(2019), four friends on a weekend retreat to the mountains encounter a deranged killer and their fun weekend becomes a deadly fight for survival. From Uncork'd Entertainment ... There's three Blu-ray debuts this week:
"They Might Be Giants
"
(1971), stars George C. Scott, Joanne Woodward, Jack Gilford, Al Lewsi, Rue McClanahan, Kitty Winn, M. Emmet Walsh, F. Murray Abraham, James Tolkan and Eugene Roche. Wealthy, retired judge Justin Playfair (Scott) has a most peculiar eccentricity: he believes he is Sherlock Holmes. Betrayed by his scheming brother, "Holmes" comes under the care of psychiatrist Dr. Mildred Watson (Woodward). As Watson follows Holmes through Manhattan on a search for his elusive nemesis Moriarty, the unlikely pair are drawn into a world of danger and intrigue. Together, they discover an uncommon reality -- and a most magical love. Presented in a special expanded version, featuring additional footage not seen in the original theatrical release. From Kino Lorber Studio Classics ...
"Final Stab
"
(2001) stars Erinn Hayes, Jamie Gannon and Bradley Stryker. A murder mystery weekend is the perfect time for a perfect crime. At a secluded estate, a group of college friends have gathered together for a weekend of fun and games. Killer, victim, or innocent bystander, they all have their part to play. But when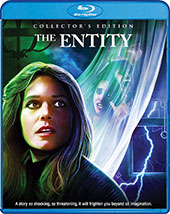 people begin disappearing -- and the bloodshed turns out to be real, everyone quickly realizes that the only way out of this killer game is to be the last one left alive. New 2k restoration from the 35mm original camera negatives, with uncompressed PCM audio. Also on DVD, from Massacre Video ...
"The Entity
Collector's Edition"
(1982), directed by Sidney J. Furie and starring Barbara Hershey, Ron Silver, David Labiosa and George Cole. Carla Moran (Hershey), a hard-working single mother whose life becomes a nightmare when she is attacked in her bedroom by someone -- or something -- that she cannot see. Disbelieved by her friends and dismissed by skeptical psychiatrists, Carla begins to lose her grip as she is repeatedly attacked in her car, in the bath, and even in front of her children. Could this be a case of hysteria, a manifestation of childhood sexual trauma, or something even more horrific? Seeking help from a group of daring parapsychologists, Carla will attempt an unthinkable experiment: to seduce, trap and ultimately capture the depraved spectral fury that is The Entity. From Scream Factory.
FOREIGN FILMS:
"The Sower
"
(2017 -- France), Marine Francen's award-winning debut feature, is a sensual, visually stunning romance set in the 19th century French countryside, part of a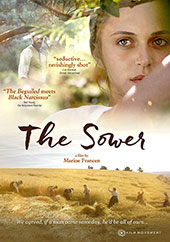 new wave of female-focused historical drama. The year is 1851, and France's autocratic president Louis-Napoléon Bonaparte has ordered the arrest of all the men of a remote mountain farming village following a Republican uprising. The women spend two years in total isolation, forced to tend the crops themselves. Some women have lost their husbands; others, like the shy but inwardly strong Violette, suddenly have no chance of experiencing physical love or motherhood. The women take an oath: if a man comes, they will share him as a lover. When a mysterious and handsome stranger arrives, he ignites passions and jealousies that threaten to destroy the tight-knit community. From Film Movement.
FOR THE FAMILY:
"Norm of the North: King Sized Adventure"
(2019) is a Dove-approved family friendly animated film. While Norm and his friends are preparing to celebrate his grandfather's wedding, trouble is stirring in Misty Mountain. There, Norm meets an archaeologist named Jin and learns that a priceless Chinese artifact has been stolen by Dexter, Jin's old partner. With the help of his lemming friends, Norm must embark on a journey across the world to help recover the artifact and return it to its rightful place. On DVD, Blu-ray/DVD Combo, from Lionsgate.
SPECIAL INTEREST:
"Sinatra in Palm Springs -- The Place He Called Home"
(2018): During his brief yet turbulent marriage to Ava Gardner, Palm Springs was center stage for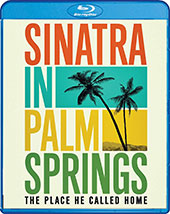 Frank Sinatra. And for the rest of his life, the Rancho Mirage compound on Frank Sinatra Drive was the sanctuary he called "My Heaven." Palm Springs still feels the ghost of the legendary performer. In this documentary film, director Leo Zahn explores Sinatra's deep attachment to Palm Springs and the Coachella Valley, capturing the spirit of the Sinatra era and paying tribute to his unique lifestyle. Featuring more than 70 movie and TV show clips and a plethora of rarely seen archival footage as well as revealing interviews with Barbara Sinatra, Mel Haber, Tom Dreesen, Trini Lopez, Nelda Linsk, Michael Fletcher and many others who knew and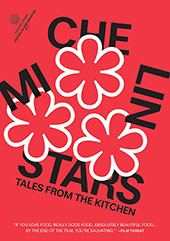 lived and played with Mr. Sinatra, Zahn offers a fascinating insight into a true icon of entertainment. On DVD, Blu-ray, from Shout! Factory ...
"Michelin Stars: Tales from the Kitchen"
(2017) All chefs dream of a Michelin star, and those who have one (or more) work tirelessly to keep this distinction. This documentary goes behind the scenes to see how the stars are awarded, to talk to the chefs who work tirelessly to maintain their status, and the impact of the Michelin Guide on the world of haute cuisine. At a moment in time when more and more people are obsessed with food --photographing every dish, worshipping cooks and flaunting trophy meals on social media -- this documentary goes under the surface and offers an in-depth, honest and relevant view into the every day world of Michelin chefs and restaurants. The film is a thoughtful and elegant meditation on creativity, business, and the art of perfection, chronicling the inner-workings of the culinary world through the eyes of the chefs, the critics, and their customers. From Juno Films.
FROM TV TO DISC:
"Magnum P.I: Season One"
(2018-19) is a five-disc set with all 20 episodes. Remake of 1980s series (which starred Tom Selleck) follows Thomas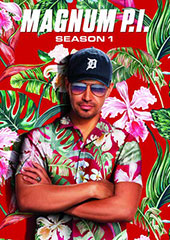 Magnum (Jay Hernandez), a decorated former Navy SEAL who, upon returning home from Afghanistan, repurposes his military skills to become a private investigator. A charming rogue, an American hero and a die-hard Detroit Tigers fan, Magnum-lives in a guest cottage on Robin's Nest, the luxurious estate where he works as a security consultant to supplement his P.I. business. The "majordomo" of the property is Juliet Higgins (Perdita Weeks), a beautiful and commanding disavowed Ml:6 agent whose second job is to keep Magnum in line ... with the help of her two Dobermans. On DVD from CBS Home Entertainment/Paramount Home Entertainment.
Check out other new DVD/Blu-ray releases, streaming films, and information and reviews at OnVideo.
Comments