By Chris Kavan - 06/03/19 at 01:06 AM CT
It was mixed to good news for all the new releases over the weekend. While Godzilla: King of the Monsters took the box office crown, it's opening was lower than anticipated and it will have to get a helping hand on the international front to save face. On the other hand, both Rocketman and Ma opened better than expected, both finding a place in the top five. Overall, the weekend helped push the summer box office 9% ahead of where it was in 2018 and, for the year, the box office is closing in running just 8.5% behind last year, but continuing to close the gap.

1) GODZILLA: KING OF THE MONSTERS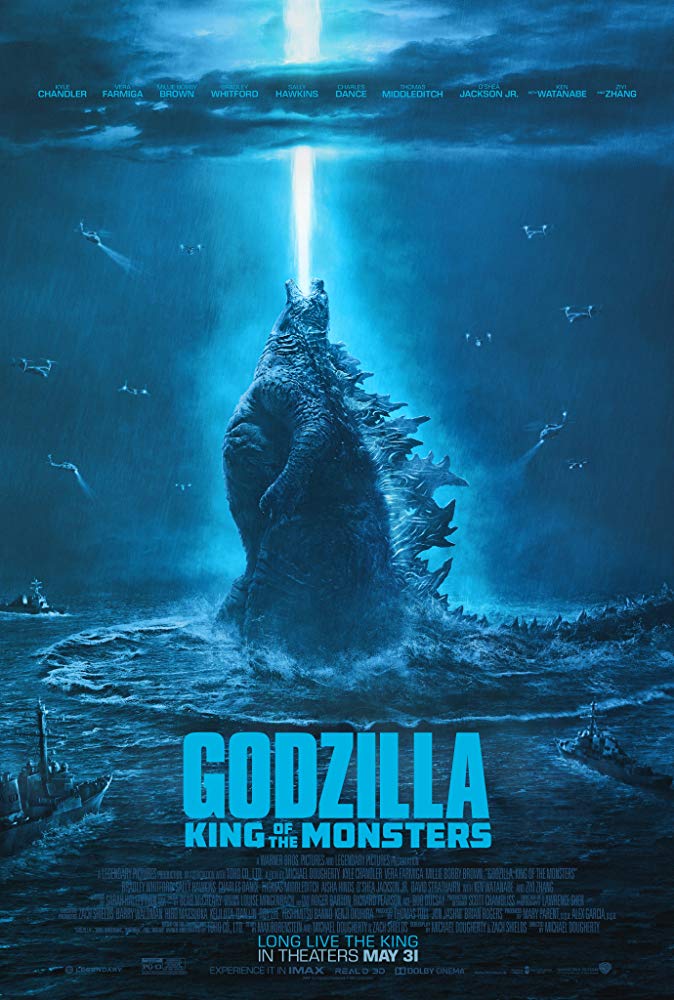 The monster sequel easily topped the box office, but it came in behind the studio's expected $50-$55 million, delivering a $49 million opening. That is well behind the $93.2 million 2014 reboot as well as the $61 million opening for Kong: Skull Island. While the weekend multiplier was in line with both of those films, if it plays along the same lines as the other two giant monster films, its domestic run is going to wind up in the $105-$135 million range. That means the $170 million-budgeted film is going to have to be bailed out overseas in order to wind up being profitable. The film received mostly mixed reviews from critics, and audiences were only a bit more forgiving, awarding it a "B+" Cinemascore. That audience was 67% male with 59% coming in 25 or older. Speaking of international help, the film did open with $130 million overseas, with China leading the way with $70 million. That is similar to the opening of Skull Island and ahead of the likes of The Meg, Rampage and the first Godzilla. Still, it's going to have to hope for a decent hold against X-Men: Dark Phoenix if it hopes to make money in the end and, right now, that is no guarantee. That will be the biggest factor in its future - if it can have a decent hold through most of June, it should wind up positive in the end, but if it falls hard, it suffer a similar fate as The LEGO Movie 2 as a sequel that couldn't measure up to the original.
2)
ALADDIN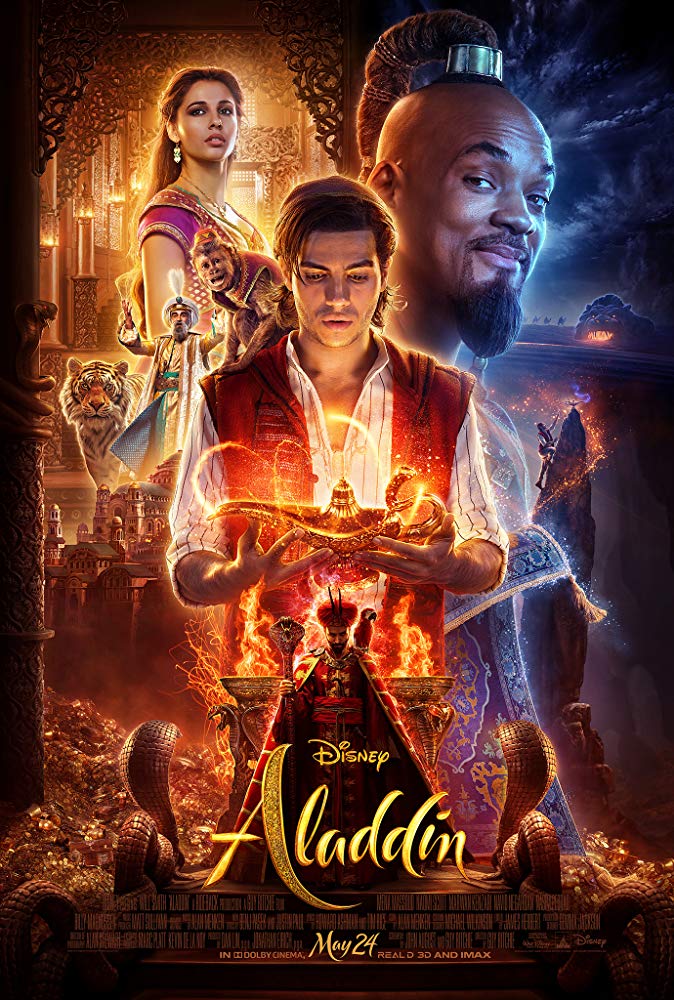 After dominating the Memorial Day box office, Aladdin managed a solid hold, dipping 53.7% and bringing in $42.33 million for a new $185 million total. If that still seems large, remember that previous Memorial Day openings have all dipped 65% or more in the last few years (Solo, Fast and Furious 6 and X-Men among them). It also means the film has just topped its $183 million budget - and it obviously has plenty of gas left in its tank. $200 million is fast approaching - on its way to a potential $250 million domestic total. With $78.3 million overseas, its international total hit $261 million for a global total of $445 million. It will hit the $500 million milestone quickly as well - with a probably worldwide total approaching $700 million. We'll see if it can catch up to Maleficent's $749 million total in the end - though it all depends on how it holds up against competition, a big factor these days. But it looks like a genie can hold his own against an overgrown lizard without too much trouble.
3)
ROCKETMAN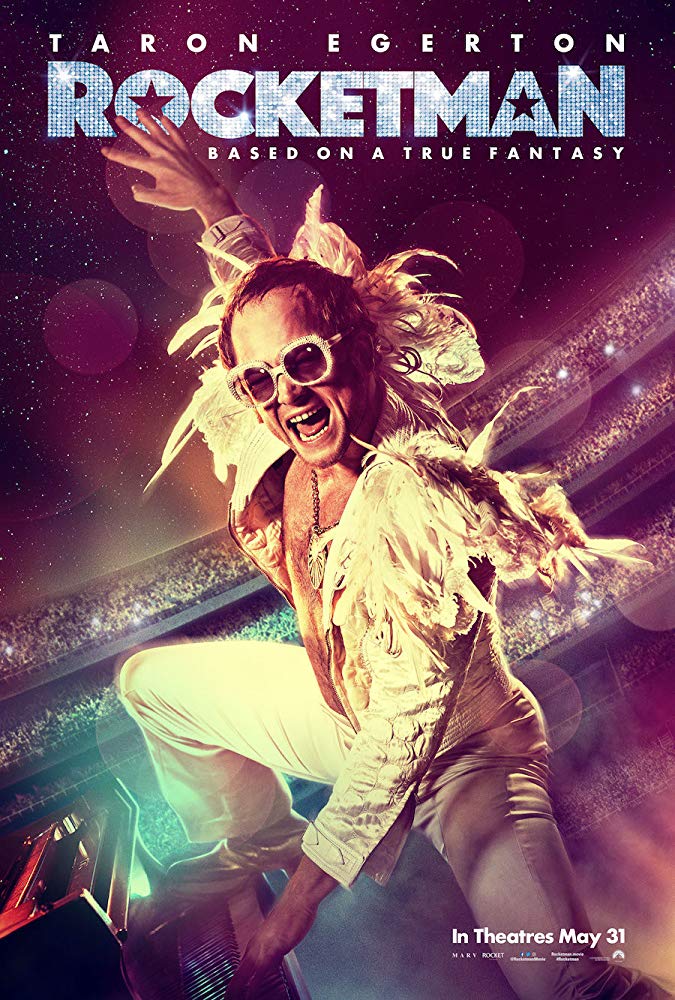 The fantastical Elton John biopic opened bigger than expected with $25 million (studio expectations were in the $18-$20 million range). It's the fourth-best opening for a music biopic, coming in just behind All Eyez on Me ($26.4 million) though it is apparent by its great critical reception and "A-" Cinemascore it's going to have a much better run than the uneven Tupac biopic. Sure, it's no Bohemian Rhapsody, but I don't think it was ever meant to be. The R-rating, which is doesn't shy away from, it a factor as is the fact it doesn't play like a normal story - with fantasy elements thrown in like a musical jukebox. Still, the studio should be happy - Rocketman has already earned $31.2 million ovreseas as well - giving the $40 million film a $56 million worldwide total. It's going to wind up making money - and I have a feeling it's going to hold on much like A Star is Born, sticking around through June and maybe even beyond if audiences support it like they should. If it follows a similar path to A Star is Born or Bohemian Rhapsody, it will break $100 million, with a chance to go much higher.
4)
MA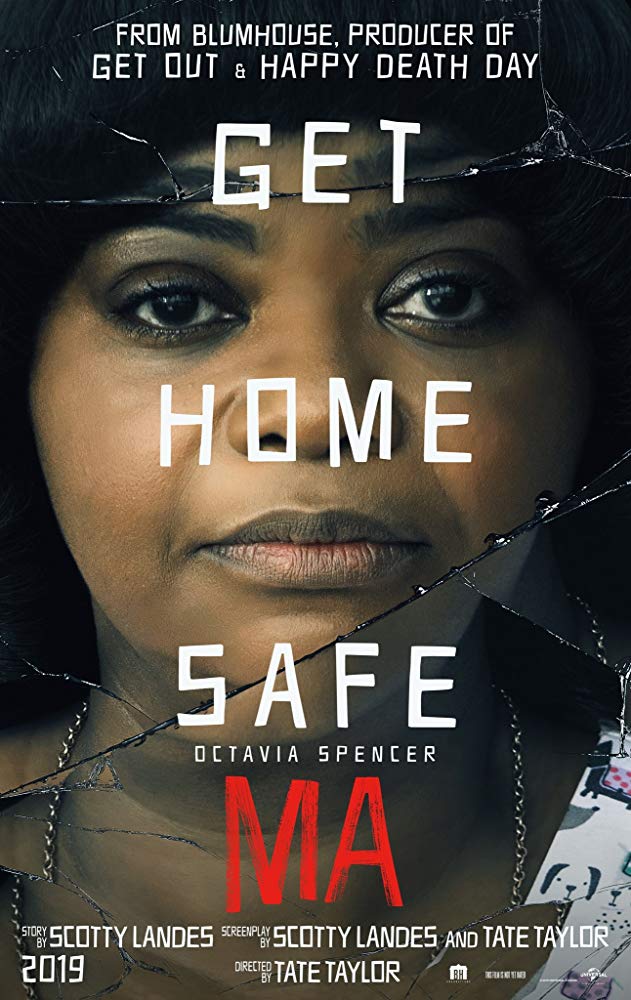 It turns out the usually sweet-demeanor Octavia Spencer makes for a pretty good villain as, much like Rocketman, the horror Ma opened above expectations with a $18.26 million opening. That's good news for the $5 million horror film and especially for Blumhouse who had a whiff with Happy Death Day 2U ($28 million total). Spencer was a major draw for audiences, as 36% of the total was African American with 53% coming in female as well as 53% aged 25 or older. The film managed a "B-" Cinemascore - on the higher end for horror. The film also features the likes of Chris Evans, Alison Janney, Juliette Lewis, Missy Pyle - giving it an edge and prestige over most low-budget horror offerings. Whatever the cast, with $2.8 million overseas, it has already quadrupled its budget and will only get better from here on out. If it follows a similar patter to previous Blumhouse films, it will wind up solidly in the $35-$40 million range.
5)
JOHN WICK: CHAPTER 3 - PARABELLUM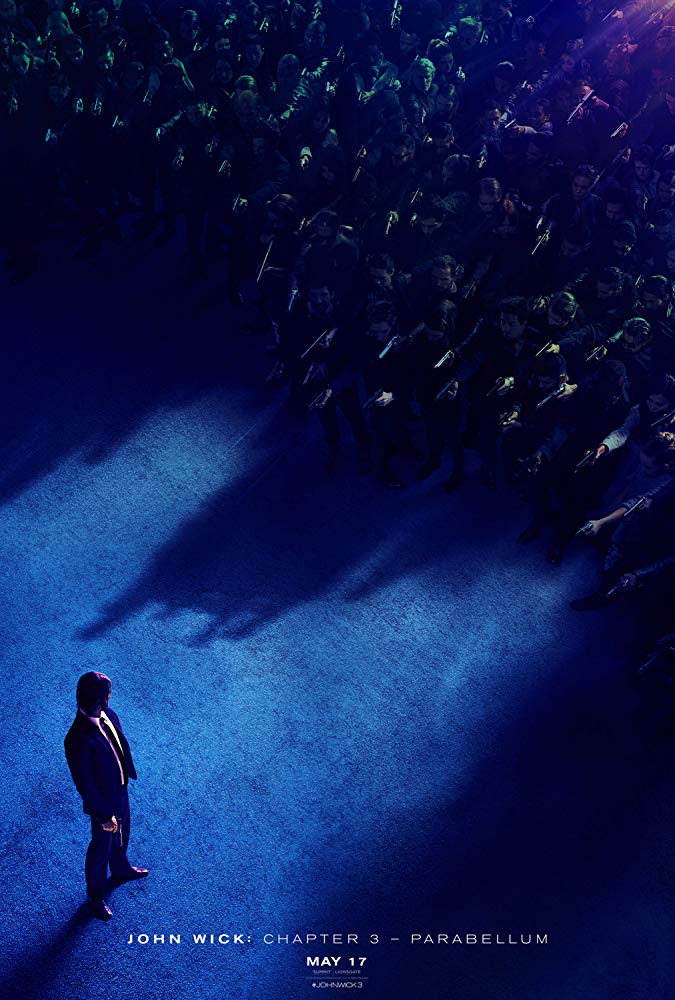 Everyone's favorite hitman on the run dipped about 55%, rounding out the top five with $11.1 million and giving the film a new $125.7 million total. Crossing that $125 million mark must feel good - with a global total approaching $225 million as it stands at $221 million. If it can somewhat steady itself - it could hit $160 million, with $150 million on the low end. Still, John Wick has some major clout at the box office now and a fourth entry has already been slotted for 2021. Considering how much it has jumped from film to film - that was a no-brainer and we'll have to wait a few years to see if this goodwill continues at the box office.
Nothing major happened outside the top five this weekend - no major records or milestones to talk about just yet - so we'll turn our attention to next weekend as two major films open: X-Men: Dark Phoenix (which, barring the maligned New Mutants will be the final film in the current X-Men franchise) and the animated Secret Lives of Pets 2.
Comments