By Chris Kavan - 12/27/18 at 12:42 PM CT
After the long Christmas holiday, December is closing on a more quiet note. Granted, both of these movies were actually released on Christmas Day, so they have been playing for most of the week already. That is the Sherlock Holmes comedy the reunites Will Ferrell and John C. Reilly and the awards-season friendly Vice, which finds Christian Bale transforming into the commander but not-in-chief Dick Cheney. Neither are likely to challenge the might of the popular Aquaman, Mary Poppins or Bumblebee, but we'll see if they can at least make a decent showing as we close out the year.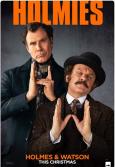 HOLMES & WATSON
It has been a long time since Will Ferrell and John C. Reilly gave us Step Brothers - ten years in fact, and, granted Holmes & Watson is unfortunately not a sequel to that film, but a comedic take on the classic Sherlock Holmes story. But this reunion is far removed from the golden age of Ferrell and critics have been quite harsh on this. And I admit the trailers don't exactly instill in me much interest. The humor looks dated and I don't know many who were crowing for this, and it doesn't even push things too far, sticking to a PG-13 rather than an R. Of course, it's hoping to bring in a more well-rounded crowd, but I don't think it's going to help. In this end, this will be yet another footnote in the actor's respective careers, nothing more.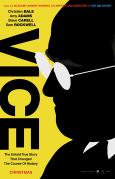 VICE
On the awards front, Vice has been getting a lot of attention. Christian Bale portrays Vice President Dick Cheney, who many say has the real power under the presidency of George W. Bush (Sam Rockwell). Amy Adams plays Lynne Cheney with Steve Carell as Donald Rumsfeld, Alison Pill as Mary Cheney, Eddie Marsan as Paul Wolfowitz and LisaGay Hamilton as Condoleezza Rice. Justin Kirk, Jesse Plemons, Lily Rabe, Shea Whigham and Tyler Perry also feature in what looks like a knock-out supporting cast. We have seen other films tackle the Bush era, but this one looks like it will take things to the next level. While reviews are positive, they are not outstanding, but and this seems destined as a film critics like more than general audiences. It hasn't stopped it from getting plenty of awards attention and this is the kind of movie that adults will likely support over the long run. We'll see what kind of audience it attracts and how it plays out - if it can win rather than just garner nominations, it will certainly boost its potential.
December is likely to end on a quiet note after a long, busy Christmas weekend. The new entries are likely going to be dominated by the strong hold-overs as we await to see what January can bring us. I'll be back on Sunday with the full breakdown.
Comments