By Chris Kavan - 11/22/18 at 09:02 AM CT
Welcome to an extra-special edition of what's coming soon. Of course as we as a collective nation fill our bellies with extra-delicious turkey, ham, duck, sweet potatoes, stuffing, mashed potatoes, gravy and whatever else families might gather around - remember, there are still plenty of movies for families to enjoy. And enjoy they will, as both Wreck-It Ralph and Adonis Creed return in their respective sequels, we get an updated version of Robin Hood and an interesting take on Driving Miss Daily with a white Italian-American chauffeuring an African-American classical musician in the 1960s south. All in all, both Ralph and Creed have opened to huge numbers in early previews, pointing to a likely record Thanksgiving holiday weekend.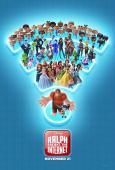 RALPH BREAKS THE INTERNET
I absolutely loved the first Wreck-It Ralph film as, being a big video game nerd, loved all the references and thought the story itself was pretty fun. Plus John C. Reilly and Sarah Silverman just made a fun team as the villain who wants to be on the right side for once and the glitchified racer who just wants to be normal. The sequel, by what I've seen, looks to continue the fun tradition - plus gives us the indelible scene of bringing together pretty much every Disney princess (along with their respective voice actress) for an unforgettable scene. Yes, it has been played up, but, man it still looks fun. Plus I even see Star Wars references - so even better. The crux of the film is this: when the wheel to Vanellope's game gets broken, she and Ralph set out on a mission to find a replacement. Thanks to a recent Wi-Fi update to their arcade, they go where you can find pretty much everything: the Internet. Vanellope meets up with Shank (Gal Gadot) in a hardcore racing game, Slaughter Race (partially based on the Grand Theft Auto series) while Ralph, overwhelmed by the Internet, finds himself reverting to his villainous ways. Along the way, we get to see returning favorites like Jack McBrayer and Jane Lynch (voicing Fix-It Felix and Calhoun once again) while Alan Tudyk returns, but voices a different character (KnowsMore) and newcomers Taraji P. Henson (Yesss) and Alfred Molina (Double Dan) represent facets of the Internet. All in all, this sequel looks to live up to, if not even maybe surpass, the first film. I will certainly be checking this out - perhaps not over this busy weekend, but soon.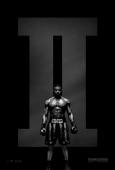 CREED II
Another sequel looking to make some major waves (and, coming in literally just behind Ralph 2 in preview showings) over the holiday is Creed II. Michael B. Jordan once again takes on the mantle of Adonis Creed, son of Apollo, with Sylvester Stallone playing his mentor the former heavyweight champion Rocky Balboa. This time he's going up another familiar name when he takes on Viktor Drago (Florian "Big Nasty" Munteanu) son of Ivan Drago (Dolph Lundgren) another former opponent of Rocky (and the man responsible for the death of Adonis' father). This, of course, means things are very personal for both boxers and trainers - and things are bound to get emotional. Tessa Thompson returns as Bianca, the girlfriend of Adonis, with Phylicia Rashad playing Creed's mother, with Russell Hornsby, Wood Harris, Milo Ventimiglia (reprising his role as Rocky's son) and Brigitte Nielsen (reprising her role as Ludmilla Drago) helping round out the cast. I was surprised by how much I liked Creed, given that I didn't like Rocky Balboa all that much, and if this sequel is anything like it (and, by all accounts it very much is as good), I will probably wind up like it as well. Audiences seem happy and it looks like it will help conquer the box office along with Ralph.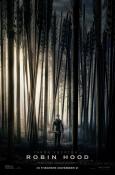 ROBIN HOOD
I'm about as interested in a new version of Robin Hood as I am in a new version of King Arthur - about zero because Hollywood can't seem to get it right. When two of the better versions of the two stories happen to be outright comedies (Men in Tights and Holy Grail) you know something is wrong. I know Taron Egerton is good in action films, as seen in the Kingsmen films, and Jamie Foxx can be entertaining as well (Django anyone?), but neither they nor Ben Mendelsohn, Eve Hewson or Jamie Dornan is going to be enough to save this. This version of Robin Hood juxtapositions a modern-day uprising against the 1% against the classic "rob to the rich, give to the poor" classic tale. Granted, it hasn't been done before, but I'm not sure if it ever needed to be done this way. Much like the gritty version of King Arthur: Legend of the Sword, I just don't see this breaking out. It might be good enough for a stream but no way am I looking forward to this in theaters. I have a feeling it is going to pale in comparison to the other two big films and will be lucky to break even.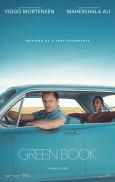 GREEN BOOK
For those looking for something with a big more depth this holiday, look no further than Peter Farrelly's Green Book. The film follows the story of Tony Lip (Viggo Mortensen) an Italian-American who finds himself driving around Dr. Don Shirley (Mahershala Ali) a classic pianist as he tours the south in the 1960s. Racial tension? Check Racism? Check. And I'm sure plenty of other "deep" story going on. This might be considered Oscar bait - but it looks like it's good Oscar bait. It's like Driving Miss Daisy - but switched around a bit. I have a feeling this is going to win over adult audiences, and likely enjoy a decent run, but general audiences aren't going to embrace this as much as say Ralph or Creed. Still, I wouldn't be surprised to see it up for some awards come that time of year.
It's going to be a big, long holiday weekend. Ralph Breaks the Internet and Creed II are going to slug it out with Fantastic Beasts, but whatever comes out on top I think we're looking at a likely record run once Sunday rolls around.
Comments