By Harley Lond - 11/21/18 at 03:26 AM CT
FROM THE BIG SCREEN:

"Crazy Rich Asians": Fast-paced, brezzy and fun, this almost-a-screwball comedy revolves around native New Yorker Rachel Chu (Constance Wu) as she accompanies her longtime boyfriend, Nick Young (Henry Golding), to his best friend's wedding in Singapore... where she discovers that not only is he not only the scion of one of the country's wealthiest families but also one of its most sought-after bachelors ... settin her up for attacks by jealous socialites and, worse, Nick's own disapproving mother (Michelle Yeoh). It's a delightful rom-com that has broken new ground in Hollywood with its screen representation -- before and behind the camera -- for Asian-American talent. Also co-stars Gemma Chan, Awkwafina, Ken Jeong, Jimmy O. Yang, Chris Pang, Sonoya Mizuno, Jing Lusi, Ronny Chieng and Pierre Png. Extras for Crazy Rich Asians
include commentary by director Jon M. Chu and novelist Kevin Kwan. From Warner.


THIS WEEK'S HIGHLIGHTS:
One of the most beloved films of all time, the sizzling masterpiece
"Some Like It Hot
"
(1959) by Billy Wilder set a new standard for Hollywood comedy. After witnessing a mob hit, Chicago musicians Joe and Jerry (Tony Curtis and Jack Lemmon, in landmark performances) skip town by donning drag and joining an all-female band en route to Miami. The charm of the group's singer, Sugar Kane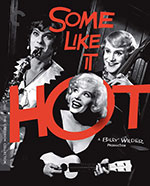 (Marilyn Monroe, at the height of her bombshell powers) leads them ever further into extravagant lies, as Joe assumes the persona of a millionaire to woo her and Jerry's female alter ego winds up engaged to a tycoon. With a whip-smart script by Wilder and I. A. L. Diamond, and sparking chemistry among its finely tuned cast, "Some Like It Hot" is as deliriously funny and fresh today as if it had just been made. On DVD, Blu-ray Disc with new 4K digital restoration, with uncompressed monaural soundtrack on the Blu-ray, from The Criterion Collection ... In honor of Ingmar Bergman's 100th birthday, the Criterion Collection presents
"Ingmar Bergman's Cinema
,"
the most comprehensive collection of his films ever released on home video. One of the most revelatory voices to emerge from the postwar explosion of international art-house cinema, Bergman was a master storyteller who startled the world with his stark intensity and naked pursuit of the most profound metaphysical and spiritual questions. The struggles of faith and morality, the nature of dreams, and the agonies and ecstasies of human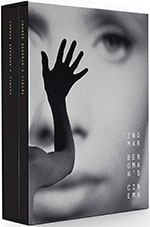 relationships -- Bergman explored these subjects in films ranging from comedies whose lightness and complexity belie their brooding hearts to groundbreaking formal experiments and excruciatingly intimate explorations of family life. Arranged as a film festival with opening and closing nights bookending double features and centerpieces, this selection spans six decades and 39 films -- including such celebrated classics as "The Seventh Seal," "Persona," and "Fanny and Alexander" alongside previously unavailable works like "Dreams," "The Rite," and "Brink of Life." Accompanied by a 248-page book with essays on each program, as well as by more than 30 hours of supplemental features, "Ingmar Bergman's Cinema" traces themes and images across Bergman's career, blazing trails through the master's unequaled body of work for longtime fans and newcomers alike. Thirty-nine films, including 18 never before released by Criterion. Digital restorations of the films, including a new 4K restoration of "The Seventh Seal" and new 2K restorations of "Crisis," "Persona,"
Fanny and Alexander,
and many others, with uncompressed monaural and stereo soundtracks. On Blu-ray Disc only, with a $299.00 price tag ...
"Clouzot: The Early Works
":
Before directing his first feature, Henri-Georges Clouzot ("The Wages of Fear," "Diabolique") spent 10 years learning the ropes. During this prolific period as a screenwriter he learned cinematic grammar and began to forge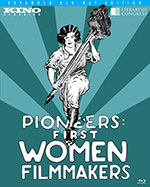 his style. To better know and understand Henri-Georges Clouzot, one has to discover these rare films, of which he was one of the principal architects: six varied features he worked on from 1931-1933: frothy comedies, boxing dramas, musicals and melodramas. The set includes his directorial debut -- the short film
The Terror of Batignolles
(1931), which anticipates his canonical thrillers to come. Two-disc set on DVD, Blu-ray, from Kino Classics ...
"Pioneers: First Women Filmmakers
":
In the early decades of cinema, some of the most innovative and celebrated filmmakers in America were women. Alice Guy-Blaché helped establish the basics of cinematic language, while others boldly continued its development: slapstick queen Mabel Normand (who taught Charlie Chaplin the craft of directing), action star Grace Cunard, and LGBTQ icon Alla Nazimova. Unafraid of controversy, filmmakers such as Lois Weber and Dorothy Davenport Reid tackled explosive issues such as birth control, abortion, and prostitution. This crucial chapter of film history comes alive through this six-disc presentation of a wide assortment of films, carefully curated, meticulously restored in 2K and 4K from archival sources, and presented with new musical scores. DVD, Blu-ray, from Kino Classics.
BUZZIN' THE 'B'S:
In
"Fireworks
"
(2017 -- Japan), producer Genki Kawamura follows up his animated mega-hit "Your Name" with another tale of star-crossed teenage lovers with a sci-fi fantasy twist. Shy Norimichi and fast-talking Yusuke are both enraptured by the same elusive classmate, Nazuna. But Nazuna, unhappy over her mother's decision to remarry and leave their countryside town, plans to run away and has secretly chosen Norimichi to accompany her. When things don't go as planned, Norimichi discovers that a glowing multi-colored ball found in the sea has the power to reset the clock and give them a second chance to be together. But each reset adds new complications and takes them farther and farther away from the real world -- until they risk losing sight of reality altogether. On DVD, Blu-ray from GKIDS/Shout! Factory ...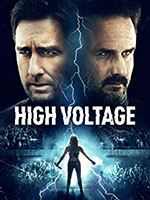 In
"High Voltage
"
(2018), starring David Arquette, Allie Gonino, Perrey Reeves and Luke Wilson, a struggling rock band, led by washed-out rock star Jimmy Kleen (Arquette), strikes a deal with cynical record executive Rick (Wilson). Things take a sinister turn when the band's lead singer, Rachel (Gonino), and her controlling stage mother, Barb (Reeves) both get struck by lightning and killed. Rachel is brought back to life, but she is different than before: confident, sexy, with an irresistible stage presence. Lightning courses through her veins and she uses her new supernatural electrical powers to drain the life from men and turn it into electrifying stage performances. Her bandmates discover her dark secret and have to decide just how far they are willing to succeed. A mashup combining horror, thriller, musical, and noir into a bloody rock 'n' roll fantasy. On DVD, Blu-ray/DVD Combo from SP Releasing ... In
"Little Italy
"
(2018), starring Emma Roberts, Hayden Christensen, Alyssa Milano, Danny Aiello and Jane Seymour, former childhood pals Nikki (Roberts) and Leo (Christensen) are attracted to each other as adults -- but will their feuding parents' rival pizzerias put a chill on their sizzling romance? On DVD, Blu-ray, from Lionsgate ... In
"Luciferina
"
(2018), Natalia is a 19-year-old novice who reluctantly returns home to say goodbye to her dying father. But when she meets up with her sister and her friends, she decides instead to travel the jungle in search of a mystical plant. Instead of pleasure, they find a world of Black Masses, strange pregnancies, bloody deaths and perhaps, a sexually violent clash with the Devil himself. On DVD, Blu-ray, from Artsploitation Films ... In
"Orgies of Edo
"
(1969 -- Japan), legendary Toei director Teruo Ishii tells three stories of moral sickness set during Japan's prosperous Genroku era in this bloody follow-up to his sexploitation classic "Shogun's Joy of Torture," and the fourth entry in Toei's "abnormal love" film series. Ishii's politically incorrect moral lessons paint a trio of tales of tragic heroines caught up in violence, sadomasochism, incest and torture. Told in anthology style by an impassive physician (Teruo Yoshida), the first story follows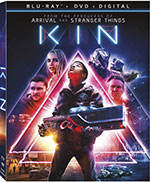 Oito (Masumi Tachibana), an innocent young girl deceived by a handsome Yakuza and sold into prostitution who finds herself in a doomed love affair with the man who brought her to ruin. The tale of Ochise (Mitsuko Aoi) is about the daughter of a rich merchant whose insatiable appetite for filth and perversion draws her deeper into violence, darkness and betrayal. Finally, the story of Omitsu (Miki Obana) follows a sadistic lord (Asao Koike) whose eye is caught one day by a beautiful member of his harem who shares his strange taste for pain and blood, but who holds a secret of her own that will destroy his entire household. On Blu-ray from Arrow Video/MVD Entertainment ...
"Kin
"
(2018), starring Jack Reynor, Zoë Kravitz, Dennis Quaid, James Franco and Myles Truitt, is a sci-fi actioner about a recently released ex-con and his adopted teenage brother who find themselves on the run from a vengeful criminal, the feds, and a group of relentless soldiers, with only a mysterious and powerful weapon at their side. On DVD, Blu-ray/DVD Combo, from Lionsgate ...
"Blindspotting
"
(2018), starring Daveed Diggs, Rafael Casal, Janina Gavankar, Jasmine Cephas Jones, Ethan Embry and Tisha Campbell-Martin, is a raw glimpse into three days in the life of a parolee and the struggles of race, class, and police brutality in Oakland, California. On DVD, Blu-ray/DVD Combo, from Lionsgate.
There's five new restored cult films this week from the folks at Scream Factory/Shout Factory:
"Bill & Ted's Bogus Journey
(Limited Edition Steelbook)"
(1991), starring Alex Winter and Keanu Reeves. In this sequel, the titular time travelers aren't making history -- they are history. When an evil doer from the future sends eviler robot twins of Bill & Ted to assassinate and replace good, non-robot Bill & Ted, the guys wind up face to face with the Grim Reaper (William Sadler) Can the now-dead duo escape, defeat their evil doppelgangers, and win their Battle of the Bands contest? On Blu-ray ...
"Streets of Fire
(35th Anniversary Edition Steelbook)"
(1984). Amid a brooding rock & roll landscape, the Bombers motorcycle gang, led by the vicious Raven Shaddock (Willem Dafoe), kidnap diva Ellen Aim (Diane Lane). Her hope for rescue lies with unlikely heroes: soldier of fortune Tom Cody (Michael Paré) and his sidekick, the two-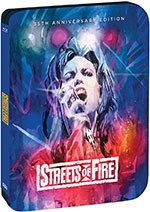 fisted beer-guzzling McCoy (Amy Madigan). Joined by Ellen's manager, Billy Fish (Rick Moranis), the trio plunges headfirst into a world of rain-splattered streets, hot cars, and deadly assassins in this cult favorite. Original songs written by Jim Steinman, Stevie Nicks, Tom Petty and Ry Cooder and performed by The Blasters and The Fixx. Directed by cult filmmaker Walter Hill. 2K scan of the interpositive with a new DTS-HD Master Audio 4.1 created from the 70mm six-track magnetic audio. On Blu-ray ...
"Candyman
Collector's Edition"
(1992), starring Virginia Madsen, Tony Todd, Xander Berkeley and Kasi Lemmon. This gut-wrenching thriller follows a graduate student whose research summons the spirit of the dead. When Helen Lyle hears about Candyman, a slave spirit with a hook hand who is said to haunt a notorious housing project, she thinks she has a new twist for her thesis. Braving the gang-ridden territory to visit the site, Helen arrogantly assumes Candyman can't really exist ... until he appears, igniting a string of terrifying, grisly slayings. Two-disc set with theatrical and unrated cuts. 2K restoration from a new 4K scan of the original negative, supervised and approve by writer-director Bernard Rose and director of photography Anthony B. Richmond. On Blu-ray ...
"Urban Legend
Collector's Edition"
(1998), starring Jared Leto, Alicia Witt, Rebecca Gayheart, Joshua Jackson, Loretta Devine, Tara Reid, Michael Rosenbaum and Robert Englund. When New England college student Natalie (Witt) finds herself at the center of a series of sadistic murders seemingly inspired by urban legends, she resolves to find the truth about her school's own legend: a 25-year-old story of a student massacre at the hands of an abnormal Psych professor. On Blu-ray ...
"Urban Legends: The Final Cut
"
(2000), starring Jennifer Morrison, Matthew Davis, Hart Bochner, Joseph Lawrence, Anthony Anderson and Loretta Devine. At Alpine University, someone is determined to win the best film award at any cost -- even if it means eliminating the competition. No one is safe and everyone is a suspect. On Blu-ray.
ON THE INDIE FRONT:
In
"To Dream
"
(2016), starring Adam Deacon, Diana Vickers, Ed Hayter and Freddie Thorp, two self-destructive teenagers in London won't let anything come between their friendship and their ultimate plan, but when dysfunctional family life becomes intolerable, loyalty leads one to make a choice that will change their lives forever. From Random Media ... In the
"Skate Kitchen
"
(2018), the first narrative feature from "The Wolfpack" director Crystal Moselle, Camille, an introverted teenage skateboarder (newcomer Rachelle Vinberg) from Long Island, meets and befriends an all-girl, New York City-based skateboarding crew called Skate Kitchen. She falls in with the in-crowd, has a falling-out with her mother, and falls for a mysterious skateboarder guy (Jaden Smith), but a relationship with him proves to be trickier to navigate than a kickflip. The film precisely captures the experience of women in male-dominated spaces and tells a story of a girl who learns the importance of camaraderie and self-discovery. On DVD, Blu-ray, from Magnolia Home Entertainment.
FOREIGN FILMS:
"Time Regained
"
(1999 -- France), starring Catherine Deneuve, John Malkovich, Emmanuelle Béart, Vincent Perez, Marcello Mozzarella and Chiara Mastroianni, is Raúl Ruiz's most ambitious literary adaptation and considered his greatest cinematic achievement. Ruiz's "Time Regained" distills all of Marcel Proust's iconic "In Search of Lost Time" into a single epic feature. The film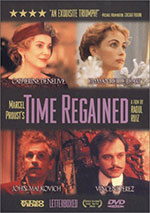 opens in 1922, as Proust is on his deathbed pouring through old photographs that summon the events of his life. Gradually, we watch as his own experiences merge with his own literary creations. Idyllic memories of youth alternate with rich recollections of 19th century Parisian society where the drama of the Great War and the anxieties of the emerging modern era are skewered in the spectacular staged soirees and lush grand parties. In Ruiz's deft cinematic hands the film becomes a phantasmagorical comedy of manners as well as a powerful reflection on cinema's ability to seize and preserve moments of time. The result is a montage of moving snapshots and feverish dreams that makes the film the ultimate in Proustian cinema. On DVD, Blu-ray, from Icarus Films ...
"Heavy Trip
"
(2018 -- Finland), is a rock mockumentary. Turo (Johannes Holopainen) is stuck in a small village in the Finnish countryside where his greatest passion is being the lead vocalist for the amateur metal band Impaled Rektum. The only problem is that he and his fellow headbangers have practiced for 12 years without playing a single gig. But that's all about to change when the guys meet the promoter of a huge heavy metal music festival in Norway and decide it's now or never. Hitting the road in a stolen van with a corpse, a coffin, and a new drummer from a local mental hospital in tow, Impaled Rektum travels across Scandinavia to make their dreams a reality. From Blood Disgusting/Doppelgänger Releasing.
FROM TV TO DISC:
"Longmire: The Sixth and Final Season"
(2017) is a two-disc set with all 10 episodes. Season Six of Longmire finds Wyoming Sheriff Walt Longmire (Robert Taylor), his deputies Vic Moretti (Katee Sackhoff) and The Ferg (Adam Bartley), his best friend Henry Standing Bear (Lou Diamond Phillips), and daughter Cady (Cassidy Freeman) facing the biggest personal and professional crises of their lives. Walt's job and home are under threat by a powerful, unscrupulous lawyer. Vic must decide what to do about her secret pregnancy. Ferg struggles to balance a new relationship with his commitment to his job. Cady is torn between her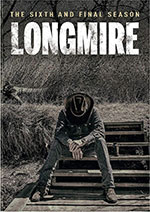 loyalties to her father and Jacob Nighthorse (A Martinez). Henry's life is in danger with an old nemesis bent on revenge. With their world in turmoil, Walt and everyone he cares about must ultimately face the most difficult decision of their lives: Is it time to pack it in? Or will they fight to the end? On DVD, Blu-ray, from Warner ...
"No Offence, Series 2"
(2017) is a two-disc set with seven episodes of the female-driven police procedural that follows an unorthodox team of cops in Manchester, England. In Series 2, vivacious DI Vivienne Deering (Joanna Scanlan) returns to work from bereavement leave after her husband's death, but only Viv's impulsive subordinate, DC Dinah Kowalska (Elaine Cassidy), knows the brutal truth of what really happened to him. Then in her first week back, a bomb blast at a funeral plunges Deering and her team headfirst into a gang war inflamed by a crime family matriarch (Rakie Ayola) who is just as ferocious as Deering herself. From Acorn Media.
Check out other new DVD/Blu-ray releases, streaming films, and information and reviews at OnVideo.
Comments