By Chris Kavan - 10/18/18 at 06:47 AM CT
October has been off to a blazing start, with records and strong openings all over the place. This week it looks like the good times are going to continue to roll with the return of Michael Myers in a holiday-appropriate murder spree and the expansion of a film that has proven exceedingly popular in its limited-release run. If both films manage to perform as expected, I see no reason why this won't be another huge October weekend, keeping up the so-far spectacular month that will help the year continue its record pace.

HALLOWEEN
I mean, with a title like that, you have to be released in October. Horror is an art form, no doubt, and I think we're in a horror resurgence right now. So what better time to revisit John Carpenter's classic tale then in the middle of this new renaissance? David Gordon Green has a novel idea for this followup - he is essentially ignoring every sequel and remake that has come out and this Halloween, while taking place in the future, is an immediate sequel to the original. The film finds Laurie Strode (once again played by Jamie Lee Curtis) in full on Ripley-mode, having never quite got over the attack perpetrated by Michael Myers (James Jude Courtney and Nick Castle), having spent the last few decades essentially preparing for his return. Her daughter (Judy Greer) and granddaughter (Andi Matichak) don't share her zeal, maybe they should have. Because, of course, Myers indeed escapes his long confinement when the bus he is traveling on crashes and he wastes no time picking up where he left off. Thus begins the (final?) confrontation between Laurie and The Shape. This is exactly the kind of horror film that is going to play great over the holiday - and it is tracking pretty good. Plus, with a light $10 million budget, this is going to bank a lot of box office bucks. I'm not sure how it will compare to other recent horror titles, but my gut tells me it's going to wind up just find.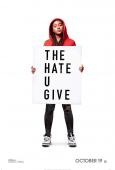 THE HATE U GIVE
This very topical film has been gaining steam ever since its limited-release two weeks ago. Amandla Stenberg stars as Starr Carter, who is witness to the death of her childhood friend, Khalil (Algee Smith) from the gun of a white police officer. The issue is one that comes up time and time again in the news, and it's not surprising that directors like George Tillman Jr. are tackling the subject head on. The film is based on a novel by Angie Thomas, and also features a knockout cast - Anthony Mackie, Issa Rae, Regina Hall, Common, K.J. Apa, Sabrina Carpenter and Russell Hornsby lead the way. Considering its success in limited markets, I'm not seeing a reason this won't do well with general audiences. Even if the message isn't very nuanced, it's a powerful one and important and I think it will have no problem resonating with audiences and should wind up in pretty good position once Sunday rolls around.
Also squeaking just out of limited release is The Old Man and the Gun - which will supposedly be the last film role of the legendary Robert Redford. I'll have more on that Sunday with the weekend wrap-up.
Comments