New in Theaters December 29: All the Money in the World, Darkest Hour
By Chris Kavan - 12/28/17 at 06:41 AM CT
It's the end of the year as we know it, and I feel fine. So what if the two movies this week have technically been out for a few days. Darkest Hour went wide before Christmas, but there were so many damn movies to cover that weekend, that it kind of fell off my radar. All the Money in the World came out Christmas Day already, but I'm going to cover it here as well. Both films are likely to play to adult audiences who are looking for something without the kids. They aren't going to challenge Star Wars or Jumanji, but if they get enough attention, who knows, maybe some future nominations will be in store.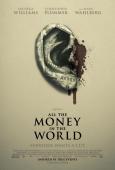 ALL THE MONEY IN THE WORLD The biggest story about Ridley Scott's true life adaptation of the abduction of John Paul Getty III is the efficiency in which Kevin Spacey, under fire for sexual misconduct allegations, was replaced by Christopher Plummer. Scott essentially had six weeks before the film's premiere to re-shoot every scene with Spacey, and he managed to pull it off. What's more, the film has gotten much praise, sitting at 79% Fresh on Rotten Tomatoes. It pulled in $2.6 million on Monday alone, we'll see how it does as the year winds down. Plummer now plays the billionaire Getty magnate who, upon learning his grandson (played by Charlie Plummer) has been kidnapped and a ransom demanded, refuses to part with any of his fortune to save him. This results in his much more devoted and charity-driven mother, Gail (Michelle Williams) to do everything in her power to sway the elder Getty to do the right thing. Getty sends Fletcher Chase (Mark Wahlberg) his enigmatic security man, to look after his interests, but can't foresee that Chase and Gail will form an unlikely alliance even as the captors grow increasingly volatile and desperate. Sounds like an interesting crime drama to me, and with a cast like that, it's bound to be worth watching.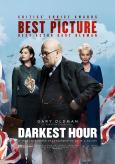 THE DARKEST HOUR The Darkest Hour expanded right alongside The Shape of Water and actually did a bit better than Guillermo del Toro's dark fantasy. Darkest Hour follows Winston Churchill (Gary Oldman), newly-elected Prime Minister of Britain, who finds himself facing a turning point in history. World War II has broken out, and Hitler has swiftly taken power across much of Europe. Churchill must decide whether to capitulate or retaliate - against great odds - a decision that will alter history. However, he faces challenges from within as well, as politicians scheme behind his back. Like All the Money in the World, Darkest Hour has received much praise as well, sitting at an ever Fresher 84% on Rotten Tomatoes. It's expansion was enough to place it in the top 10 (landing in 8th place, up from 16th) over the long Christmas weekend. This is another film that could easily see some awards season love, what with the historical drama being the Academy's favorite (even with the influx of new blood). It has everything going in its favor, at least.


That's it for 2017, folks, once again, it's going to be a long weekend with New Years Even and Day approaching - I'll be back Monday with your results.