New in Theaters December 08: Just Getting Started, The Disaster Artist
By Chris Kavan - 12/07/17 at 06:44 AM CT
Last week gave us no new wide releases and this week we're getting just one new film and one expansion. Thus, I have a feeling this weekend's box office report is once again going to look a lot like last weekend's box office report. I fully expect the likes of Coco, Justice League and Wonder to continue bringing in audiences. The lone new release, Just Getting Started is a comedy with a decent cast, but I don't see it breaking big. Meanwhile, The Disaster Artist played well in limited release, but we'll have to see if its story about the worst movie ever made can play well outside major cities. All in all, I expect another quiet weekend before Star Wars really blows things up next week.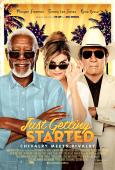 JUST GETTING STARTED Partnering up two opposites for comedic hilarity is a tried and true formula going back decades. Morgan Freeman and Tommy Lee Jones are the latest to try their hand at the genre. Freeman is an ex-mob lawyer under witness protection while Jones is the hard-bitten ex-FBI agent who just happen to have an age-old grudge - and also happen to be on the same golf course when their respective paths converge. When the mob comes calling to settle some debts, the two will have to put aside their rivalry, join forces and fight to live another day. Rene Russo, Joe Pantoliano, Glenne Headly and George Wallace help round out the cast. While the cast is certainly solid, the premise, as stated, isn't exactly fresh. I think the film will be elevated by the talent involved, but I don't think that will be enough to push this very far. It's a basic comedy, it will scratch that itch, but I also think it's highly disposable and not the kind of film that sticks around - in your mind or in theaters.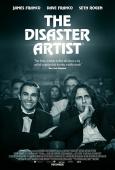 THE DISASTER ARTIST Last weekend, James Franco's Disaster Artist had a great limited debut, earning over $1.2 million in just 19 theaters and a top 12 finish. This weekend it will expand to over 800 theaters and we'll see if general audiences embrace this as much as smaller ones. The Disaster Artist stars Franco as Tommy Wiseau, a man who only wants to make a film - and an aspiring actor, Greg Sestero (played by Franco's brother, Dave - in their first major film as co-stars) finds himself in the middle of the ultimate cult film when he gets cast in The Room. Wiseau's strange, terrible film has become a cult hit, inspiring Rocky Horror style midnight showings, complete with audience participation. Wiseau himself is kind of as crazy as the film - and Franco doesn't pull any punches, though what could have been a satire is taken totally seriously, presenting a bitter-sweet Hollywood tale that just happens to showcase one of the worst films ever made. Seth Rogen, Ari Graynor, Alison Brie, Jacki Weaver, Zac Efron, Josh Hutcherson and Megan Mullally are a few names lending their talent to the project. Even though I myself have never gotten to experience The Room first hand, I don't think it's a requirement to enjoy this film. It's hard to say if it will do well, but at least Franco took a chance.


That's all for this weekend. It should be another lazy weekend but, as I said, with Star Wars on the horizon, things will heat up quickly even as winter finally arrives.