New in Theaters June 23: Transformers: The Last Knight
By Chris Kavan - 06/22/17 at 06:39 AM CT
While Cars 3 raced to first place last weekend, it really continued to be Wonder Woman that turned all the heads. Even in its third week, the film was running right alongside the best the superhero genre has given us. But this week Wonder Woman faces its biggest test yet: Michael Bay and the Transformers Juggernaut. Although in my mind the films have gotten worse as the series has chugged along, you wouldn't know it by the grosses, especially the worldwide totals where it slays, with China leading the way. I can't say I'm even remotely excited about seeing this one in theaters, but I know that's not going to stop it from making boatloads of money.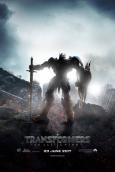 TRANSFORMERS: THE LAST KNIGHT I enjoy a bit of mindless action, same as the next red-blooded American guy, but even I have my limits. I made it through the first four Transformers films, heck, even found some of them were fun to watch, but by the time Mark Wahlberg and The Age of Extinction rolled around in 2014, watching the film felt more like a chore then anything else. The films have always had frantic action (what with robots transforming and all) but Extinction was both frantic and mind-numbingly stupid. Transformers has never been at the top for "smart" movies, but the last two have upped the action quotient and made the story even more unintelligible. I have no reason to believe The Last Knight is going to suddenly reverse that trend. Despite adding Sir Anthony Hopkins to the cast, along with new female lead Laura Haddock, the previews make this look like every other Transformers film that had come before it: big, loud and hard to follow. In this case, the stakes have never been higher - Earth itself finds itself at the mercy of our new robotic overlords and only by uncovering a secret past (where, apparently, humans and Transformers have worked together) can both races hoped to be saved. Wahlberg is back (one last time - even he's giving up on the Transformers), along with Josh Duhamel and Stanley Tucci joined by the fresh-faced Isabela Moner, comedian Jerrod Carmichael and Santiago Cabrera to add a little international flavor. No matter how incoherent the movie gets, it will still open at the top of the box office, make mountains of money here and abroad and will most likely lead to yet another Transformers movie in the near future. Weep for humanity.


That's it - no movie dares challenge the might of the Transfomers, which, technically, has already opened (on Tuesday night to be exact), and should make pretty much all the money by Sunday, but I'll return with the rundown then.