New in Theaters March 17: Beauty and the Beast, The Belko Experiment
By Chris Kavan - 03/16/17 at 06:44 AM CT
We have had some good debuts this March, but one thing is for certain, we haven't seen anything yet. Disney has figured out a new formula and while at first I thought it was mainly a cash-grab on the studio's part, it has actually turned out for the better. They have been turning out live-action versions of some of their most cherished animated films - and they have been very successful. And if the upcoming tickets sales for Beauty and the Beast is any indication, this is going to be their biggest film in this category yet. The only film going up against this beast of a film is a horror film that seems to be Hunger Games meets Saw and I don't hold out much hope it's going to make much of an impact this weekend.

BEAUTY AND THE BEAST As I said, the numbers for this film are shaping up to be huge. It has already broke the record for most pre-release ticket sales for a family film - and it already has bigger numbers than Captain America: Civil War. Civil War opened with $179.1 million. The only reason Beauty and the Beast may not top that is because it is March, not Summer. The film is going to be the first film to open above $100 million in 2017 and I have a feeling it's going to rival the Star Wars films as one of Disney's highest-grossing films on record. One big reason is the film is going to draw in adult audiences who are nostalgic about the original animated film plus it will draw in families by the truckloads. And it has a great cast, led by Harry Potter vet Emma Watson (as Belle), Dan Stevens as The Beast and Luke Evans as the muscular braggadocio Gaston. A lot has been made about Josh Gad's LeFou being the first openly-gay character in a Disney film, but I doubt the blowback is going to eat in to its profits. Kevin Kline, Ewan McGregor, Ian McKellen, Emma Thompson, Stanley Tucci, Audra McDonald and Gugu Mbatha-Raw help round out the highly-talented cast. While the film doesn't look like it's going to be much of a departure from the animated film, hopefully the new case can breath life into the music and grandeur and give audiences a real treat. It will be the top film at the box office - and, soon enough, the highest-grossing film of 2017 - we'll just have to see how big it gets.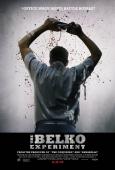 THE BELKO EXPERIMENT Going up against Beauty and the Beast sounds like a death sentence, but that isn't going to stop The Belko Experiment from trying. Granted, an R-rated horror film is good counter-programming for anyone not willing to sit though a Disney film, but I don't see this making much of an impact. Essentially the film follows a bunch of corporate workers in a high rise located in Bogotá, Colombia. But things are about to take a twisted turn when the 80 employees become trapped and ordered by a mysterious voice to kill or be killed. As I said, it's like The Hunger Games meets Saw with a big of tongue-in-cheek Cabin in the Woods thrown in. John Gallagher Jr., Tony Goldwyn, John C. McGinley, Michael Rooker, Adria Arjona and Melonie Diaz are but a some of the names of the people fighting for their very survival. If there is any saving grace it is that James Gunn wrote the script and Greg McLean, a horror vet behind Wolf Creek and The Darkness, is directing. I still think the film is going to get absolutely slaughtered, but this is one I would gladly check out on streaming when the time comes.


This weekend is going to be dominated by Beauty and the Beast. We'll see how Kong, Logan and Get Out fare this time around, but overall it should be a very good weekend for Hollywood. I'll be back Sunday with the results.