New in Theaters February 03: Rings, The Space Between Us
By Chris Kavan - 02/02/17 at 06:44 AM CT
We could be looking at the rare horror one-two punch this weekend if Split can continue its winning stream and if newcomer Rings can bring in any kind of audience like the original. There is also the resurgent Oscar nominees to consider as well as a new teen-centric drama romance that looks to catch a few eyes as well. Spit enjoyed a strong second weekend and I don't see why it won't continue but the rest of the field seems a bit up for grabs. January gave us a few surprises, we'll see if February will follow suit.

RINGS If Underworld and Resident Evil are any indication, Rings is in for a tough sell. Both the previously-mentioned franchises released new films several years after the last movie premiered and both opened with record-low openings for those respective franchises. The original Ring (based on the Japanese film Ringu) came out in 2002 and really jump-started the whole J-horror American remake trend. Yet by the time Ring 2 came out in 2005, that trend was already drying up. Now we get Rings in 2017 and I don't know if a 12-year gap is going help things. This film once again follows the curse (now turned urban legend) of a video that can kill the viewing in seven days of watching it. Holt (Alex Roe) is fixated on this legend and learns it is indeed a reality, but is saved from the curse by his girlfriend, Julia (Matilda Anna Ingrid Lutz) who essentially sacrifices herself. But this is just the start as she learns of a video-within-the-video that has never been seen... until now. Johnny Galecki, Vincent D'Onofrio, Aimee Teegarden and Bonnie Morgan (as Samara) help round out the cast. This could turn out to be a revival of a once-popular franchise or, like Blair Witch, it could be an un-needed addition to a franchise no one asked for. As far as I'm concerned, this could go either way.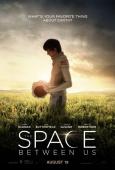 THE SPACE BETWEEN US Following in the footsteps of the likes of The Fault in Our Stars, The Perks of Being a Wallflower and so, so many others, The Space Between Us explores young romance that comes up against a seemingly insurmountable problem. Not cancer, not childhood trauma - but, in this case, the inability to survive on Earth itself. You see, our young man, Gardner Elliot, was born on Mars - raised there, learning about his home planet but never being able to experience it - having to deal with living life from afar. He starts to chat with Tulsa (Britt Robertson) and decides to return to Earth and live the life he has missed. So he goes on road trip with Tulsa to just do that but it turns out life on Mars is really different than life on Earth - and it may wind up killing him. Literal star-crossed lovers here, people. Carla Gugino, Gary Oldman, BD Wong and Janet Montgomery also star. The film is obviously shooting for a young-adult crowd and its chances of success lie squarely on whether that audience decides to show up or not.


Can Split be the rare horror film to top the box office for three straight weeks? It's not unprecedented and, this early in the year, it is a very real possibility. See you Sunday with the results.