New in Theaters December 02: Incarnate
By Chris Kavan - 12/01/16 at 06:49 AM CT
I don't think this weekend is going to look a lot different than the extended Thanksgiving weekend. There is only one new film coming out in wide release, and it is a horror film that has had little to no marketing push as far as I can tell. Given that, it's not likely to have much of an impact on the box office. Thus, Moana, Fantastic Beasts and Doctor Strange all look to continue their winning streaks. We'll see if the limited release expansions continue to show promise as well, but otherwise I don't see much in the way of excitement for our opening December box office.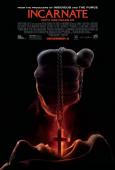 INCARNATE I will admit, it has been quite awhile since a horror film has graced the big screen - even further back since a decent horror film dropped. Shut In barely made a ripple while Ouija: Origin of Evil managed a decent return on investment, but you have to go back to August when Don't Breathe dropped to find a real gem. I have a feeling that Incarnate is not going to join the ranks of the strong horror results that (mostly) played out this year. Even though it has a few recognizable names (Aaron Eckhart and Carice van Houten), it doesn't have any huge stars. It also hasn't been well advertised. Other than a very recent trailer, I can't say I've seen anything on TV or much of anywhere for that matter. Taken together, this is going to add up to a film I doubt will place in the top five, unless horror fans are really desperate for something. I don't see it having much of an impact on the box office.


That's the only new wide release coming out. Like I said, I'm expecting a major case of deja vu when the weekend results roll around.