New in Theaters October 28: Inferno
By Chris Kavan - 10/27/16 at 06:47 AM CT
With the box office finally heating up enough, I guess it's only appropriate that will add a little more heat to the fire. Dan Brown adaptations have been very good at the box office. Even though I still think both Tom Hanks and director Ron Howard are both odd choices, The Da Vinci Code hit $217.5 million stateside and $758.2 million worldwide while the sequel Angels & Demons hit $133.3 million and nearly $486 million worldwide. Now, that is a big drop, but those are still impressive numbers so there is little surprise they decided to adapt Inferno into a movie as well. I actually found this novel to be much better than Angels & Demons but the law of diminishing returns tells me I don't necessarily think the movie is going to follow the same path.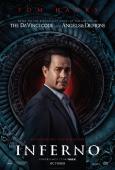 INFERNO As stated, this will be the third time that Hanks has taken on the role of symbologist Robert Langdon, this time taking place mostly in Italy as he follows clues based around Dante Alighieri's Inferno (hence the title). But there is a twist, he wakes up with no memory of the past several days and has to rely on the help of a doctor, Sienna Brooks (Felicity Jones) to retraces his steps and stop a global disaster as a reclusive billionaire, Bertrand Zobrist (Ben Foster) has set in a motion a plan to release a deadly plague upon the world. Omar Sy, Irrfan Khan, Sidse Babett Knudsen and Ana Ularu round out the cast. The setting is great and early predictions have this hitting about $25 million at the box office - which might seem low for a $75 million budget, but I'm guessing this one is going to be a much bigger hit on the international front. More worrying to me is that many are complaining that they made a major change to the ending (I've read the book but if you don't want spoilers, stay away) and not necessarily for the better. That makes me apprehensive but I will probably stream this but I'm not ready to rush out to theaters.


With just the one major film coming out, I'm guessing there will be a lot of familiar faces this weekend. We'll see if Mr. Hanks can once again distinguish himself and come out on top.