By Harley Lond - 08/16/16 at 04:39 AM CT
THIS WEEK'S HIGHLIGHTS:
"Raiders!: The Story of the Greatest Fan Film Ever Made" (2016): After Steven Spielberg's classic "Raiders of the Lost Ark" was released 35 years ago, three 11-year-old boys from Mississippi set out on what would become a 7-year-long labor of love and tribute to their favorite film: a faithful, shot-for-shot adaptation of the action adventure film. They finished every scene ... except one; the film's explosive airplane set piece. Over two decades later, the trio reunited with the original cast members from their childhood in order to complete their masterpiece. Featuring interviews with John Rhys Davies, Eli Roth and more, "Raiders! The Story of the Greatest Fan Film Ever Made
" is just that: the story of this long-gestating project's culmination, chronicling the friends' dedication to their artistic vision -- mixed in with some movie magic -- to create a personal, epic love letter to a true modern classic. In a Blu-ray/DVD Comb from Drafthouse Films/MVD Entertainment.



Whether headlining films in Sweden, Italy, or Hollywood, Ingrid Bergman always pierced the screen with a singular soulfulness. With the new documentary "Ingrid Bergman: In Her Own Words
" (2015), made on the occasion of the 100th anniversary of Bergman's birth, director Stig Björkman allows us unprecedented access to her world, culling from the most personal of archival materials -- letters, diary entries, photographs, and Super 8 and 16 mm footage Bergman herself shot -- and following her from youth to tumultuous married life and motherhood. Intimate and artful, this lovingly assembled portrait, narrated by actor Alicia Vikander, provides luminous insight into the life and career of an undiminished legend. On DVD, Blu-ray, in a high-definition digital transfer, with 5.1 surround DTS-HD Master Audio soundtrack on the Blu-ray. From The Criterion Collection.


BUZZIN' THE 'B'S:
"Microwave Massacre
"
(1983) stars legendary stand-up comedian and actor Jackie Vernon as Donald, a disgruntled construction worker whose wife's predilection for haute cuisine drives him to cannibalism. Donald unwittingly stumbles upon a solution to his two major problems in his life -- his nagging wife and his lack of decent meals -- when, one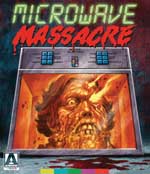 night, he bludgeons his better half to death with a pepper grinder in a drunken rage. Thinking on his feet, Donald dismembers the body and sets about microwaving the remains, which turn out to be rather delicious. Trouble is, now he has a taste for human flesh that needs satisfying. Eschewing all notions of good taste, Wayne Berwick's horrorfest is a deliciously depraved exercise in political incorrectness that has gone on to gain a cult following thanks to a characteristically deadpan performance from Vernon, who delivers such choice lines as "I'm so hungry I could eat a whore." Vegetarians need not apply! Director-approved special edition Blu-ray/DVD Combo, in a new 2K restoration from the original camera negative, with original mono audio (uncompressed PCM on the Blu-ray). From Arrow Video/MVD Entertainment ...
"Session 9
"
(2001), starring David Caruso, Josh Lucas and Larry Fessenden, makes its Blu-ray debut this week. It looms up out of the woods like a dormant beast. Grand, imposing ... abandoned and deteriorating, the Danvers State Mental Hospital, closed down for 15 years is about to receive five new visitors. Donning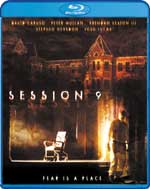 protective gear, the men of the Hazmat Elimination Co. venture into the eerily vast and vacant asylum that is filled with an evil and mysterious past. Rampant patient abuse, medieval medical procedures and rumors of demonic possession are some of the many dark secrets the hospital holds -- but then so do each of the men. From Scream Factory ...
"God's Not Dead 2
"
(2016), starring Melissa Joan Hart, Jesse Metcalfe, Ernie Hudson, David A.R. White, Hayley Orrantia, Robin Givens and Fred Thompson, is a faith-based drama that centers on Grace (Melissa Joan Hart), a Christian teacher, who is forced before a judge for honestly answering a question about Jesus in the classroom. With the principal and superintendent joining forces with a zealous civil liberties group, Grace faces an epic court case that could cost her the career she loves and expel God from the classroom. From Pure Flix Entertainment ...
"A Cinderella Story: If the Shoe Fits
"
(2016), starring Sofia Carson, Jennifer Tilly and Thomas Law, is a contemporary musical that finds Tessa Golding (Sofia Carson) forced to go on vacation with her evil stepmother, Divine, and evil stepsisters, Olympia and Athena. Once at the posh resort, she realizes she was brought only as a servant to assist the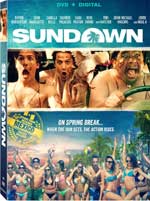 stepsisters as they compete for the lead roles in a live musical performance of "Cinderella" with Reed West, the infamous pop-star, as the Prince. Tessa secretly dreams of auditioning but Divine forbids it. Georgie, a make-up artist, transforms Tessa's identity to "Bella Snow" so she can audition without Divine and her mischievous daughters getting in the way.On DVD, Blu-ray Disc from Warner ... In
"Sundown
"
(2015), starring Devon Werkheiser, Sean Marquette, Camilla Belle, Teri Hatcher and John Michael Higgins, best friends Logan and Blake jet to exotic Puerto Vallarta over spring break, hoping to hook up with their crushes. But after Logan meets a local beauty named Gaby, he awakens to find he's minus a valuable watch. Suddenly, the pair are plunged into a wild underworld of gangstas, strip clubs, and high-speed chases. From Lionsgate.
FOREIGN FILMS:
The documentary
"Our Last Tango
"
(2015 -- Argentina) tells the life and love story of Argentina's most famous tango dancers, Maria Nieves Rego and Juan Carlos Copes, who met as teenagers and danced together for nearly 50 years until a painful separation tore them apart. Relaying their story to a group of young tango dancers and choreographers from Buenos Aires, their story of love, hatred and passion is transformed into unforgettable tango-choreographies. From Strand Releasing.
FOR THE FAMILY:
When an island populated by happy, flightless birds is visited by mysterious green piggies, it's up to three unlikely outcasts -- Red, Chuck and Bomb - to figure out what the pigs are up to in the animated
"The Angry Birds Movie
"
(2016), with the voices of Jason Sudeikis, Josh Gad, Danny McBride, Peter Dinklage, Bill Hader, Maya Rudolph, Kate McKinnon, Keegan-Michael Key, Tony Hale. From Sony.
FROM TV TO DVD:
"The Affair: Season 2"
(2015) is a four-disc set with all 12 episodes. With a murder unsolved and a betrayal exposed, everyone's truth is suspect. Full of complex family ties, passionate betrayals and the vengeful emotions that have resulted from an illicit summer liaison, the Showtime series follows the differing perspectives of the two couples -- Noah Solloway and Helen Solloway, and Alison Lockhart and Cole Lockhart -– all still reeling from the ramifications of Noah and Alison's extramarital affair. Told from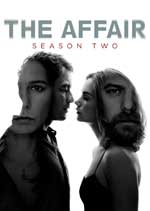 four different points of view, the story cracks wide open to reveal a complicated web of intrigue and deceit more dangerous than anyone imagined. As the two estranged couples try individually to plan for the future, a new series of deceptions will once again force them to question everything they believed. From Showtime/CBS/Paramount ...
"Gotham: The Complete Second Season"
(2015-16) arrives as a six-disc DVD and four-disc Blu-ray, with all 22 episodes of the second season of the story behind Detective James Gordon's rise to prominence in Gotham City in the years before Batman's arrival. In this season, Detective Gordon's moral compass wavers as he confronts Gotham City's most notorious criminals while simultaneously attempting to gain the trust of young Bruce Wayne, a boy now clearly on the path toward the man he is destined to be. And all the while, Gotham follows the intriguing origin stories and evolution of some of the city's most infamous personalities, including Edward Nygma/The Riddler, Selina Kyle/Catwoman, Hugo Strange and Mr. Freeze. From Warner ...
"The Vampire Diaries: The Complete Seventh Season"
(2015-16) comprises all 22 episodes in five-disc DVD, three-disc Blu-ray sets from Warner.
Check out other August 16-August 22 DVD releases and reviews at OnVideo.
Comments