By Chris Kavan - 03/27/16 at 08:55 PM CT
The year of the superhero continues. If Deadpool proved there is room for R-rated superheroes, Batman v. Superman proves not even the withering words of critics can sink a superhero ship. Having one of the biggest opening of all time, the superhero mashup might not have been a hit with critics, but it certainly scored with audiences. Even the Big Fat Greek Wedding sequel had a pretty good weekend as its counter programming did just as intended. All told, it was a great Easter weekend and it will be most interesting to see how this one plays out in the weeks ahead.

1) BATMAN V SUPERMAN: DAWN OF JUSTICE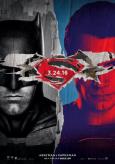 It didn't take long for the negative reviews to pile up for the smackdown between Henry Cavill's Superman and Ben Affleck's Batman. The film currently sits at a dismal 29% on Rotten Tomatoes. But, Dawn of Justice bucked the trend, becoming the only film with a 63% or lower rating to open above $100 million. Not only did it open above that number, but it did so in record fashion. At $170.1 million, Batman v Superman became the biggest March opening ever (easily topping The Hunger Games $152.5 million) as well as the biggest Easter opening ever (topping the $147.1 million of Furious 7). It recorded the second-best non-summer opening of all time (behind The Force Awakens at $247 million). It had the sixth-best opening of all time along with the fifth best one-day total with its $82 million it brought in on Friday. If the number hold, it will be the best opening for any Warner Bros. film, topping the $169.1 million for Harry Potter and The Deathly Hallows - Part 2. Factor in world-wide totals and it had the fifth-best opening internationally ($254 million) and puts it at fourth place globally with a combined total of $424.1 million. Audiences were happier than critics, awarding it a decent "B-" Cinemascore - a score that rises to "A-" for those under 18. All told, a fantastic opening for such a divisive film. The big questions is how it is going to hold up in the coming weeks. Worst case scenario, it follows Watchmen and only gets to $330 million. Best case scenario it plays like The Dark Knight Rises and hits $475 million. Thats the extremes, but most likely I'm guessing $400 million is a nice round figure to shoot for - though I'm guessing it at least hits Deadpool's $350 million current total. Next week is going to be a big indication on its long-term prospects. With little in the way of competition, we'll see if this opening weekend brought out everyone or if it can continue to bring in an audience in the face of harsh critics.
UPDATE: Final numbers indicate Batman v Superman only took in $166.1 million - still holding most of the records above, but falling behind Harry Potter to become the the second-highest opening for Warner Bros.
2)
ZOOTOPIA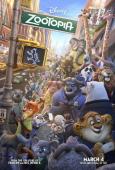 The healthy debut of Batman v Superman didn't put much of a dent in the audience for Zootopia. The film dipped a mere 37.7% in its fourth week out and brought in another $23.1 million, lifting its total to $240.5 million. For Disney Animation, it's now the third-highest grossing film (behind The Lion King and Frozen) and if you count Pixar, the 12th-highest - and climbing as it will soon outpace both Cars ($244 million) and Toy Story 2 ($245 million). With foreign markets factored in, the film is nearly at the $700 million mark worldwide, with a current total of $696.7 million. Even though Disney has the live-action Jungle Book coming up, I don't think Zootopia will face much in the way of competition through April as it powers to $300 million and beyond with ease.
3)
MY BIG FAT GREEK WEDDING 2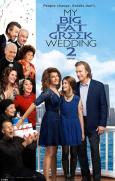 While I may not have given the film much of chance, it turns out there is a respectable audience for a Big Fat Greek Wedding sequel. The film opened in third place with $18.1 million - pretty much right in line with estimates. It also pulled in an "A-" Cinemascore, which bodes well for a decent run. It did set one record - it opened to 3,032% more than the original film - a record jump for any sequel and, if it plays out like the original My Big Fat Greek Wedding, it's looking at a total of... $7.3 billion! But, most likely, it will play more like The Intern, and wind up with around $60-$65 million. The film pretty much already made back its production budget, so anything from here on out will just be icing on the cake. Nothing it ever going to have a run like the original Big Fat Greek Wedding - but the sequel should at least have a very solid run.
4)
MIRACLES FROM HEAVEN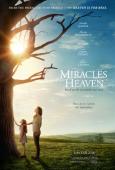 Dropping just one spot (and coming in ahead of the Divergent Series: Allegiant), the Christian-skewing Miracles From Heaven dipped a light 36% and took in $9.5 million to give the movie a new total of $34.1 million. It is well on its way of tripling its $13 million budget. Once again I am forced to concede that faith-based dramas have their place at the box office and, good or bad, that's the way it looks to stay for the foreseeable future. The film faces off directly with God's Not Dead 2 next weekend and we may just see two faith-based films in the top five depending on how Miracles holds up.
5)
THE DIVERGENT SERIES: ALLEGIANT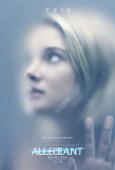 Taking an awfully nasty tumble in its second weekend, The Divergent Series: Allegiant dropped a hefty 67.3% - taking in just $9.5 million for a new $45 million total. The 10-day totals for the first two films in the series sat at $94 million and $85 million by this point, Allegiant is going to be lucky to make it to $70 million total at this point. Batman v Superman obviously stole most of its audience away - and the fans have already given this one a shot. I have a feeling its going to exit theaters rather quickly and means the finale in this series is going to likely be cut down to size.
Outside the top five: 10 Cloverfield Lane crossed the $50 million mark with a $6 million weekend (6th place) while Deadpool is set to cross $350 million by Monday (currently at $349.5 million). While Deadpool looks like it will fall short of the R-rated domestic record (Passion of the Christ is out of reach at $370 million), it does look like it will be able to capture the global record of the $742 million total of The Matrix Reloaded.
In limited release, both Hello, My Name is Doris and Eye in the Sky scored breaking into the top 10 (Doris in 9th and Eye in the Sky in 10th) with $1.7 million and $1 million respectively. Doris is now playing in 488 theaters (up from 128 last weekend) while Eye in the Sky added 88 theaters and played in 123 locations. Both will probably continue to expand given those numbers.
Next week brings us The Purge parody Meet the Blacks and the faith-based sequel God's Not Dead 2. I'm more interested to see how Batman v Superman holds up and am hoping to catch it in theaters myself to see if the critics are right or slightly less right about the whole thing.
Comments