By Harley Lond - 03/22/16 at 03:33 AM CT
FROM THE BIG SCREEN THIS WEEK:
"The Hunger Games: Mockingjay Part 2": The film version of the second half of Suzanne Collins' final "Hunger Games" book tidies up all the loose ends engendered by Part 1 as the 13 districts of the dystopian future America (Panem) go to war against the power of the Capitol. As the rebels move on the government, Katniss Everdeen (Jennifer Lawrence) -- now taking on the symbolic role of the Mockingjay -- teams up with a group comprised of hardened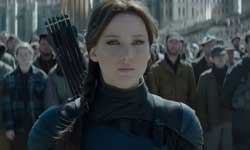 guerrilla fighters and her closest friends to liberate the citizens of war-torn Panem and assassinate President Snow (played delightfully nasty by the always-smirking Donald Sutherland). Most of the film is given over to this platoon of fighters making their way to the heart of the city, where they must face mortal traps, dangerous enemies and moral choices. Most of the time the rebels make narrow video-game-style escapes (seemingly recycled from other sci-fi films, notably an attack by a group of white-skinned underground genetically engineered creatures called "mutts") but the action is still fast and furious -- and you know who to root for. It's stirring and fun, and, as always, it's a pleasure to watch Lawrence take command of the screen. And, oh yes, there's treachery and hidden agendas galore as the film winds down. Revenge is sweet and the ending -- as would be expected -- is warm and sweet. Co-stars Willow Shields, Elizabeth Banks, Josh Hutcherson, Woody Harrelson, Sam Claflin, Jena Malone, Stanley Tucci, Liam Hemsworth, Jeffrey Wright, Julianne Moore and Philip Seymour Hoffman. The Hunger Games: Mockingjay Part 2
DVD and Blu-ray contain more than five hours of extras, with behind-the-scenes documentaries, commentaries and special effects featurettes. From Lionsgate.

"Daddy's Home
" is a by-the-book comedy about mild-mannered radio executive Brad (Will Ferrell) and his trials and tribulations as he tries to become the best step dad possible to his new wife's (Linda Cardellini) two kids. Unfortunately, when biological father Dusty (Mark Wahlberg) shows up unexpectedly, Brad's idyllic family life is turned upside down and he has to go toe-to-toe with Dusty to prove he's the better dad. The results, of course, are predictable -- brainy Brad just can't keep up with brawny Dusty, and he must figure out new ways to get the upper hand, resulting in typical Will Ferrell loser-persona comedy situations. Still, there's plenty of laughs to go around -- and you can't knock the presence of the always likable Wahlberg. The Blu-ray has plenty of enticing extras: deleted and extended scenes, cast interviews, behind-the-scenes featurettes, more. From Paramount.


THIS WEEK'S BEST BETS:
This week's top releases are again dominated by releases from The Criterion Collection and Arrow Video (courtesy of MVD Entertainment).
"A Brighter Summer Day
"
(1991) is among the most praised and sought-after titles in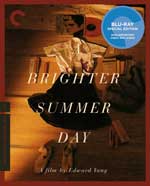 all contemporary film. This singular masterpiece of Taiwanese cinema, directed by Edward Yang ("Yi Yi"), finally comes to home video in the United States. Set in the early sixties in Taiwan, "A Brighter Summer Day" is based on the true story of a crime that rocked the nation. A film of both sprawling scope and tender intimacy, this novelistic, patiently observed epic centers on the gradual, inexorable fall of a young teenager ("Crouching Tiger, Hidden Dragon's" Chen Chang, in his first role) from innocence to juvenile delinquency, and is set against a simmering backdrop of restless youth, rock 'n' roll, and political turmoil. On DVD and Blu-ray with a new 4K digital restoration, with uncompressed monaural soundtrack on the Blu-ray. From Criterion ... Before her iconic turn in "Coffy," Pam Grier starred alongside Margaret Markov in
"Black Mama, White Mama
"
(1973) a grindhouse spin on Stanley Kramer's "The Defiant Ones," fusing the Women in Prison films with the emerging Blaxploitation movement for a riotous romp of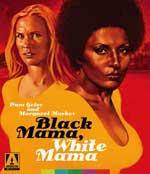 bullets, babes and blood. Lee (Grier), a tough prostitute and Karen (Markov), a revolutionary, are admitted to a tough women's prison where almost immediately (after some playful showering that prefigures Porky's) they clash. Packed off to a maximum security prison, their transport is ambushed by Karen's guerrilla friends and the two escape into the Filipino jungle. Chained together and with differing escape plans their clash intensifies as Lee wants to retrieve a stash of stolen cash to get her off the island and Karen wants to re-join her revolutionary group. Features a brilliant Sid Haig performance. The script was co-written by Jonathan Demme. The Harry Betts score was sampled by Quentin Tarantino for "Kill Bill." Also known as "Women in Chains" and "Hot, Hard and Mean." In a Blu-ray/DVD combo with original mono audio (uncompressed PCM on the Blu-ray). From Arrow.
BUZZIN' THE 'B's:
Here's a fun video mash-up:
"Cowboys vs Dinosaurs
"
(2015), starring Rib Hillis, Casey Fitzgerald and Eric Roberts. When Val Walker, a former rodeo cowboy, returns to his hometown in search of a job, he isn't exactly welcomed back with open arms. His former flame, Sky, is all the wrong kinds of emotional about his return, and nobody in town is hiring people in his position. Needless to say, things aren't going too well, and they only get worse when an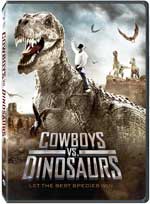 explosion at the local mine unleashes a series of dinosaurs onto the town. Using his skills as a cowboy, Val must take on an army of prehistoric beasts if he wants to survive the event, and inevitably win back the girl of his dreams. From Monarch Home Entertainment ...
"Disturbing Behavior
"
(1998), starring James Marsden, Katie Holmes and Nick Stahl, makes its Blu-ray debut this week. The new kid in town stumbles across something sinister about the town's method of transforming its unruly teens into upstanding citizens. In the halls of Cradle Bay High School, something sinister is happening -- something dark -- something disturbing. Sure, the "Blue Ribbons" -- the clique that's at the top of the food chain at Cradle Bay -- appear perfect in every way. But underneath their clean-cut, well-mannered facades lurks a shocking secret --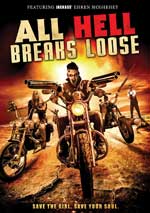 one that a group of Cradle Bay High's outsiders and rebels must uncover in order to save their school, their town ... and their own lives. From Scream Factory ...
"The Letters
"
(2015), starring Juliet Stevenson, Max von Sydow and Rutger Hauer, is based on the true story of Mother Teresa, told through a series of personal letters written to her longtime friend and spiritual advisor. From Fox ... In
"All Hell Breaks Loose
"
(2014), starring Ehren McGhehey and Casey Vann, a murdered groom tries to save his wife's soul with the help of the local sheriff, a priest, and a cowboy who just might be God. When the Satan's Sinners, a vicious biker gang, attack a bride and groom on their wedding day, they get a fight they never imagined. Armed with some divine intervention and firepower, the murdered groom is out to save his wife any way he can before she's sacrificed to Satan ... even if it means dying over and over again until the job is done. From Wild Eye Releasing.
FOR THE FAMILY:
In
"Monster High: Great Scarrier Reef"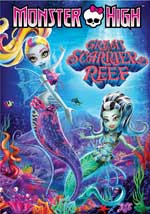 (2016), the ghoulfriends of Monster High splash into a whole new world: When the ghouls get pulled into the school pool, they're transported to the gore-geous underwater world of the Great Scarrier Reef. Lagoona realizes she's come home and, in a fintastic mission of the heart, decides to come to terms with her own freaky flaws. Of course she'll need some help from the most creeperiffic friends ever as she confronts a frenemy from her past, competes in a scaretastic dance extravaganza, and fights a terrible beast from the deep. On DVD, Blu-ray Disc, from Universal.
SPECIAL INTEREST:
"Noma: My Perfect Storm
"
(2015) is a feature-length documentary about the celebrated chef Rene Redzepi set against the backdrop of the Copenhagen-based restaurant, Noma, voted "The Best Restaurant In The World" for 2010, 2011, 2012 and 2014. Famous for its reinvention of Danish cuisine and pioneered approach to "foraging" -- sourcing nearly all ingredients from the various environments of Scandinavia -- Noma is at the forefront of experimenting with new techniques in food. The film follows chef and co-owner Redzepi on a creative culinary journey as he traverses the Danish landscape for inspiration, striving to achieve perfection and concoct bold, exciting dishes for travelers from around the world.On DVD, Blu-ray from Magnolia Home Entertainment ...
"Dreams Rewired
"
(2015) is an amazing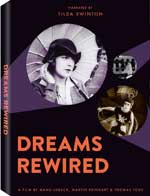 combination of scientific, dramatic, educational, erotic, experimental, and political films, assembled from nearly 200 films," Dreams Rewired" forges a cross-generational connection between contemporary viewers and our idealistic fore-bearers. Through years of research in archives around the world, the filmmakers have unearthed material that is by turns hilarious, revelatory, aesthetically striking, and astonishingly prescient. Every age thinks it's the modern age ... but this one really is new: a time of always-on connectivity, ubiquitous computing, and the acceleration of everything. With the current super-abundance of information, our own age couldn't be more different from those that came before... or could it? Tilda Swinton's voiceover and a treasure trove of archival footage films culled from the 1880s to the 1930s -- much of it rare or previously unseen -- combine to trace contemporary appetites and anxieties back to the birth of the telephone, television and cinema. "Dreams Rewired" shows the ways that the social convulsions of today's hyper-mediated world were already prefigured over 100 years ago, during the electric media boom of the late 19th-century. From Icarus Films.
FROM TV TO DVD:
"Maude: Season Four"
(1975-76) is a three-set with all 24 episodes from the fourth season. Bea Arthur is back for another round of comedy from one of television's true creative masters, Norman Lear. The one-of-a-kind Maude Findlay has always been a political animal, but Season Four finds her stepping up her game in a big way, when she considers a run for the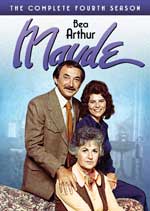 State Senate. And she really shows off her independent streak when she spearheads a campaign to elect Hollywood star Henry Fonda as President of the United States — whether Mr. Fonda wants the job or not. With a tremendous supporting cast of Bill Macy, Adrienne Barbeau, Conrad Bain, Rue McClanahan and Hermione Baddeley. From Shout! Factory ...
"Freaks and Geeks: The Complete Series Collector's Edition"
(1999-2000) makes its Blu-ray debut this week in a nine-disc set with all 18 episodes, remastered from new 4K scans of the original camera negatives, in both original 1.33:1 broadcast aspect ratio and an enhanced 1.78:1 widescreen presentation that unveils never-before-seen expanded footage. Set in 1980 at the fictional McKinley High in Detroit, "Freaks and Geeks" focused on two groups of outsiders: the stoners, tough kids and bad girls; and the brains, nerds and squares. Although this Emmy award-winning series ran for only one season, it has remained a cult favorite and a benchmark of quality television. A funny and authentic portrait of high school life with all of its horrors and triumphs, the series resonates with anybody who has ever felt like they don't quite fit in. The series' legacy -- including the ongoing success of many of its key personnel, from creator Paul Feig ("Bridesmaids"), to executive producer Judd Apatow ("The 40-Year Old Virgin"), to cast members such as Linda Cardellini, Seth Rogen, James Franco and Jason Segel -- is undoubtedly secure in the hearts and minds of its passionate (and ever-growing) fan base. $119.00 from Shout! Factory ...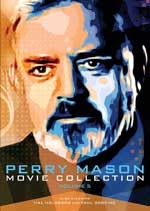 "Perry Mason Movie Collection: Volume 5"
is the final made-for-TV movie collection starring Raymond Burr as Erle Stanley Gardner's famous defense lawyer. Perry Mason once again delves into a world of theft, deception, and homicide to passionately fight for justice, exonerate the innocent and fight against injustices within the courtroom. The movies: "The Case of the Telltale Talk Show Host" (1993), "The Case of the Killer Kiss" (1993), "The Case of the Wicked Wives" (1993), "The Case of the Lethal Lifestyle" (1994), "The Case of the Grimacing Governor" (1994) and "The Case of the Jealous Jokester" (1995). $57.99 from CBS/Paramount ...
"The Royals: Season Two"
(2015) is a three-disc set with all 10 episodes of the salacious E! series. After the tragic murder of King Simon by an unknown assailant, Simon's arrogant brother, Cyrus, has taken the throne with the help of Queen Helena (Elizabeth Hurley). Prince Liam (William Moseley) seeks vengeance for the death of his father while Princess Eleanor (Alexandra Park) struggles to live her seemingly fairytale life. While allies are formed and enemies are made in the royal palace, nothing is what it seems. $29.98 from Lionsgate ...
"Turn: Washington's Spies -- The Complete Second Season"
(2015) is a three-disc set with all 10 episodes of the AMC series that reveals the true stories of the turncoats of the American Revolution who gave birth to modern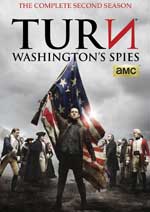 spycraft during the battle for independence. In this season, the Patriot cause has suffered the crushing loss of their capital city of Philadelphia to the British. Washington's army faces desertion and death, and the embattled General faces conspirators from within his own ranks, as well as personal demons he keeps hidden from the men he leads. Washington s closest ally in these dark times is also his most celebrated battle commander, Benedict Arnold a friend whose growing discontent will threaten the fate of the Revolution. Outnumbered and outgunned on the battlefield, Washington is counting on his ring of young spies and his greatest hope, Abe Woodhull, a lone civilian deep behind enemy lines, who finds he has little left to lose and is willing to risk everything he has left... including his soul. From Anchor Bay.
Check out other March 22-28 DVD releases and reviews at OnVideo.
Comments