By Chris Kavan - 03/07/16 at 02:19 AM CT
There was pretty much no question which film was going to open on top this weekend, once again the big question was how good it was going to open. Disney has to be very happy - with Star Wars breaking all kinds of records, now their animation studio is showing they still have muscles to flex as they continue to challenge Pixar as the leader of animated features. Aside from the monster opening of Zootopia, London Has Fallen opened in line with expectations while Tina Fey didn't have as much luck with Whiskey Tango Foxtrot. It was also another banner weekend for Deadpool, which reached a very rare milestone for an R-rated film. All told, a very good weekend for moviegoers.

1) ZOOTOPIA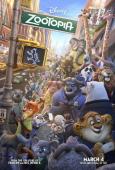 Disney animation seems to have entered a new golden age. Frozen was a mega-hit and now we have Zootopia. The film opened to $73.7 million, which is the best three-day weekend for a Disney animated feature and also the best animated March opening (topping The Lorax at $70.2 million). On the all-time chart it's the ninth-best opening for an animated film as well as being third-best opening for any original (not a sequel, not based on prior source material) of all time, behind Inside Out and Avatar ($90 million and $77 million respectively). It also have the second-best IMAX debut at $5.2 million, only behind Toy Story 3 at $8.4 million. The film was a hit with fans ("A" Cinemascore) and critics (98% on Rotten Tomatoes) and brought out a lot of families (73%) with females making up 53% of the audience. Based on The Lorax as a template, Zootopia is looking at a $225 million total, though it is possible it could reach higher depending on how it stands up to Batman v Superman. It doesn't have any direct animated competition until the end of April when Ratchet & Clank debuts. The film has also earned $158.8 million worldwide and its global cume is already at $232.5. This is going to be another big hit for Disney, but we'll have to see how it plays out this March to see just how big of a hit.
2)
LONDON HAS FALLEN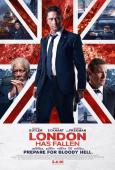 In 2013, Hollywood decided we needed not one, but two White House action films. These "Die Hard at the White House" boiled down to Olympus Has Fallen and White House Down. While I always though White House Down was more enjoyable - it also had the bigger budget and its domestic total was a disappointment. The more bombastic and violent Olympus Has Fallen did much better and here we are in 2016 with the sequel. Like the original film, London Has Fallen was given an "A-" Cinemascore by audiences and opened in second with $21.7 million. - right in line with expectations, but lower than both the $30 million debut of Olympus and even the $25 million opening for White House Down. Still, the film has a relatively modest $60 million budget and it should be able to hit that mark with a total of around $65 million most likely. If it plays well overseas, this should be another decent hit and could mean we've yet to see something else fallen in th near future. The film drew a mostly male (60% audience with 76% being over 25.
3)
DEADPOOL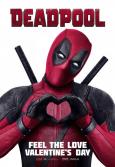 The king of the R-rated battlefield may have dropped a couple of spots, but Deadpool still has plenty to celebrate. The $16.4 million the film brought in raised its total above the $300 million mark for a new total of $311.1 million. That makes Deadpool just the third R-rated film ever to cross that milestone. It now stands fourth on the all-time superhero chart (having passed Man of Steel) and is just $7.3 million behind Iron Man and will soon take third place on that same list. The film managed to have a good hold considering the competition, dipping only 47% in its fourth weekend. Worldwide, Deadpool stands at an impressive $673.2 million, topping the likes of Thor: The Dark World ($644 million) and Man of Steel ($668 million). All that without any help from 3D and without the benefit of China. By Monday it will be the highest-grossing X-Men film - even with inflation taken into account. For an R-rated superhero with a filthy mouth and penchant for violence (and breaking the fourth wall), I have to say, this has to be seen as even better than the best-case scenario and we'll see how much higher Deadpool can climb.
4)
WHISKEY TANGO FOXTROT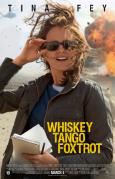 I was hoping that Tina Fey would be able to drive Whiskey Tango Foxtrot to better results, but Zootopia stole most of its audience (women) away and thus the film had to settle for a somewhat disappointing $7.6 million opening. Fey must be having deja vu as the opening for Whiskey Tango Foxtrot seems to follow that of Admission - up against a major animated film (The Croods) and the original Olympus Has Fallen back in 2013, when it opened to $6.15 million. That film wound up with an $18 million total - and it seems Whiskey Tango Foxtrot is headed for a similar fate. But at least the film topped Our Brand Is Crisis, which only wound up with a little over $7 million for its entire run. The film played mostly female (56%) with 89% over 25. This one is not likely to last long in theaters so I guess if it's up your alley, better check it out before it's too late.
5)
GODS OF EGYPT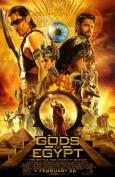 Rounding out the top five was Gods of Egypt. The bloated spectacle took a mighty 64.6% hit in its second weekend out and added just $5 million to its total, which stands at an unimpressive $22.8 million (off a $140 million budget). The film isn't going to come anywhere close to that domestically and I would be surprised if it even manages to break even with international numbers added in. I'm not saying this is going to be the biggest flop of the year, but something tells me it's going to be in the top five for the year.
Outside the top five: Horror film The Other Side of the Door, which was supposed to have a wide release, instead was dropped into just 546 theaters. The film opened to $1.2 million (16th place) and I'm guessing 20th Century Fox is going to focus more on VOD and the like for this film.
Spotlight added 542 theaters to its count (1,286 theaters total) following its big Oscar night and jumped about 149% from last weekend for a $1.83 million weekend (rising from 21st the 13th place) and raising its total to $41.6 million. That is the second-lowest gross for an Oscar-winning film (coming in ahead of last year's Birdman) but the weekend numbers are impressive considering the film is available for home viewing already.
Next week brings us the action mystery 10 Cloverfield Lane, the action comedy The Brothers Grimsby, the romantic comedy The Perfect Match and to buck the trend, the drama about the young life of Christ, The Young Messiah. Zootopia should continue its dominance I would think.
Comments