New on DVD and Blu-ray Week of February 16-22
By Chris Kavan - 02/17/16 at 11:21 AM CT
Due to unforeseen complications, Harley Lond's regularly scheduled column will return next week and instead will be provided by yours truly. I will cover the main releases, along with anything else that tickles my fancy. Luckily, this week anyway, there there are plenty of big releases to talk about, including a couple of Oscar-nominated films and lots of drama. A pretty good lineup as we approach ever closer to Hollywood's biggest night - and a good time to catch up on what you may have missed in theaters.

THIS WEEK'S THEATRICAL RELEASES:

Up first is one I am looking forward to seeing soon (I wanted to see it in theaters, but a lackluster response from critics and audiences tempered my resolve), is Steve Jobs
. Michael Fassbender stars as the tech giant but instead of taking he life story and following it, Steve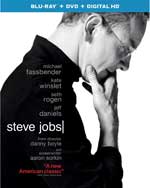 Jobs essentially breaks down his life into three main points in his life: the launch of the Macintosh in 1984, the launch of the NeXT Inc. in 1988 and the launch of the iMac in 1998 - while also showing the relationships with both his family and company during these times. Danny Boyle helms the film, which didn't receive a lot of love, but is none-the-less nominated for Best Actor and Best Supporting Actress (for Kate Winslet). One thinks if it had a better response, it might be up for some of the bigger awards. I still want to see how this turns out. Seth Rogen (as Steve Wozniak), Jeff Daniels (John Sculley), Michael Stuhlbarg (Andy Hertzfeld) and Katherine Waterston (Chrisann Brennan) round out the cast. Jobs' daughter is portrayed by Makenzie Moss, Ripley Sobo and Perla Haney-Jardine at age 5, 9 and 19 respectively and the contentious relationship is a good chunk of the film.

Bryan Cranston also received an Oscar nomination for the title role in Trumbo
. The film is based around legendary screenwriter Dalton Trumbo, who was one of the top writers in the 1940s until his political leanings (he was a member of the Communist party) landed him on the blacklist with several other notable names. Despite this setback, Trumbo (either uncredited or under an alias) went on to win two Academy Awards anyway. The film features a fine cast also caught up in this mess including Helen Mirren as Hedda Hopper, Michael Stuhlbarg as Edward G. Robinson, Louis C.K. as Arlen Hird, Richard Portnow as Louis B. Mayer, David James Elliott as John Wayne, Alan Tudyk as Ian McLellan Hunter and Diane Lane as Cleo Trumbo. All in all, for a period Hollywood piece, it looks like it will do the story justice.

Some were predicting that Johnny Depp's turn as James 'Whitey' Bulger would lead to awards, but, despite being his best performance in years, never quite caught on. Still, that's no reason to skip Black Mass
, which looks like an excellent crime/drama film with plenty to appreciate. I'm sensing a pattern here as this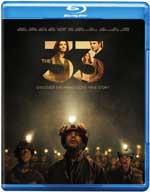 film (and the next one for that matter) are all fact-based stories. Granted, liberties are always taken, but when is that not the case? Bulger's life is as fascinating as it is violent. Joel Edgerton, Benedict Cumberbatch, Dakota Johnson, Kevin Bacon, Peter Sarsgaard, Jesse Plemons, Rory Cochrane, Adam Scott and Corey Stoll round out the impressive cast. Another one I hope to catch sooner rather than later.

As I said, fact-based films are big this week, which leads us right in to The 33
. In 2010, a gold and copper mine collapse leaves 33 miners trapped for 69 - as the world watches and prays. The film follows the men (played by the likes of Antonio Banderas, Rodrigo Santoro, Lou Diamond Phillips, Jacob Vargas, Oscar Nuñez and Juan Pablo Raba) while on the surface, their families can only watch and hope as rescue teams take on the task of freeing the men while the whole world watches. The film looks tense - even though this is one where we know that outcome, it doesn't make it any less effective.


THE BEST OF THE REST:


The Criterion Collection has two fine offerings this week. First up is Japan's Nagisa Ôshima's dark comedy, Death by Hanging
, which follows the execution of a Korean man, who happens to survive the initial attempt and the aftermath as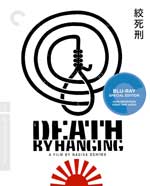 his executioners try to figure out what to do. Subrversive and surreal - it is both an indictment of the death penalty and also a lens through how Korean immigrants were treated at the time. The Criterion treatment includes a new 4K digital restoration, with uncompressed monaural soundtrack on the Blu-ray, a new interview with critic Tony Rayns, a new high-definition digital transfer of director Nagisa Oshima's 1965 experimental short documentary Diary of Yunbogi, Trailer, new English subtitle translation and an essay by critic Howard Hampton and a 1968 director's statement by Oshima.

The other Criterion release is a classic Charlie Chaplin film, the first full-length feature from the silent film star, The Kid
. Taking on the persona of his most well-known character, The Tramp, Chaplin, cares for a an orphan (played with flair by a young Jackie Coogan) as the pair make their way in life as the film tows the line between sentiment and slapstick. A turning point in his career, The Kid is a landmark Chaplin film. Include a whole host of special features: a new 4K digital restoration of Charlie Chaplin's 1972 re-release version of the film, featuring an original score by Chaplin, with uncompressed monaural soundtrack on the Blu-ray; New audio commentary featuring Chaplin historian Charles Maland; Jackie Coogan: The First Child Star, a new video essay by Chaplin historian Lisa Haven; A Study in Undercranking, a new program featuring silent-film specialist Ben Model; Interviews with Coogan and actor Lita Grey Chaplin; Excerpted audio interviews with cinematographer Rollie Totheroh and film distributor Mo Rothman; Deleted scenes and titles from the original 1921 version of The Kid; "Charlie" on the Ocean, a 1921 newsreel documenting Chaplin's first return trip to Europe; Footage of Chaplin conducting his score for The Kid; Nice and Friendly, a 1922 silent short featuring Chaplin and Coogan, presented with a new score by composer Timothy Brock; Trailers and an essay by film scholar Tom Gunning.

That is it for what I will be covering this week - Harley will be back next week with the standard column. Thank you until then.


THIS WEEK'S THEATRICAL RELEASES:

"Trumbo": The Hollywood Blacklist -- the persecution of Hollywood screenwriters, actors, directors, musicians, and other entertainment professionals for their political beliefs -- destroyed careers and families for more than a decade, beginning in 1947 when the
House Un-American Activities Committee began investigating "Communist infiltration" of Hollywood's creative community. "Trumbo" is a stirring dramatization of the fight by Dalton Trumbo (Bryan Cranston) -- one of the most successful screenwriters of the 1940s -- against the U.S. government and the studio bosses who strangled his livelihood by blacklisting him -- and nine others, collectively known as the "Hollywood 10" (though there were scores of others who were blacklisted, the "Hollywood 10" were the most visible at the time, being singled out for refusing to testify before Congress and refusing to "name names"). A tour-de-force performance by Cranston -- and an over-the-top supporting performance by John Goodman as an exploitation-film producer who supports Trumbo during the Blacklist. Cranston has been nominated for an Oscar for Best Performance by an Actor in a Leading Role. Co-stars Louis C.K., Elle Fanning, Helen Mirren, Diane Lane and Alan Tudyk. From Universal.

"Steve Jobs" is an interesting if not in-depth look at Steve Jobs, the co-founder of Apple and one of the chief architects of the digital age. The film -- almost a theatre piece, with its emphasis on dialogue over action and its three-act structure -- is set backstage at three iconic product launches spearheaded by Jobs: the launch of the Macintosh in 1984, the unveiling of NeXT computers in 1988, and the release of the iMac in 1997. At each juncture Jobs interacts with marketing chief Joanna Hoffman (Kate Winslet), Apple co-founder Steve Wozniak (Seth Rogen), Apple CEO John Sculley (Jeff Daniels), his daughter Lisa Brennan and his ex-lover Chrisaan Brennan. Though based on Walter Isaacson's well-rounded, best-selling biography of Jobs, this Danny Boyle-directed film -- written by Aaron Sorkin, who also wrote "The Social Network" -- depicts the man solely as a self-centered jerk who was "cruel and inhumane" to everyone around him. It's a narrow view of the visionary who gave us the iPod and the iPhone, and though mildly entertaining, it's forgettable filmmaking. "Steve Jobs" has garnered Oscar nominations for Best Performance by an Actor in a Leading Role for Fassbender and Best Performance by an Actress in a Supporting Role for Kate Winslet. From Universal.

Also due this week: "The 33," a by-the-book and unimaginative dramatization of the plight of the 33 miners who had been buried alive for 69 days by the catastrophic explosion and collapse of a 100-year-old gold and copper mine in Chile in 2010, starring Antonio Banderas, Rodrigo Santoro, Juliette Binoche, James Brolin, Lou Diamond Phillips, Bob Gunton and Gabriel Byrne, from Warner ... and "Black Mass," another dramatization "ripped from the headlines," here covering the life of James "Whitey" Bulger, a vicious and ruthless Boston gangster who collaborated with the FBI in order to eliminate the Italian mob; this unholy alliance gave Bulger carte blanche to murder and pillage at will. Though the crime thriller boasts a great performance by Johnny Depp as Bulger, the film pretty much has
no reason for existing. Co-stars Joel Edgerton, Benedict Cumberbatch, Rory Cochrane, Jesse Plemons and Kevin Bacon. From Warner.


THIS WEEK'S HIGHLIGHTS:
There's two outstanding releases this week from The Criterion Collection:
Genius provocateur Nagisa Oshima ("In the Realm of the Senses"), an influential figure in the Japanese New Wave of the 1960s, made one of his most startling political statements with his compelling pitch-black satire "Death By Hanging" (1968). In this macabre farce, a Korean man is sentenced to death in Japan but survives his execution, sending the authorities into a panic about what to do next. At once disturbing and oddly amusing, Oshima's constantly surprising film is a subversive and surreal indictment of capital punishment, religion and the treatment of Korean immigrants in his country. New, restored 4K digital transfer, with uncompressed monaural soundtrack on the Blu-ray ... Charlie Chaplin was already an international star when he decided to break out of the short-film format and make his first full-length feature. "The Kid" (1921) doesn't merely show Chaplin at a turning point, when he proved that he was a serious film director — it remains an expressive masterwork of silent cinema. In it, he stars as his lovable Tramp character, this time raising an orphan (a remarkable young Jackie Coogan) he has rescued from the streets. Chaplin and Coogan make a miraculous pair in this nimble marriage of sentiment and slapstick, a film that is, as its opening title card states, "a picture with a smile -- and perhaps, a tear." New 4K digital restoration of Charlie Chaplin's 1972 re-release version of the film, featuring an original score by Chaplin, with uncompressed monaural soundtrack on the Blu-ray.

Buzzin' the 'B's:
Arrow Films via MVD Entertainment has two cult films from 1985 on hand this week, both in dual format Blu-ray/DVD editions. Although the slasher film was in decline by the mid-1980s, there were still some grisly delights to be had... and they don't come much grislier than writer-director Buddy Cooper's sickening stalk-and-slash classic "The Mutilator." When Ed receives a message from his father asking him to go and lock up the family's beach condo for the winter, it seems like the perfect excuse for an alcohol-fuelled few days away with his friends. After all, his dad has forgiven him for accidentally blowing mom away with a shotgun several years ago ... hasn't he? But no sooner are the teens on the island than they find themselves stalked by a figure with an axe (and a hook, and an onboard motor) to grind. Originally entitled "Fall Break" (watch out for the incongruous theme song of the same name), "The Mutilator" has earned a reputation amongst horror fans as one of the "holy grails" of 80s splatter mayhem due to its highly inventive (and not to say, decidedly gruesome) kill sequences, courtesy of FX wizard Mark Shostrom ("Videodrome", "Evil Dead II"). In a new 2K restoration from original vault materials of the R-rated and Unrated versions of the film, with original mono audio (uncompressed PCM on the Blu-ray) ... In "Pray for Death," martial arts legend Sho Kosugi stars as a family man driven to exact vigilante justice -- ninja style. Akira (Kosugi) has brought his wife and two boys to the United States in search of a better life. But their slice of the American Dream is quickly soured when they fall foul of a group of jewelry thieves. Unfortunately for the bad guys, they didn't count on Akira being a secret black ninja. New digital transfers of the Unrated and R-rated versions with original uncompressed PCM Stereo 2.0 audio. Co-stars James Booth, Donna Kai Benz ... In "Criminal Activities" (2015), starring John Travolta, Michael Pitt, Dan Stevens, Christopher Abbott, Rob Brown, Edi Gathegi and Jackie Earle Haley, four friends stumble into a deal too good to refuse, but when their investment goes bad, they learn that part of their funding came from a notoriously ruthless crime boss ... and it's payback time. Now they must successfully kidnap a family member of a rival kingpin in order to erase the life-threatening debt. On DVD, Blu-ray Disc from RLJ Entertainment ... In the dysfunctional family thriller, January (Amy Manson) has a terrible accident after years of partying abroad, and she' confined to a wheelchair ... but with no memory of her past, her family, or the stately manor that was once her home. But something isn't right. They say she ran away, but won't tell her why. Her sister wishes she'd never come home. They're locking her in at night. And the way her brother looks at her ... Co-stars James Cosm, Craig Conway, James Lance, Eileen Nicholas. On DVD, Blu-ray Disc from Well Go USA.

Foreign:
"Labyrinth of Lies" (2014 -- Germany) exposes the post-war conspiracy of prominent German institutions and government branches to cover up the crimes of Nazis during World War II. Germany 1958. In those years, "Auschwitz" was a word that some people had never heard of, and others wanted to forget as quickly as possible. Against the will of his immediate superior, young prosecutor Johann Radmann (Alexander Fehling) begins to examine the case of a recently identified teacher who was a former Auschwitz guard. Radmann soon lands in a web of repression and denial, but also of idealization. He devotes himself with utmost commitment to his new task and is resolved to find out what really happened. He oversteps boundaries, falls out with friends, colleagues and allies, and is sucked deeper and deeper into a labyrinth of lies and guilt in his search for the truth. But what he ultimately brings to light will change the country forever. Germany's Academy Award entry for Best Foreign-language Film. On DVD, Blu-ray Disc from Sony.

For the Family:
"McHale's Navy/McHale's Navy Joins The Air Force" is a double feature with 1964's "McHale's Navy", in which the crew finds themselves in deep trouble when a well-meaning plot to save an orphanage backfires and leaves them up to their necks in debt and McHale (Ernest Borgnine) and the boys have a new scheme up their sleeve to save their skins. In the 1965 follow-up, "McHale's Navy Joins the Air Force", a series of snafus finds the hapless Ensign Parker (Tim Conway) in a case of mistaken identity when he switches uniforms with a pilot ... and the Air Force gains an airhead. From Shout! Factory ... "Hatched" (2016) is an animated family comedy with the voices of Jeff Foxworthy, Sean Astin. Young chicks Cluck, Chickpea and Tiny SchwarzHENegger are determined to show everyone that chickens really can fly, but when their tiny alien pal, Magic, is in danger, the feathered trio will join the efforts of their animal neighbors to save their home and their friend from the "fowlest" of villains. $14.93 from Cinedigm ... "Wiener Dog Internationals" (2015), with the voices of Morgan Fairchild, Bryan Batt and Jason London, is a Dove Foundation-approved animated family adventure about Shelly, the U.S. wiener dog racing champion. The Jack family is at it again, as they enter the International World of Wiener Dog Racing. The kids sneak away to enter Shelly in the Internationals, and find themselves caught in a devious plot hatched by Miss Merryweather that may change wiener dog races forever. From Lionsgate.

Special Interest:
This year marks the 50th anniversary of the founding of the Black Panther Party ... and the group and its leadership remain powerful and enduring images in our popular imagination. The documentary "The Black Panthers: Vanguard of the Revolution" (2015) weaves together the voices of those involved with the Panthers: police informants, journalists, white supporters and detractors, those who remained loyal to the party, and those who left it. Features firsthand accounts from participants, including Kathleen Cleaver, the first communications secretary of the Black Panther Party, Elaine Brown, former Black Panther Party chairman (1974-1977), Emory Douglas, the Black Panther party's minister of culture and chief art director for the party s newspaper, and others. On DVD, Blu-ray Disc from PBS Distribution ... Filmed over three years on China's railways, J. P. Sniadecki's masterful documentary "The Iron Ministry" (2014) traces the vast interiors of a country on the move: flesh and metal, clangs and squeals, light and dark, language and gesture. Scores of rail journeys come together into one, capturing the thrills and anxieties of social and technological transformation. "The Iron Ministry" immerses audiences in fleeting relationships and uneasy encounters between humans and machines on what will soon be the world's largest railway network. In Mandarin with English subtitles.From Icarus Films.

From TV to DVD:
In "The Brady Kids: The Complete Animated Series" (1972-73), the members of the original Brady Bunch cast returned to voice their iconic roles for 22 episodes of this animated series. When the six Brady kids befriend a magical bird and two panda cubs, their adventures become more amazing than ever: they travel to ancient Greece, blast off for an out-of-this-world trip and help thwart a bank robbery.Three-disc DVD from Shout! Factory ... "Girls: The Complete Fourth Season" (2015) is a two-disc set with all 10 episodes of the series that follows the misadventures of a group of twenty-something friends in and out of NYC. This season finds the girls tentatively edging towards maturity as they take on new personas in new worlds. As the season begins, Hannah (Lena Dunham) leaves New York to attend the prestigious Iowa Writers' Workshop in the hopes of becoming a more serious writer, while confronting uncertainty in her relationship with Adam (Adam Driver). Meanwhile, back in New York, Marnie (Allison Williams) pursues a music career while balancing her professional and romantic relationship with Desi (Ebon Moss-Bachrach); Shoshanna (Zosia Mamet) graduates and begins interviewing for jobs, while sorting out her relationship with Ray (Alex Karpovsky); and Jessa (Jemima Kirke) is trying out sobriety through AA, though her ability to stir up drama remains undiminished. On DVD, Blu-ray from HBO ... "Togetherness: The Complete First Season" (2015) is a two-disc set with all eight-episodes of the series that follows four adults living under one roof struggling to keep their relationships and dreams alive as they approach the age of forty. Created by Jay Duplass & Mark Duplass. In the series, Brett (Mark Duplass) is a straitlaced sound designer trying to rediscover himself while his wife Michelle (Melanie Lynskey) is eager to rekindle her passion for romance and life. Their lives are shaken up with the arrival of Michelle's sister Tina (Amanda Peet), who comes to stay with them as she desperately tries to find a husband and get her bouncy-castle business off the ground, and Brett's best friend Alex (Steve Zissis), who decides to give his stalled acting career one last try. Blending laughter and pathos, "Togetherness" shows the tragically comedic struggle to follow personal dreams while still remaining good friends, siblings, and spouses to each other. On DVD, Blu-ray from HBO ... In the three-part miniseries "The Trials Of Jimmy Rose" (2015), Ray Winstone plays Jimmy Rose, a career criminal newly free after 12 years in prison. Greeted with cold disdain from his wife, Jacki, Jimmy decides to stick to the terms of his parole: hold down a job and stay right in the eyes of the law. But when he finds out that his beloved granddaughter is in trouble, Jimmy will go to extraordinary lengths for his family. From Acorn Media.

Check out other February 16-22 DVD releases and reviews at OnVideo.