New on DVD and Blu-ray Week of February 9-15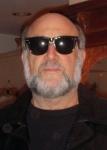 By Harley Lond - 02/09/16 at 05:53 AM CT
THIS WEEK'S THEATRICAL RELEASES:
"Spectre" is the 24th "official" James Bond/007 big-screen adventure (not including the 1967 "Casino Royale" and the 1983 "Never Say Never Again") and -- despite the naysayers -- it continues the Bond tradition of mixing fast-paced action sequences and stunts with high-tech gadgets, nasty megalomaniac villains, and a little bit of love-interest. Daniel Craig returns as Bond, here on a rogue mission to Mexico City and eventually Rome, where he goes after the leaders of a sinister organization known as SPECTRE. To get to the heart of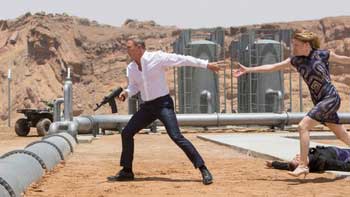 the group, he tracks down Madeleine Swann (Lea Seydoux), the beautiful daughter of his old nemesis Mr. White (Jesper Christensen), who gives him the clues he needs to unravel a chilling conspiracy masterminded by the leader of Spectre
, one Ernst Stavro Blofeld (Christoph Waltz). There's plenty of twists and turns in what is definitely a lower-key Bond, with some interesting thoughts on the nature of good and evil popping up that cause Bond to question his role in the spy universe. It's a fun ride, and definitely more mature and exciting than the many Bond imitators out there, including the "Mission Impossible" outings. Though past 50, don't count out the Bond franchise. The film also stars Ralph Fiennes as M, Ben Whishaw as Q, and Naomie Harris as Moneypenny. Extras include a featurette on the spectacular opening sequence and sone video blogs by director Sam Mendes. From Fox/MGM/Sony

Also due this week: "99 Homes
" is the grueling down-to-earth flip side of "The Big Short," an indie film that looks at the 2008 economic melt down from the bottom up. In sunny Orlando, Florida, construction worker Dennis Nash (Andrew Garfield) is evicted from his home by a charismatic, gun-toting real-estate broker, Rick Carver (Michael Shannon). Humiliated and homeless, Nash moves his mom and 9-year old son into a shabby, dangerous motel. But an unexpected opportunity arises for Nash to strike a deal with the devil -- he begins working for Carver in a desperate attempt to get his home back, causing him to live a double life: he hides his new boss and job -- evicting honest families from their homes, just as it happened to him -- from his family. But there are consequences ... . Great performances by Garfield and Shannon in a truly creepy film. From Broad Green Pictures.

Director Guillermo del Toro hits horror paydirt again with "Crimson Peak
," a Gothic tale about a young woman swept away by a seductive stranger to a house atop a mountain of blood-red clay -- a house filled with dark secrets that makes the walls breathes, bleed -- and remember. Stars Tom Hiddleston, Jessica Chastain, Mia Wasikowska and Charlie Hunnam. From Universal.

In "Grandma
," a teenager facing an unplanned pregnancy seeks help from her acerbic grandmother, a woman long estranged from her daughter; the pair spend a day together trying to get their hands on the cash, as their unannounced visits to old friends and flames end up rattling skeletons and digging up secrets. Lily Tomlin is a national treasure and is put to good use in this off-beat comedy that also stars Judy Greer, Julia Garner, Marcia Gay Harden and Sam Elliott. From Sony.


THIS WEEK'S BEST BETS:

Fresh off her career defining roles for Jack Hill in "Coffy" and "Foxy Brown," Pam Grier continued her domination of the Blaxploitation genre, in cult filmmaker William Girdler's "Sheba, Baby
" (1975). Grier plays Sheba Shayne, a private eye based in Chicago who's called to her hometown to stop the local mob boss (D'Urville Martin) from moving in on her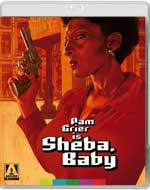 father's loan business. Aided by her father's partner, Brick Williams (Austin Stoker), Sheba finds out that the violent thugs aren't going go away without a fight. Car bombs, gun fights and boat chases ensue while armed with her curves, street smarts and a .44, Sheba is in for a bloodbath. Original mono audio (uncompressed PCM on the Blu-ray). In a Blu-ray/DVD Combo from Arrow Video/MVD Entertainment ... The "The Carol Burnett Show: Treasures From the Vault" six-disc collection ($59.95) features 15 complete and uncut episodes -- not seen in more than 40 years -- and over four hours of specially-produced bonus features; the single disc ($12.95) features three episodes and bonuses. During the late-'60s, CBS was "The Carol Burnett Show" network, a joking reference based on the program's widespread popularity and huge ratings. Yet, the first five seasons have never resurfaced -- no reruns, streaming video, DVDs or other formats -- until now. Classic sketches: "The Old Folks," "The Ham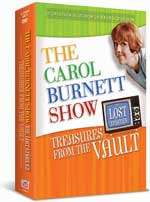 Actors," "Carol and Sis," "Alice Portnoy" and "As the Stomach Turns"; TV and movie parodies including "Valley of the Dollars," "Bony and Clod," "Guess What's Coming to Dinner?," the epic "Mildred Fierce" and "Salute to Warner Bros. Studios, with Bugs Bunny." Iconic guest stars including Jonathan Winters, Joan Rivers, Sonny & Cher, Paul Lynde, Art Carney, Betty Grable, Mickey Rooney and many others, along with surprise appearances by Bob Hope and Ronald Reagan. Over four hours of exclusive bonus programming featuring newly-shot interviews with Tony Bennett, Steve Carell, Kristin Chenoweth, Tina Fey, Burt Reynolds and others; bonus sketches; featurettes including "The Song and Dance: Crooners, Hoofers & Balladeers," "Expecting the Unexpected" and "The Making of a Mackie"; never-before-seen outtakes. From Time Life.


BUZZIN' THE 'B'S:

In "Convergence
" (2015), starring Clayne Crawford, Mykelti Williamson and Ethan Embry, a detective on the trail of a terrorist is injured in an explosion and awakens to find himself trapped in a supernaturally mysterious hospital that serves as a gateway between heaven and hell ... where he must fight for the redemption of his soul.On DVD, Blu-ray from Dark Sky Films ...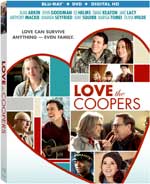 When four generations of the Cooper clan come together for their annual Christmas Eve celebration in "Love the Coopers
" (2015), a series of unexpected visitors and unlikely events turn the night upside down, leading them all toward a surprising rediscovery of family bonds and the spirit of the holiday. Stars Alan Arkin, Diane Keaton, Marisa Tomei, John Goodman, Ed Helms, Jake Lacy, Anthony Mackie, Amanda Seyfried, June Squibb, Olivia Wilde. On DVD, Blu-ray/DVD Combo from Lionsgate ... In "Marshland
" (2014 -- Spain), starring Javier Gutierrez, Raul Arevalo, Maria Varod, a series of brutal murders of adolescent girls in a remote and forgotten town in the Spanish deep South in 1980 bring together two disparate characters -- both detectives in the homicide division -- to investigate the cases. With deep divisions in their ideology, detectives Juan and Pedro must put aside their differences if they are to successfully hunt down a killer who for years has terrorized a community in the shadow of a general disregard for women rooted in a misogynistic past. From Strand Releasing ...
"MI-5
" (2015), staring Kit Harington, Peter Firth, Tuppence Middleton, Jennifer Ehle and Laura Pulver, is based on the hit British TV series. When a terrorist escapes custody during a routine handover, Will Holloway must team with disgraced MI5 Intelligence Chief Harry Pearce to track him down before an imminent terrorist attack on London. On DVD, Blu-ray from Lionsgate ... In a world where humans, vampires and zombies uneasily co-exist, a sudden alien invasion forces a trio of misfit high school students to unite in order to save their hometown from extinction in "Freaks of Nature
" (2016), starring Nicholas Braun, Mackenzie Davis, Josh Fadem, Joan Cusack, Bob Odenkirk, Keegan-Michael Key, Ed Westwick, Vanessa Hudgens, Denis Leary and Patton Oswalt. From Sony ...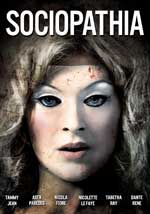 In "Sociopathia
" (2015), starring Tammy Jean and Asta Paredes, introverted and peculiar Mara spends her days fabricating props for movies. At night, she hunts down additions to her collection, sadistically murdering them and keeping their corpses as living dolls. When she's hired by Kat, a fledgling producer, the two instantly hit it off. As their relationship grows more intense, Mara begins to lose her already fragile grip on reality. When her "dolls" begin demanding all of her attention, and Kat threatens to break her heart, Mara spirals into psychosis, leaving her no choice but to kill again. From Cinema Epoch.


ON THE INDIE FRONT:

In "Playin' for Love
," (2015) coach Banks (Townsend) is used to calling all the shots for his championship high school basketball team and in his own love life ... until he meets Talisa McCoy (Richardson-Whitfield), the mother of a star player, new to Jackson High, who has her own ideas on a winning team. Directed by Robert Townsend and starring Salli Richardson-Whitfield, Jenifer Lewis, Esai Morales, Lawrence Hilton-Jacobs, Robert Townsend. From RLJ Entertainment.


FOREIGN:

Brash and opinionated retiree "Paulette
" (2012 -- France) (Bernadette Lafont) lives alone in a housing project on the outskirts of Paris. One evening, upon observing some mysterious dealings outside her building, Paulette discovers a surprising way to supplement her meager pension -- an unlikely but successful career selling cannabis. On DVD, Blu-ray from Cohen Media Group.


SPECIAL INTEREST: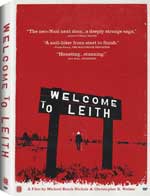 "Welcome to Leith
" (2015) Chronicles the attempted takeover of a small town in North Dakota by notorious white supremacist Craig Cobb. As his behavior becomes more threatening, tensions soar, and the residents desperately look for ways to expel their unwanted neighbor. With incredible access to both longtime residents of Leith and white supremacists, the film examines a small community in the plains struggling for sovereignty against an extremist vision. From First Run Features.


FROM TV TO DVD:

"Hee Haw: Kornfield Klassics" (1971): Pickin' and grinnin,' singin' and spinnin' tall tales and corny jokes, the citizens of Kornfield Kounty landed on television in 1969 with the arrival of "Hee Haw" as a summer replacement series for "The Smothers Brothers Comedy Hour." Each week co-hosts Buck Owens and Roy Clark and the cast of comedians and musicians would welcome the biggest stars in country music to perform their songs and help deliver the one-liners. Includes two complete vintage episodes from 1971. $12.95 from Time Life ... "The Leftovers: The Complete Second Season" (2015) is a three-disc DVD and two-disc Blu-ray with all 10 episodes of the HBO series. From Warner.

Check out other February 9-15 DVD releases and reviews at OnVideo.