New on DVD and Blu-ray Week of November 3-November 9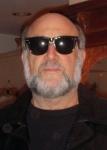 By Harley Lond - 11/03/15 at 01:45 AM CT
THIS WEEK'S THEATRICAL RELEASES:
Mainstream critics -- and audiences -- went gaga over "Inside Out," an animated adventure that cleverly takes place in the brain of a young girl to show the pain and joy experienced by an 11-year-old who's uprooted from her fun-filled, happy life in Minnesota to move to grungy San Francisco with her parents. Inside the headquarters, the control center in the mind of Riley, resides the personifications of emotions -- Joy (Amy Poehler), Fear (Bill Hader), Anger (Lewis Black), Disgust (Mindy Kaling) and Sadness (Phyllis Smith) -- who guide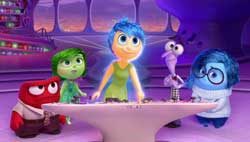 the young girl in her daily existence -- mostly a pleasurable life with her loving parents, best friend and a stint as a star ice hockey player at school. Key to maintaining this are Riley's "core" memories, which determine her actions, personality and family interaction. But once in San Francisco, things go awry at her new school, and Sadness mistakenly contaminates a core memory, which causes other core memories to falter, forcing Joy (and Sadness) to embark on a journey in the mind to make things right. This latest Disney-Pixar outing is inventive, beautifully animated, and moving in its lessons about life -- how contradictory emotions can work together (it's natural to have mixed feelings), how our emotions help us connect with others or recover from loss, how letting go is an important part of growing up, how it's OK to be sad (we can even grow from it). Joy and Sadness' adventure through Riley's mind -- and how their actions affect Riley's outer existence -- is fun-filled, creative and at times moving, and always sentimental as Riley struggles with her feelings. I've argued in the past that there's nothing wrong with sentimentality in films, but this one's all too syrupy for me. I wasn't moved. A plethora of extras for Inside Out
on the DVD and Blu-ray include "Riley's First Date?", an exclusive animated short film; a "Story of the Story" featurette; a "Paths to Pixar: The Women of Inside Out" featurette; a "Mixed Emotions" featurette; "Mapping the Mind," in which the movie's artists take you through the years-long process of designing and creating a world everyone knows, but no one has ever seen -- the human mind; "Our Dads, the Filmmakers," behind the scenes with Elie Docter (daughter of director, Pete Docter) and Grace Giacchino (daughter of composer, Michael Giacchino). From Disney.

"The End of the Tour
" is an enjoyable and enlightening talkfest that tells the story of the five-day interview between Rolling Stone reporter (and novelist) David Lipsky (played here by Jesse Eisenberg) and acclaimed novelist David Foster Wallace (Jason Segel), which took place on a book tour right after the 1996 publication of Wallace's groundbreaking epic novel, "Infinite Jest." The two men discuss life, love, art and literature, but the center of the film revolves around the tenuous yet intense relationship that develops between the journalist and his subject -- and the question of how honest each is with the other. Ironically, the interview was never published, and five days of audio tapes were packed away in Lipsky's closet until he used them for his critically acclaimed memoir about the encounter, following Wallace's 2008 suicide. Both Segel and Eisenberg are superb and open in what could have been a very claustrophobic outing. Extras include a behind-the-scenes featurette and deleted scenes. From Lionsgate.

"Best of Enemies
": In 1968 liberal pundit and novelist Gore Vidal and conservative commentator/publisher William F. Buckley Jr. were at the peak of their powers. Both were outspoken, egotistical and strongly opinionated -- and the likelihood that the two would meet on the same stage was next to impossible. Until last-place ABC News came along. The 1968 presidential campaign was a minefield, pitting Richard M. Nixon and his Vietnam war hawks against Hubert Humphrey and his peaceniks (who can forget the horror of the Chicago Convention and riots). Looking to boost their ratings, ABC hired the two towering public intellectuals to debate each other during the Democratic and Republican national conventions -- setting off explosions that have ricocheted 50 years to the present. News commentary was changed forever: the even-keeled discussions of the past gave way to explosive exchanges that devolved into vitriolic name-calling as Vidal and Buckley -- who believed each other's political ideologies were dangerous for America -- pummeled out policy and personal insults. Ratings for ABC News skyrocketed, setting the stage for future political commentary culminating in the 21st century's ascension of the hyperbole of Fox News and MSNBC. This riveting documentary takes a look at the rivalry between the two, focusing in on the unscripted debates. A must for students of politics and the media. From Magnolia Home Entertainment.

Also due this week: "Vacation
," the weak "remake" of Harold Ramis' 1983 "National Lampoon's Vacation," that oddball comedy that starred Chevy Chase, Beverly D'Angelo, Imogene Coca, Randy Quaid, Anthony Michael Hall and Dana Barron, here handing the craziness to the next generation of Griswolds (Ed Helms, Christina Applegate) and falling flat on its face. From Warner.


THIS WEEK'S BEST BETS:

Notorious German serial killer Fritz Haarmann -- aka the Butcher of Hanover and the Vampire of Hanover -- was responsible for the murders of two dozen boys and young men between World War I and II. His case would partly inspire Fritz Lang's "M" as well as this forgotten gem from 1973.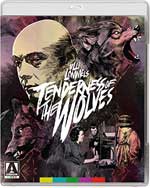 "Tenderness of the Wolves
" treats the viewer to a few weeks in the company of a killer. Baby-faced and shaven-headed, Haarmann is a fascinating, repulsive figure. Using his status as a police informant to procure his victims, he sexually assaulted, murdered, mutilated and dismembered a minimum of 24 boys and young men between 1918 and 1924 in Hanover, Germany -- selling the flesh of some of his victims on the black market as food. This is truly a gruesome, uncomfortable, disturbing and harrowing film. But, like the proverbial witness to a car accident, you can't turn your face away from the fascinating proceedings. The saving grace: Haarmann was caught and executed in 1925. Produced by Rainer Werner Fassbinder (who also supplies a shifty cameo), "Tenderness of the Wolves" provided two of his regular actors with a means of expanding their careers. Ulli Lommel -- later responsible for the infamous video nasty "The Boogeyman" -- made his directorial debut, while Kurt Raab wrote the screenplay as well as delivering an astonishing performance as Haarmann. In a new high definition digital transfer prepared by the Rainer Werner Fassbinder Foundation with uncompressed Mono 1.0 PCM Audio; in a Blu-ray/DVD Combo from Arrow Video/MVD Entertainment.

With "Crumbs" (2015 -- Spanish-Ethiopean-Finnish), Spanish director Miguel Llanso made his feature-length debut with this festival favorite, an award-winner at 2015's Los Angeles Film Festival and Fantasia International Film Festival. Set against the background of spectacular, wild and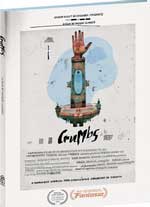 desolate Ethiopian landscapes, this post-apocalyptic, surrealist science-fiction romance revolves around a strange-looking scrap collector, Gagano (played by the charismatic Daniel Tadesse), collecting the priceless crumbs of decayed civilization -- Teenage Mutant Ninja amulets, toy ray guns and Superman costumes -- including the most valuable: merchandise from Michael Jackson and Michael Jordan. Hovering high in the sky is a spaceship --- in the shape of a raised arm -- that seems to be starting up, sending the diminutive Gagano on a quest to the "old city" to find out if he and his true love Birdy (Selam Tesfaye) can land seats on the ship. Gagano and Birdy live in a deserted bowling alley; one of the bowling machines offers a view to the "old city" where Santa Claus holds court. Gagano treks through train yards and deserted landscapes inhabited by a seer-like pawn broker, a witch, a Nazi, and assorted odd-ball human detritus. This surreal and unforgettable film is kind of what would happen if David Lynch met Luis Bunuel in Ousmane Sembene's Africa. Extras include two weird short films by Llanso: "Night in the Wild Garden" and "Chigger Ale." From IndiePix Films.

You may not know the name Julien Duvivier, but after you've seen the striking films in Criterion's "Eclipse Series 44: Julien Duvivier in the Thirties
," you're unlikely to forget it. Though he is often overlooked today, he made some of the most influential films of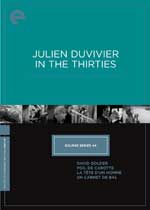 the 1930s. The titles range from mystery to melodrama, their settings from night-cloaked cities to rural villages, and each one is a movie master class. Remembered primarily for directing the classic crime drama "Pepe le moko," Duvivier was one of the finest filmmakers working in France in the 1930s. He made the transition from silents to talkies with ease, thanks to a formidable innate understanding of the cinematic medium, and he married his expressive camera work to a strikingly inventive use of sound with a singular dexterity. His deeply shadowed, fatalistic early sound films "David Golder" (1930) and "La tete d'un homme" (1933) anticipate the poetic realist style that would come to define the decade in French cinema, while the small-town family drama "Poil de Carotte" (1932) and the swooning tale of love and illusion "Un carnet de bal" (1937) showcase his stunning versatility. These four films -- all featuring the great stage turned screen actor Harry Baur -- are collected here, each evidence of an immense and often overlooked cinematic talent.


BUZZIN' THE 'B'S:

What happens when "Friday the 13th" meets "The Last Action Hero"? You get the amusing "The Final Girls
" (2014), starring Taissa Farmiga, Malin Akerman, Adam DeVine, Thomas Middleditch, Alia Shawkat, Alexander Ludwig and Nina Dobrev. When Max (Farmiga) and her friends reluctantly attend an anniversary screening of "Camp Bloodbath," the infamous 80s horror film that starred Max's late mother (Akerman), they're mysteriously sucked into the silver screen. They soon realize they're trapped inside the cult classic movie and must team up with the fictional and ill-fated camp counselors, including Max's mom as the scream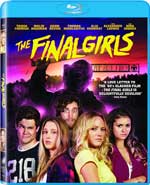 queen, to battle the film's machete-wielding killer. On DVD, Blu-ray Disc from Sony ... "She's Funny That Way
" (2014), starring Owen Wilson, Imogen Poots, Kathryn Hahn, Will Forte, Cybill Shepherd, Austin Pendleton, Joanna Lumley, Richard Lewis, Rhys Ifans and Jennifer Aniston, is director Peter Bogdanovich's latest throw away. On the set of a playwright's new project, a love triangle forms between his wife, her ex-lover, and the call girl-turned-actress cast in the production. When established director Arnold Albertson (Wilson) casts call-girl-turned-actress Isabella "Izzy" Patterson (Poots) in a new play to star alongside his wife Delta (Hahn) and her ex-lover Seth Gilbert (Ifans), a zany love triangle forms with hilarious twists. Jennifer Aniston plays Izzy's therapist Jane, who is consumed with her own failing relationship with Arnold's playwright Joshua Fleet (Forte), who is also developing a crush on Izzy. On DVD, Blu-ray Disc from Lionsgate ... When Casey (national talent search winner Sophie Aguiar), a dancer who is discovered on YouTube, gets thrust into the modern world of Internet celebrity and culture, she must find a way to balance her true identity with her online persona, or risk losing everything she cares about in "Breaking Through
" (2015), starring Aguiar, Jay Ellis, Marissa Heart, Bruna Marquezine, Taeko McCarroll, Jordan Rodrigues. From XLrator Media ... In a tribute to the wu xia comics and novelettes popularized in Southeast Asia, "The Golden Cane Warrior
" (2014 --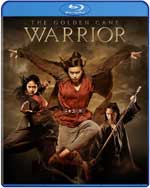 Indonesia) tells the story of two student fighters who, after their master is killed, set out to find the mighty and powerful Golden Cane relic weapon and its ultimate deadly moves before it falls into the wrong hands. Stars Christine Hakim, Nicholas Saputra, Reza Rahadian, Tara Basro, Eva Celia Latjuba. On DVD, Blu-ray Disc from Well Go USA ... When a single mother (Ali Larter) and her two young children are tormented by an increasingly strange and intense presence in their quiet suburban home, she turns to her scientist boyfriend to take on the violent forces that paranormal experts are too frightened to face in "The Diabolical
" (2015), also starring Arjun Gupta, Max Rose, Chloe Perrin and Kurt Carley. On DVD, Blu-ray Disc from XLrator Media ... In "Four Warriors
" (2015), starring Christopher Dane, Hadrian Howard, Fergal Philips and Glenn Speers, four battle-weary Crusaders take on a mission to track down the evil predator who has abducted all the men and children from a devastated village. From Lionsgate ... In "Uncanny
" (2015), inventor David Kressen has lived in seclusion for 10 years with his inventions, including Adam, a robot with incredible lifelike human qualities. When reporter Joy Andrews is given access to his unconventional facility, she is alternately repelled and attracted to the scientist and his creation. But as Adam exhibits emergent behavior of anger and jealousy towards her, she finds herself increasingly entangled in a web of deception where no one's motives are easily decipherable. Stars Mark Webber, Lucy Griffiths, David Clayton Rogers. From RLJ Entertainment ...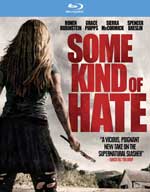 Some Kind of Hate
" (2015), starring Ronen Rubinstein, Grace Phipps, Maestro Harrell, Lexi Atkins and Sierra McCormick, relentless bullying has turned young Lincoln's (Rubinstein) life into a nightmare. But he soon learns the true meaning of terror when he is sent to a remote school for troubled teens and the harassments start all over again. Only this time, someone is watching -- a teenage girl named Moira (McCormick) who was driven to suicide by vicious bullying years ago. When Lincoln accidentally summons Moira from the grave, he unleashes a vengeful and unstoppable force on a mission of blood-soaked revenge. On DVD, Blu-ray Disc from RLJ Entertainment ... In "More Money More Family
" (2015), sisters Ethel and Suzie haven't spoken in 15 years so when their brother dies and no one shows up, cousins Rudy and Shawn decide that it's time to get the family back together -- no matter what. Stars Silkk "The Shocker" Miller, Lil Duval, Michael Blackson, Gary "G-Thang" Johnson. From Lionsgate.


ON THE INDIE FRONT:

In "Tiger House
" (2015), starring Kaya Scodelario, Daniel Boyd and Dougray Scott, a tough gymnast trying to get her life back on track after a career-ending injury must use every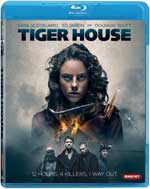 reserve of skill and courage to outwit and overpower four highly trained adversaries who are bent on abducting her boyfriend's father to force him to carry out a robbery on the bank that he manages. On DVD, Blu-ray Disc from Magnolia Home Entertainment's Magnet Label ... After breaking up with his boyfriend, journalist David Thorpe embarks on a hilarious and touching journey of self-discovery, confronting his anxiety about "sounding gay" in "Do I Sound Gay?
" (2015). Enlisting acting coaches, linguists, friends, family, total strangers and celebrities, he quickly learns that many people -- both gay and straight -- often wish for a different voice. In Thorpe's feature-length documentary debut, what starts as a personal journey becomes a chance to unpack layers of cultural baggage concerning sexuality, identity and self-esteem. From IFC Films.


FOREIGN:
"Paulo Coelho's Best Story
" (2015 -- Spain), starring Julio Andrade, Ravel Andrade and Fabiana Gugli, is a stranger-than-fiction chronicle of the legendary Brazilian author who has sold 210 million copies of his books worldwide. Most famous for "The Alchemist," which has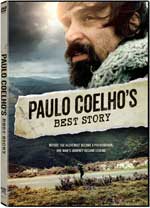 been translated into 80 languages, only few know the true journey that turned Paulo Coelho into the internationally acclaimed writer we know today. This biopic chronicles Coelho's tumultuous life from his troubled youth, his stint in rock and roll as a young adult to the present day. Coelho grew up in Sao Paolo a misunderstood young rebel; he experimented with drugs, fell into intense personal relationships, and even found himself a successful songwriter, subsequently arrested by the ruling military government for his "subversive lyrics." Coelho's rebellious ways and heightened emotions lead to a series of suicide attempts, institutionalization and electroshock therapy. But through all his life's trials, Coelho never gave up on his biggest dream: to achieve success as a writer. Filmed in Rio de Janeiro and Galicia, Spain, and featuring the work of acclaimed actress Paz Vega, Pedro Almodovar's regular art director Antxon Gomez, and Oscar-winning make-up artists Montse Ribe and David Marti. From Music Box Films.


FOR THE FAMILY:
"Toy Story that Time Forgot
" (2015) , with the voices of Tom Hanks, Tim Allen, Kristen Schaal, Kevin McKidd, Wallace Shawn, Timothy Dalton, Don Rickles and Joan Cusack, is the latest installment in the moneymaking "Toy Story" franchise. The story: During one of Bonnie's post-Christmas play dates, the "Toy Story" crew find themselves in uncharted territory when the coolest set of action figures ever turn out to be dangerously delusional. It's all up to Trixie, the triceratops, if the gang hopes to ever return to Bonnie's room. On DVD, Blu-ray Disc from Disney ...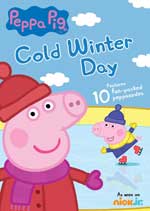 It's the coldest day of the year, and that means one thing: fun. Pre-school viewers can grab their hats, scarves, mittens and coats and join Peppa and her family and friends in "Peppa Pig: Cold Winter Day" (2015) as they build a snowman, throw snowballs, race their sleds, and much more. Includes 10 peppasodes of the preschool TV series. $14.98 from Entertainment One ... In "Huevos: Little Rooster's Egg-cellent Adventure" (2015 -- Mexico), with the voices of Zachary Gordon, Amber Montana, Jon Heder and Jason Mewes, Rolo is a teenage rooster who's more than a little chicken. When an evil rancher threatens his home and family, Rolo is determined to rise to the occasion. Together with a dozen of his egg friends, Rolo hatches a plan to save the day -- and the farm -- in this full-length animated feature. $19.98 from Lionsgate ... The holiday season is fast-approaching -- at least on DVD: "Elf: Buddy's Musical Christmas" (2015) is a stop-motion animated holiday musical movie that combines the humor and spirit of the holiday film "Elf" with songs from the Broadway play "Elf: The Musical" to create an all-new retelling of Buddy's delightfully absurd yet heartwarming story. With the voices of Jim Parsons, Mark Hamill, Kate Micucci and Ed Asner.On DVD, Blu-ray/DVD Combo from Warner ... In the Dove-family-approved movie "Shelby" (2014), starring John Paul Ruttan, Chevy Chase, Tom Arnold, Addison Holley and Rob Schneider as the voice of Shelby, rescue dog Shelby manages to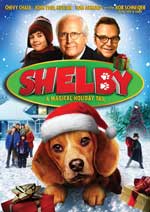 escape the dog pound on Christmas Eve and runs straight into the arms of little Jake (John Paul Ruttan) and the two are immediately inseparable. The only thing standing between them and a perfect Christmas is the notorious local dogcatcher -- he has Shelby in his sights and he's not going to stop until he finds him. From Anchor Bay Entertainment ... In "The Nutcracker Sweet" (2015), with the voices of Alicia Silverstone, Edward Asner and Drake Bell, it's Christmas Eve and the Silberhaus children are excited for the festivities to begin. Marie and Fritz are playing in the children's room when their godfather Drosselmayer arrives and presents them with an early Christmas gift, a Nutcracker. Soon caught in the enchanted present's spell, the children are swept into another world and witness a great battle between a vast army of toy soldiers led by the Nutcracker against a terrible platoon of mice commanded by the Mouse King. Follow Marie and Fritz's journey in the Kingdom of Dolls, through the Christmas Forest, past the Almond Milk Sea, and the Palace of the Marzipans. $14.93 from Cinedigm.


SPECIAL INTEREST:
"A LEGO Brickumentary
" (2015), narrated by Jason Bateman, is the first official documentary about the world of the LEGO brick, following the evolution of the billion-dollar franchise and delving into the impact of LEGO and its fans around the world. Suitable for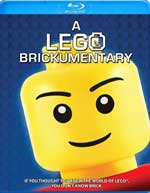 "kids" of all ages, the film explores the brick that has captured imaginations for generations and look at the fundamental question -- is it a toy or something more? The film examines the innovative uses for the brick that have sprung up all over the world, taking the viewer through art galleries full of LEGO creations, introducing Master Builders who are designing and creating life-sized LEGO models (as well as those who employ LEGO bricks to create their own films), leads into the world of LEGO-therapy and brings us along to meet Adult Fans of LEGO (AFOLS). On DVD, Blu-ray Disc from Anchor Bay ... Meet Seymour Bernstein: a virtuoso pianist, longtime New Yorker and true original who gave up a successful concert career to teach music -- and to share his reflections on art, creativity and the search for fulfillment. The documentary "Seymour: An Introduction" (2015) is a wonderfully warm, witty and intimate tribute from the octogenarian Bernstein's friend (and debuting documentary maker) Ethan Hawke. As Seymour teaches and reveals his passion for music, he also shares unforgettable stories from his remarkable life and eye-opening words of wisdom. From IFC Films.


FROM TV TO DVD:

"Batman: The Complete Third Season" (1967-68) contains the final 26 episodes from the 1966 original Batman series, completely remastered on a four-disc set, $39.98. Leap into the third and final season where the felonious and foul must be stopped to keep Gotham safe, and a newly formed Terrific Trio must turn chaos to calm. With rogue wrongdoers like the sly Siren, lethal Louie the Lilac and unethical Egghead running rampant, Batman (Adam West), Robin (Burt Ward) and Batgirl (Yvonne Craig) have their Super Hero hands full. Special guest villains included Milton Berle, Eartha Kitt, and Joan Collins. From Warner ...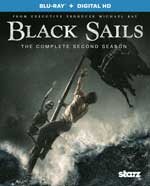 "Black Sails: The Complete Second Season" (2015) is a three-disc set with all 10 episodes. The STARZ original series follows the most feared pirate of the day, Captain Flint (Toby Stephens), and takes place twenty years prior to Robert Louis Stevenson's classic "Treasure Island." The second season begins as the Walrus crew is stranded with an army of Spanish soldiers standing between them and the precious Urca gold. And with their crimes against their brethren no longer a secret, Flint and John Silver must join forces in a desperate bid for survival. Meanwhile, Eleanor Guthrie struggles to maintain her grip on Nassau, as a new breed of pirate arrives in the form of Ned Low, a man for whom violence isn't just a tool ... it's a pasttime. On DVD, Blu-ray Disc from Anchor Bay ... "Californication: The Complete Series" includes all seven seasons and 84 episodes on 14 discs from CBS/Paramount ... "Eastsiders Season 2" (2015) contains 12 episodes of the LGBT series that continues to humorously chronicle the hip millennial population struggling to navigate life, love, and making the rent -- set against the bohemian backdrop of the Silver Lake neighborhood of Los Angeles. From Wolfe Video ... Over the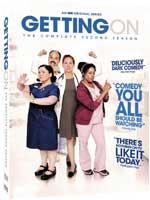 years, the funky divas of En Vogue have gone their separate ways -- until they are asked to perform a benefit concert to save the club that made them stars. In the spirit of the holidays, the ladies find forgiveness and reunite for an epic "An En Vogue Christmas" (2015) concert. Starring Terry Ellis, Cindy Herron and Rhona Bennett as themselves, the holiday drama features some of the group's biggest hits, along with two new original songs. From Lionsgate ... "Getting On: The Complete Second Season" (2014) is the U.S. version of the BBC Four series that takes place in the geriatric wing of a struggling hospital and follows a staff of overworked doctors and nurses and the elderly patients they look after. Though the tone is darkly comic, this critically-acclaimed series addresses very real issues such as death, hopelessness, abusive patients and the things it takes to survive a high-stress work environment. The hospital's care workers do whatever it takes to stay sane while dealing with unruly patients, their children and their bosses. On DVD, Blu-ray Disc from HBO ... "I Love Lucy: The Complete Series" is a 29-disc collection that includes all 180 episodes of the TV classic, from CBS/Paramount ... In "Paper Angels" (2014), starring Matthew Settle,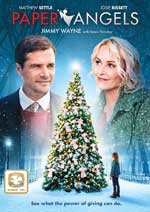 Rustin Gresiuk and Josie Bissett, an abused wife leaves her alcoholic husband and moves with her children to another town just weeks before Christmas. After she enrolls her son in the Salvation Army Angel Tree program -- an initiative where needy children get clothing or toys after their names are placed on "paper angels" and are picked by donors from Christmas trees located in shopping centers -- he encounters the disillusioned businessman who picked his name from the tree. Based on the real life story of country music star Jimmy Wayne, who received his first guitar via the program. $14.93 from Cinedigm ... "Star Trek: TOS - The Complete Series Megapack" includes all three seasons of the iconic sci-fi series that started it all. The must-own collection features all 79 episodes of the original classic on 25 discs, alongside a trove of previously released bonus material, together in one convenient collection. From CBS/Paramount.

Check out other November 3-November 9 DVD releases and reviews at OnVideo.