By Chris Kavan - 07/26/15 at 09:17 PM CT
Turns out the little Marvel movie that could isn't so puny and is a force to be reckoned with. Ant-Man held off the Adam Sandler ensemble 8-bit comedy Pixels to hold on the number one spot. Paper Towns turned out to be a front-loaded disappointment while Southpaw wound up ahead of estimates though didn't exactly throw a knock-out punch. All told, the top 12 films earned $140.6 million - a slight 2.4% increase over last year, but still continuing the upward trend for the summer. All in all, not the most exciting weekend of the year, but good enough for the time being.

1) ANT-MAN



The latest origin story from Marvel seemed like a one-and-done deal at the box office after a somewhat auspicious opening. However, it turns out Ant-Man had a bit more staying power after all. Ant-Man did dip 56.7% (the same drop as Thor: The Dark World) and took in an estimated $24.7 million. That amount was enough to propel the smallest super hero across the $100 million mark for a new total of $106.1 million. That means the pint-sized hero is all but guaranteed to hit its likewise small $130 million budget. Foreign grosses are just ahead of the U.S. totals with $120.4 million for a global total of $226.4 million. While Ant-Man might be among the lesser of the Marvel films, it's still going to have no problem coming out in the black and its teaser (post-credits) is said to be among the most interesting yet. I'm excited to see how this all plays out in Civil War.
2)
PIXELS

If Adam Sandler and crew were hoping for some nostalgic bump to bring in an audience for their humans vs. (video game inspired) aliens romp, their expectations might have been tempered a bit by the slew of withering reviews (and only slightly better audience response) to the film. As such, Pixels had to settle for second place with $24 million. Much like Arnold Schwarzenegger with Terminator Genisys, Adam Sandler has just lost the box office drawing power he once had. Still, he has had 14 films cross the $100 million mark between 1998 - 2013 (putting him in the same territory as Tom Hanks and Will Smith) so Pixels probably seemed like a pretty safe bet. Still, Pixels isn't likely to hit $100 million domestically, but it should be bailed out with international numbers to help ease its $88 million budget. I think it's a sign of the times that Sandler made the jump to Netflix for his next group of films - maybe even he realizes audiences just aren't going to get behind him like they were in the late 90s/early 2000s.
3)
MINIONS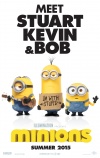 The might of the Minions took a 55% hit and dipped on spot to 3rd place with $22.1 million. That helped it cross the $250 million mark, however, and the film stands at $261.6 million. More impressive is its international total - where it took the top spot for the third week in a row. Minions has earned an impressive $497.8 million overseas, for a grand total of $759.4 million. That puts it ahead of the original Despicable Me on both the domestic and global markets, though it looks like it will remain behind Despicable Me 2 by a sizable margin. Still, Minions is operating on a relatively small $74 million budget, and it's going to make a boatload of money thus I expect this franchise to continue on to a healthy future.
4)
TRAINWRECK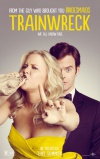 Amy Schumer's foray into film continued to do solid business after a stronger-than-expected opening. The film dipped 42.5% and dropped a spot to 4th place with $17.3 million. That gives the film a new total of $61.5 million. The film will more than double its $35 million budget and should cross the $75 million mark with relative ease. I expect the results are going to be more than enough to consider Schumer a bankable star - I'm interested to see how she does as part of an ensemble myself.
5)
SOUTHPAW

The film Jake Gyllenhaal literally transformed himself for (something he's become accustomed to - see also Nightcrawler), Southpaw opened a bit better than expected with a $16.5 million opening. While it is only the 5th-best opening for Gyllenhaal - it is the best opening where he is the sole headliner. It should play excellent counter-programming to the standard blockbuster and we'll see if it can hit $50 million before it ends its run. We'll also see if the result is good enough for Gyllenhaal come awards season, as Southpaw looks like the type of film that should garner interest among the awards crowd.
Outside the top five: Paper Towns had an excellent Friday ($6.3 million) pointing to a $20-million plus opening, only to find its audience withering away as the weekend went along. Although not quite as front-loaded as The Fault in Our Stars, it also wasn't nearly as beloved as that film (and book it was based on). As it stands, Paper Towns had to settle for the sixth place with a $12.5 million opening. However, considering the film only cost $12 million to make, I would say author John Green has proven himself the teen version of Nicholas Sparks - and we will probably see more adaptations in the future.
Jurassic World officially passed The Avengers by taking in $6.9 million (8th place) for a new total of $623.8 million (passing The Avengers at $623.4 million) taking its place as 3rd on the all-time domestic list. If fortune favors it, it could still reach the $650 million mark, but even if it falls short, no one is denying the exceptional performance of the film.
Mr. Holmes was the only film in the top 10 to gain spots (jumping from 11th to 9th place) after it added 325 theaters to its count. The aging Sherlock Holmes (portrayed by Ian McKellen) jumped 17% and took in $2.85 million for a new total of $6.4 million. Given its pedigree this could also easily be a film that comes up come awards time.
Next week sees the release of two big films. The Vacation comedy (opening on Wednesday) goes up against Tom Cruise and the latest Mission: Impossible film, Rogue Nation. We'll see if action or comedy prevails.
Comments