New in Theaters June 26: Ted 2, Max
By Chris Kavan - 06/25/15 at 06:40 AM CT
Jurassic World has dominated, both in the U.S. and internationally, since its release. It's second weekend proved to be as mighty as the original - beating domestic records and it also shattered the $1 billion mark in record time. And I don't think it's going to budge from it's top spot this coming weekend, either. Up against the dinosaur-centric behemoth is a comedy sequel and an inspirational dog tail (sorry, dog tale). Both are likely to find a decent audience, but I have a feeling neither are going to bring enough to topple Jurassic World from its perch.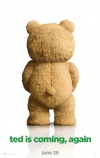 TED 2 Seth MacFarlane has a certain brand of humor you either enjoy or you loath. Family Guy is as beloved as it is hated - and the less said about A Million Ways to Die in the West, the better (to say nothing of hosting duties at awards shows). However, one cannot argue with good results and the original Ted was a homerun. Opening to over $54 million, Ted went on to score a cool $218.8 million at the box office. I admit that I wasn't that impressed with Ted - despite having Mark Wahlberg and Mila Kunis on board. Now we get Ted 2, in which our bear (voiced by MacFarlane) is looking to father a child with his new wife Tami-Lynn (Jessica Barth) only to find out he isn't considered a "person" and thus, in the eyes the law, cannot be a parent. He sets out to fight for his right to be called a person in a court of law. Beyond the obvious (how a stuffed bear can copulate) it's setting up to be a humorous courtroom farce. Also on board are Amanda Seyfried and Giovanni Ribisi (who were both in A Million Ways to Die in the West) along with Morgan Freeman, Patrick Warburton and Worf himself, Michael Dorn. An interesting cast to be sure, but sequels rarely rise the level of the original and with stiff competition, Ted 2 may have to settle for much less. That being said, besides Spy (which is targeting a totally different audience) there are no big comedy films out right now, so Ted 2 at least has the corner on the genre market. We'll see if that's enough to raise it to respectable levels.


MAX If raunchy comedy isn't your thing, why not try a film that is patriotic, inspiration and family-friendly instead? Max is about a dog working in Afghanistan - he is paired with a handler - one who dies in the line of duty. Max could be put down, but seems to have a bond with the soldier's younger brother (Josh Wiggins) who reluctantly takes on the task of helping Max. Of course the two quickly form their own bond - one which is tested when a soldier claiming to be a friend shows up - but who, of course, has ulterior motives. Max is sent out to do what he does best - one that may save a family. The trailer oozes a bit too much sentimentality for my personal tastes (I'm more American Sniper, myself) but one can't argue that it could very easily hit the right note with audiences - especially this close to a major holiday. We'll see if the themes are enough to bring in the family crowd away from Inside Out. Co-Stars Thomas Haden Church, Luke Kleintank, Lauren Graham, Robbie Amell and Jay Hernandez.


It should be another blockbuster weekend - but I'm thinking the biggest stars are still going to be the holdovers, but there should be enough left for the newcomers to make a decent splash. I'll be back Sunday with the results.